The French Minister for Europe has pledged her country's continuing solidarity with Ireland on the issue of Brexit during a visit to the border area this morning.
Accompanied by Minister of State for European Affairs Helen McEntee, Amélie de Montchalin said the Withdrawal Agreement setting out the terms of the UK's exit from the EU is not up for renegotiation.
There was a symbolic gesture at the former site of the Ravensdale border checkpoint on the old road between Newry in Co Down and Co Louth.
The ministers held hands as Ms De Montchalin stood just across the border in Northern Ireland, while her Irish counterpart remained in the Republic.
Afterwards, the French minister was asked for her response to repeated claims by those vying to be the next British prime minister that they will negotiate a new Brexit agreement with Europe.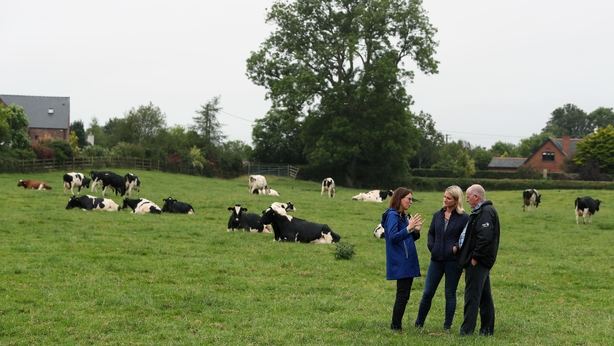 She made it clear the other 27 member states are not preparing for a new round of negotiations.
"A negotiation is a two part process, there is one party which is Michel Barnier, the commission, the 27, saying very clearly that they are not open to renegotiate the withdrawal agreement, " she explained.
"But we always said that for the future relationship, the political declaration, we are open, if there is a majority in Westminster, to reconsider what is on the table at the moment, so there is a part which is still open for discussion, and there is a part where, during more than two years and a half, teams worked.
"I want here to stress here that nobody imposed the Withdrawal Agreement to the UK, it is the outcome of as very precise and collaborative work and we are still in this mindset."
That was welcomed by Helen McEntee, who said the Irish Government will be prepared to engage with the new British prime minister through the EU task force, but that there could be no change to the Withdrawal Agreement.
"Anything that requires change to the Withdrawal Agreement, we have full co-operation and solidarity that that's not going to happen," she said.
"I want to thank France for their solidarity on this issue as well, its been extremely important throughout this process."
Ms McEntee reiterated that concerns outlined in the Government's contingency paper published recently that a no deal Brexit could result in the loss of tens of thousands of jobs on both sides of the border.
---
Read more
---
Minister for European Affairs Helen McEntee says the withdrawal agreement was reached through "compromise on both sides" and "much of what was asked for in the withdrawal agreement was asked for by the UK as well."

— RTÉ News at One (@RTENewsAtOne) July 19, 2019
She said the backstop, which Conservative Party leadership candidates Boris Johnson and Jeremy Hunt both say must be ditched, is a vital protection to ensure there is no hard border.
"For us the idea that there would be any kind of checks, or associated checks, on or near the border is just not something that we would accept, it's just not something that is in line with the Good Friday Agreement, the spirit of it, co-operation north and south," she said.
Ms De Montchalin said the French government fully supports the need for the backstop to provide reassurance for Ireland.
One of those the ministers met during this morning's visit was the chief executive of Co-Operation Peter Sheridan.
He was previously an Assistant Chief Constable with the PSNI and his responsibilities included trying to prevent smuggling across the border.
The former police officer told the ministers that it would be impossible to police a border that is 500km long with 265 official crossings and "dozens of smugglers' paths".
"Even during the Troubles when there were thousands of soldiers and police officers trying to tackle terrorism and smuggling, this was always a porous border," he said afterwards.
Mr Sheridan told the ministers that any checkpoints will be circumvented by smugglers.
"On the one hand there's be all sorts of complications about the legal trade, but it's how you deal with the illegal trade in this place because there's a danger of turbo-charging smuggling here if there's no regulatory alignment between commodities and goods, " he said.
"Organised crime gangs will be out to make a profit and we know where those profits went in the past, into buying weapons and explosives and drug dealing, and it's how to avoid that."
The ministers then visited Gerard McArdle and his family on his farm in Faugart just a few miles away.
He told them he's concerned that Brexit could make the future of the family business unsustainable.
"I'm the third generation of my family to farm here, my grandfather and father farmed this land before me," he said.
"I have two young sons who I want to continue farming, but I'm worried about what Brexit might do.
"The price of milk could drop, if there's no exports, butter would be under pressure, cheese, that's going to bring down the price of milk of we haven't got exports.
"Beef is already under pressure. It's a big concern."