Beth Doherty was just one young climate activist protesting outside Leinster House today.
The 16-year-old is determined to achieve radical action on climate change.
Beth played an important part in organising the "Fridays For Future Ireland" march.
Marshalled by An Garda Síochána and stewards wearing Extinction Rebellion hi-vis jackets, around 100 teenagers from the Fridays For Future and Schools Climate Action Network set off from Stephen's Green towards Leinster House.
They are hoping that showing up in the middle of their summer holidays will put an end to the occasionally offered opinion that the strikes were purely motivated by a desire to skip school.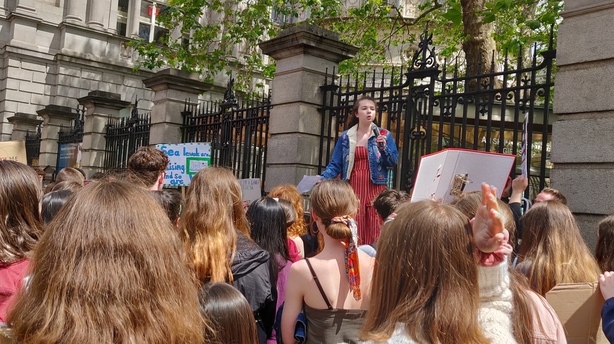 Speaking at the protest, Beth said: "We will have a future no matter what those currently making the decisions say and do to try and stop us,"
"We shouldn't be here on our summer holidays shouting at the politicians for change, this isn't our job, we are kids, but we have to make this change".
Beth felt she needed to act after reading the Intergovernmental Panel on Climate Change report, which found Ireland has 12 years to limit climate change catastrophe.
"We always think of climate change as this big abstract problem of polar bears in the Arctic,"
"But then you read that report and you're like ok, well this is going to affect me and literally everyone in the world," she said.
Beth and her fellow protesters are highly critical of the government's current course of action.
She thinks the declaration of a climate emergency is brilliant for public image but "not so brilliant for the planet unless you actually do something about it".
The Climate Action Plan announced on Monday includes measures like banning the sale of petrol and diesel cars from 2030.
It also proposes to eliminate non-recyclable plastic and increase Ireland's reliance on renewable energy.
Minister for Communications, Climate Action and Environment Richard Bruton said this will help put the country "on a trajectory to achieve net zero carbon emissions by 2050".
Beth and her fellow protesters say this is not enough.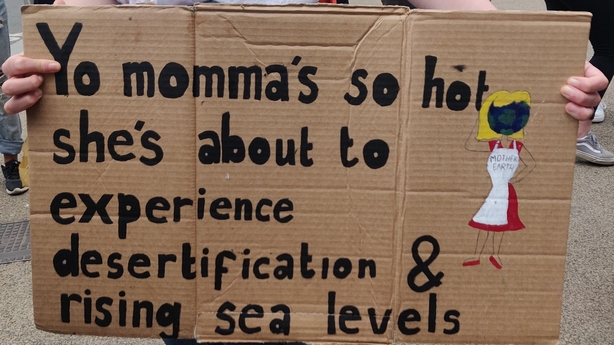 "The Climate Action Plan would have been great 20 years ago. It comes from the right place but it doesn't go the lengths that we need it to,"
"With ten years to go until it's unsolvable, it is no longer enough. Leo Varadkar referred to it as a nudge. We don't need a nudge. We need a shove. We need extreme structural change," she said.
This youth-led global movement was pioneered by Greta Thunberg.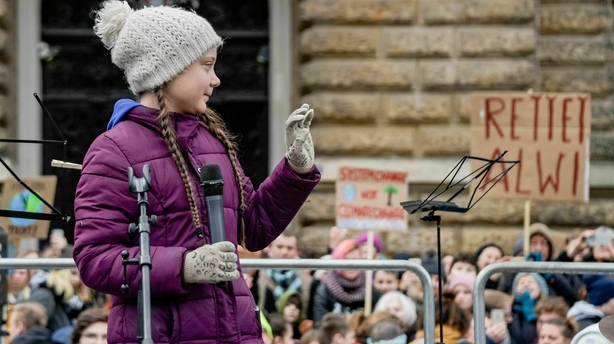 The 16-year-old Swedish climate activist rose to international attention after she began protesting outside her country's parliament building last year.
Since then, she has spoken at the UN Climate Change Conference and the World Economic Forum in Davos.
In March, the Norwegian parliament nominated her for the Nobel Peace Prize.
Unsurprisingly, she is seen by Beth and the other gathered teenagers as a major source of inspiration.
The Fridays For Future organisers also held demonstrations in Cork, Meath, and Ennis this afternoon.
These events coincided with the Fridays for Future International Strike Day in Aachen, Germany.
Organisers there expected 20,000 students from 16 countries to take part.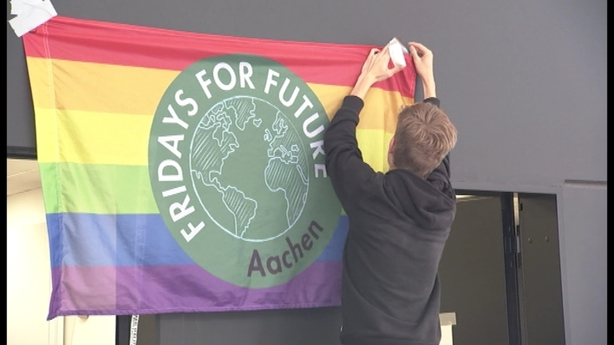 They focused their attention on the local coal strip mine and called for an immediate stop to the practice.
Similar messages were found in the chants outside Leinster House: "No coal! No oil! Keep carbon in the soil!"
The demonstration in Dublin also featured speeches, an emphatic poetry reading and cardboard signs decorated with simple slogans and obscure memes.
"Politicians seem more concerned with looking good in the media than acting on climate change. We don't need empty symbolism. We need action," one speaker said.
That speaker went on to level harsh criticism at oil companies for what she believed was a token amount of expenditure on low carbon projects.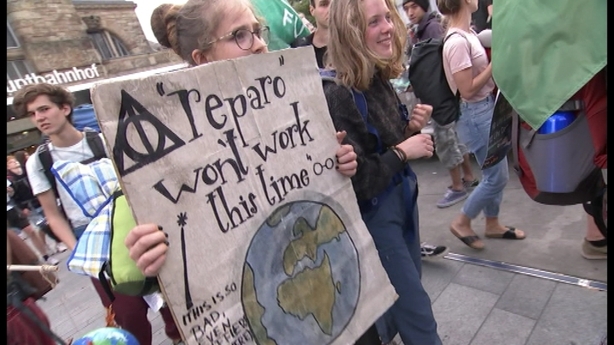 Each supportive beep from a passing car or bus encouraged speakers to raise their voices louder, but Beth's message is that we all need to do more than sound horns.
"No matter who you are, no matter what company you are CEO of, no matter what political position you have, you will be affected by climate change," she said.
"Climate change will affect your life, your children's lives, and the life of the only planet you can rely on no matter how much money you have".
She called for concrete plans and concrete action, saying: "We need extreme targets and extreme deadlines and we need to meet them,"
"What is radical about wanting to have a planet to live on in the future? What is radical about wanting the government to do the job they were elected to do?"