A former Eurovision song contest entrant who now has Motor Neurone Disease is urging people to support research efforts to try and find a cure.
It comes ahead of World Motor Neurone Awareness Day on Friday.
One person is diagnosed with MND every three days and one person passes away every three days.
Currently, there are 374 people living with MND in Ireland.
Roy Taylor, originally from Dublin but living in Dundalk was diagnosed in April last year.
"Complete shock, totally unexpected. I had lost a lot of weight, I was very tired. I had all the usual tests done, scopes up, scopes down, x-rays, you name it. As a last resort, we went down the neurology route and low and behold, I was diagnosed with MND," he said.
"It took me three or four weeks to absorb the shock. I kept waking every night, at all hours, thinking, is this really happening? Is it a nightmare?" he said.
"We were all shocked. My Dad sometimes would describe it like the period after a bomb goes off in a film, everything is in slow motion. It's hard to comprehend," said Terene Taylor, son of Roy.
Roy Taylor was a singer and bass player with the band Jump the Gun.
In 1988 they represented Ireland in the Eurovision song contest.
The entry finished 8th. French singer Celine Dion won the contest that year.
While the father of four can no longer play the bass, he can still sing.
"I'm still doing some gigs with my great friends in Jump the Gun to raise funds for the IMNDA. I can still sing, I can't play the bass anymore but I can still sing," he said.
Roy Taylor said research is key and he believes a cure will be found.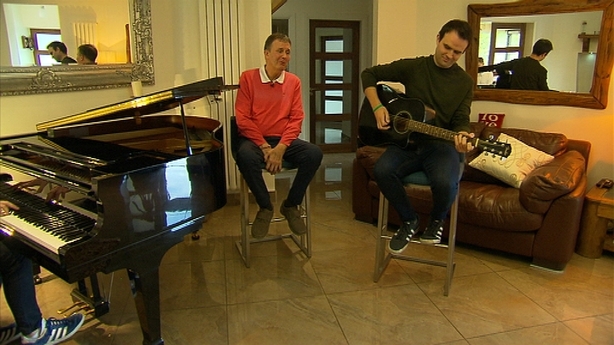 "This disease is not untreatable. It's underfunded. Funding for research is essential. That's what keeps me going too, because I know it's not a question of if, it's a question of when this disease will be beaten," he said.
Roy Taylor is working on bringing out a single later this summer called "Watch your back MND" to raise funds and awareness of the condition.
"Today Motor Neurone Disease is incurable but tomorrow is another day," he said.
The IMNDA provide support to the over 370 people living with Motor Neurone Disease in Ireland.
"83% of the services we fund come from the generosity of the people in Ireland. Our key supports are our nursing team and our equipment service," said Roisin Duffy, CEO of IMNDA.
"We also have home help grants to make sure people can stay in their homes and we also provide counselling as well as a care-giver programme," she added.
We need your consent to load this rte-player contentWe use rte-player to manage extra content that can set cookies on your device and collect data about your activity. Please review their details and accept them to load the content.Manage Preferences