The Taoiseach has said that the revelation that some of the labs in the CervicalCheck controversy outsourced tests to other labs was "serious and unacceptable".
This morning, Dr Gabriel Scally, who led the inquiry into the crisis, said he did not have absolute confidence that the number of labs to which smear tests were outsourced would stop at 16.
Speaking on RTÉ's Today with Sean O'Rourke, Dr Scally said he thought his team had found everything that needed to be found, but that given some of the things that have come out from his inquiry he would not be surprised if there was more.
We need your consent to load this rte-player contentWe use rte-player to manage extra content that can set cookies on your device and collect data about your activity. Please review their details and accept them to load the content.Manage Preferences
"I don't have absolute confidence and I think we have found everything that needs to be found, but there have been so many surprises along the way that nothing would surprise me," he said, adding: "I'm absolutely amazed at some of the things that I've found."
Dr Scally said when he started the inquiry, he thought there were six labs in use, but by September that had risen to 11, and said that he had not got to the bottom of the additional five before he had found even more.
In the Dáil this afternoon, Leo Varadkar said the outsourcing was not approved and may well have been a breach of contract.
---
Read more: Campaigner 'disturbed' at Scally inquiry findings
---
"It shouldn't have happened and it should have been picked up by CervicalCheck's own quality assurance management scheme and clearly it was not," Mr Varadkar said.
He said it was reassuring that the labs were accredited - albeit one of them retrospectively - and that Dr Scally said there was no reason to believe the labs were substandard.
Mr Varadkar was responding to Fianna Fáil leader Micheál Martin, who called for a timeline on the establishment of a tribunal into the issue.
Mr Martin also said Dr Scally had raised the need for a no-fault compensation scheme.
Mr Varadkar said such a compensation scheme was a good idea and a group had been set up to examine this.
However, he added that it could apply not just to screening errors but beyond that.
The Taoiseach added that where no-fault schemes exist in other jurisdictions, the awards are modest and no one is held to account.
"If we are going to go down this road … it needs to be thought through," Mr Varadkar said.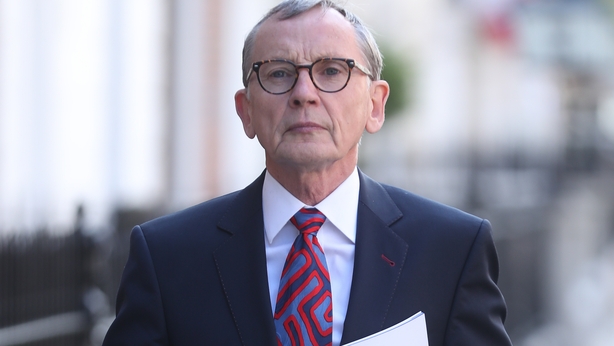 Meanwhile, Dr Scally also said that during his inquiry he and his team had a feeling they were not getting the full story.
He said the lack of transparency was terrible and the contracts were very clear - if the lab companies wanted to use another facility to deal with extra slides, they had to get written permission from the HSE, and they did not do that.
Dr Scally said it should have been transparent, but it was anything but that, and that was not a way to treat the cervical slides of Irish women.
He said he did not think there were issues with the quality of those doing the screening and it was all about doing things properly and doing things well.
He added he did not think anybody was trying to hide information from him or acting in bad motives.
In regards to the contracts involved in enlisting a lab to analyse test slides, Dr Scally said they need to be more precise.
He said the Health Service Execuitve had appointed good people to CervicalCheck, who were doing a thorough job, and that the labs were now being quality-assured to within an inch of their lives.
Dr Scally said all the labs involved in analysing slides were all accredited, and there was no evidence from any data they found in the inquiry that indicated there were serious quality issues.
He said he hopes to report in September on the progress of the implementation of his recommendation, adding that there are three things that patients want when things go wrong: they want to know the truth, an apology, and to know that it will not happen again.
CervicalCheck Clinical Director Dr Lorraine Doherty said it was "fully committed to implementing Dr Scally's recommendations and rebuilding confidence in our screening programme".
She added: "We welcome that Dr Scally has upheld the quality of cervical screening in Ireland, notwithstanding the issues raised in relation to the use of additional laboratories ... We are committed to delivering the best possible cervical screening service for the people in our care and their families."