Donald Trump's first official visit to Ireland as US President is under way, following a three-day state visit to the UK.
The last act of Mr Trump's three-day state visit to Britain before travelling to Ireland was a D-Day commemoration in Portsmouth.
Portsmouth was the main departure point for the largest amphibious assault in history, when some 156,000 US, British, Canadian and other Allied troops sailed for the beaches of northern France.
The Battle of Normandy on 6 June 1944 led to the liberation of Europe and helped bring about the end of World War II.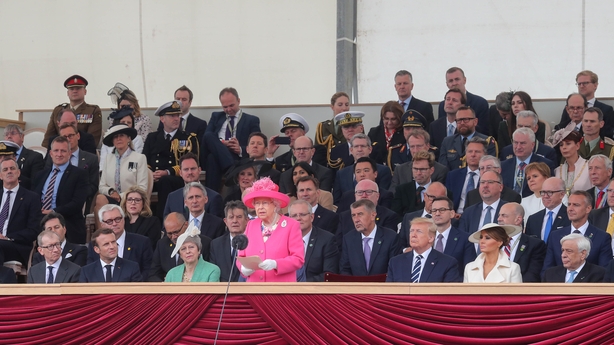 President Trump, Queen Elizabeth and British Prime Minister Theresa May were joined by Canadian Prime Minister Justin Trudeau, French President Emmanuel Macron and German Chancellor Angela Merkel for an event with the veterans, the youngest of whom are now in their 90s, marking the boats' departure on the eve of the battle.
---
Read more:
Live updates on Trump's Ireland visit
Trump official visit to Ireland under way
---
Tomorrow, President Trump will travel to France for the D-Day commemorations before returning to Doonbeg where a dinner will be held later that evening.
Irish Ambassador to the US Dan Mulhall and the Government's special envoy to the US, Fine Gael TD John Deasy, will be among the guests.
On Friday, President Trump is expected to play golf in Doonbeg before returning to the US later that day.
Mr Trump had been due to visit Ireland last November, but the trip was postponed for operational reasons.