US President Donald Trump has drawn a parallel with his planned wall between the United States and Mexico as he expressed confidence that the Brexit impasse over the border in Ireland would work out "very well".
He made the comments at Shannon Airport as he arrived on his first official visit to the country since becoming president.
The plane carrying President Trump and First Lady Melania landed at Shannon at around 4.45pm this afternoon, following their three-day state visit to the UK.
They were welcomed to Ireland by Taoiseach Leo Varadkar.
US President @realDonaldTrump and US First Lady arrive in Ireland - welcomed by @LeoVaradkar pic.twitter.com/4ZR6XGhgFd

— RTÉ News (@rtenews) June 5, 2019
At the start of a bilateral meeting with Taoiseach Leo Varadkar in the airport's presidential suite, Mr Trump said it was an "honour" to be in Ireland and that Brexit could be "very, very good for Ireland".
"I think that will all work out, it will all work out very well and also for you, with your wall, your border," he said.
"I mean we have a border situation in the United States. And you have one over here but I hear it's going to work out very well. I think it's both going to work out well, it's going to work out very well here."
Mr Varadkar told President Trump that Ireland wanted to avoid any wall or border with Northern Ireland post-Brexit.
The president agreed that the current border arrangements should be preserved.
"The way it works now is good and I think you want to try to keep it that way and I know that's a big point of contention with respect to Brexit is your border," he said.
"And I'm sure it's going to work out well. I know they are focused very heavily on it."
'I think it will all work out very well – and also for you, with your wall, your border' @realDonaldTrump on #Brexit pic.twitter.com/Ch3zzYO9hd

— RTÉ News (@rtenews) June 5, 2019
President Trump rejected the suggestion that Brexit would be bad for Ireland.
"I think it will be good, the big thing is going to be your border but hopefully that is going to work out and I think it will work out," he said.
"There are a lot of good minds thinking about how to do it and it's going to be just fine and I think ultimately it could even be very, very good for Ireland, but the border will work out."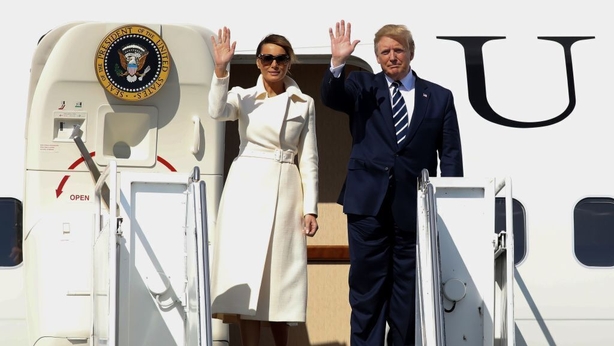 Speaking at a press conference afterwards, Mr Varadkar said he told President Trump that large US companies - such as tech and pharmaceutical firms - were very welcome in Ireland and that they were a big part of the economy in terms of the creation of jobs.
The Taoiseach said he expressed a very strong view that these companies should pay their fair share of taxes.
Mr Varadkar said there was no discussion about the possibility of the United States placing tariffs on goods from the European Union. He added that he hoped this would not happen.
President Trump and his wife Melania have now travelled to Doonbeg where they will spend two nights at his hotel and golf resort.
President Trump accepted an invitation from Mr Varadkar to visit Ireland while in Europe to attend events in Britain and France commemorating the 75th anniversary of the D-Day landings.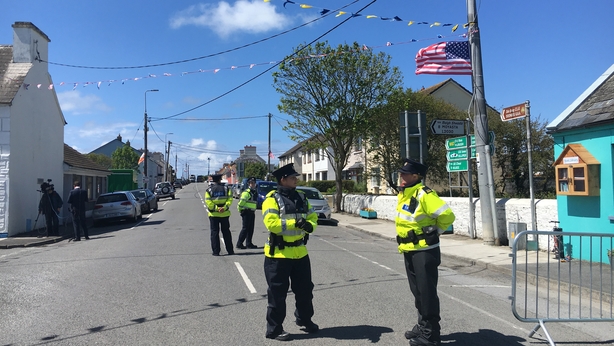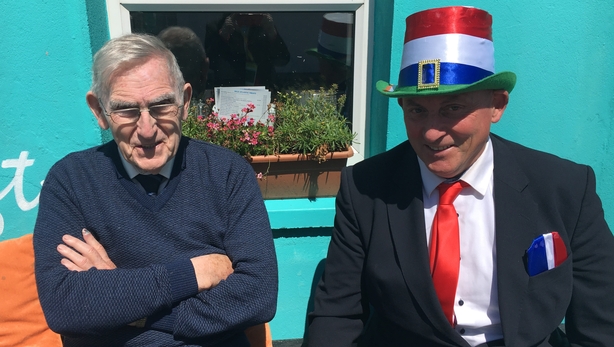 Tomorrow, President Trump will travel to France for the D-Day commemoration before returning to Doonbeg where a dinner will be held in the evening.
Irish Ambassador to the US Dan Mulhall and the Government's special envoy to the US, Fine Gael TD John Deasy, will be among the guests.
On Friday, President Trump is expected to play golf in Doonbeg before returning to the US later that day.
Mr Trump had been due to visit Ireland last November, but the trip was postponed for operational reasons.
Protests planned across Ireland
Thousands of people are set to take part in protests across Ireland to coincide with President Trump's visit.
They have prompted a massive security operation across parts of the country.
The Donald Trump baby blimp is expected to fly over the skies of Dublin at the largest of the demonstrations.
The Stop Trump Ireland coalition will stage a national protest in Dublin at the Garden of Remembrance.
A Shannonwatch peace camp has been erected at Shannon Airport for the duration of his stay.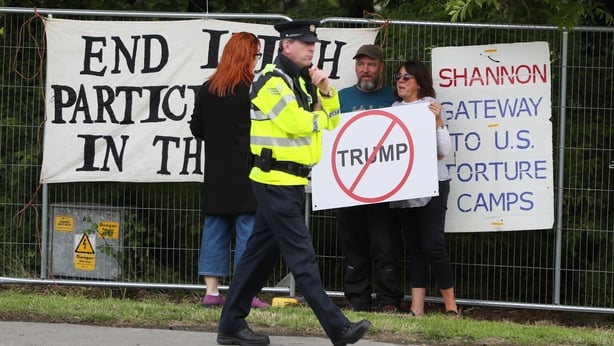 About 100 people turned out to protest over the visit at the entrance to Shannon this afternoon.
There was also support for Mr Trump in the area.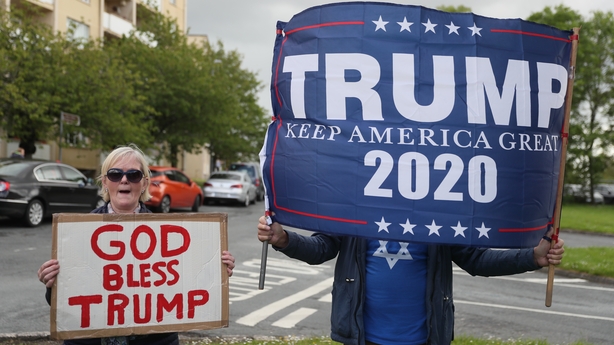 A demonstration took outside the US Embassy in Dublin this evening to coincide with the visit.
Around 40 people gathered outside the building in Ballsbridge.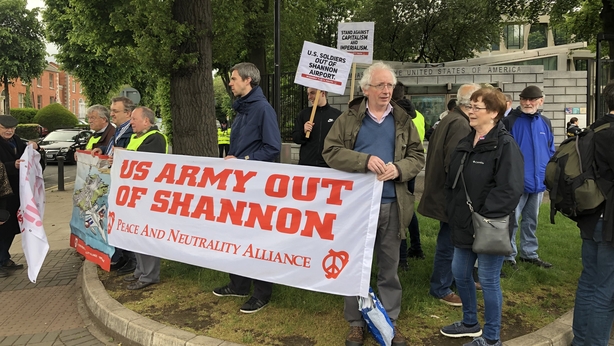 The protest was organised by PANA, the Peace and Neutrality Alliance. It says it is concerned about what it calls the use of Shannon Airport as a "US Military base".
One woman at the demonstration also told RTÉ News that she was protesting over what she said was the "American policy on Palestinians".