As US President Donald Trump continues his state visit to Britain the west Clare village of Doonbeg is making preparations in case he visits.
President Trump is due to arrive to Shannon Airport tomorrow, before travelling by helicopter to the Trump International Golf Links and Hotel in Doonbeg.
Locals hope the president will visit the village, but they do not know whether this will happen.
"Nobody knows if he will call. It would be good for the village like when President Obama visited Moneygall.
"But, the fact he is staying at the golf course means there will be a benefit anyway," said John Flanagan, Chairman of Doonbeg Community Development.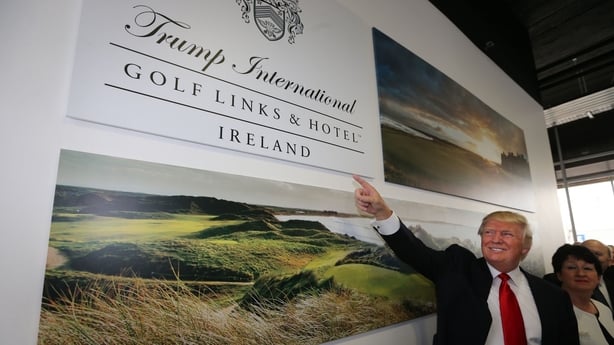 The star spangled banner decorates electric poles and shop windows in the small village and blue, red and white bunting festoons the village from one side of the street to the next.
Local business people say it is important to welcome President Trump because his family's golf resort is a major employer in the area.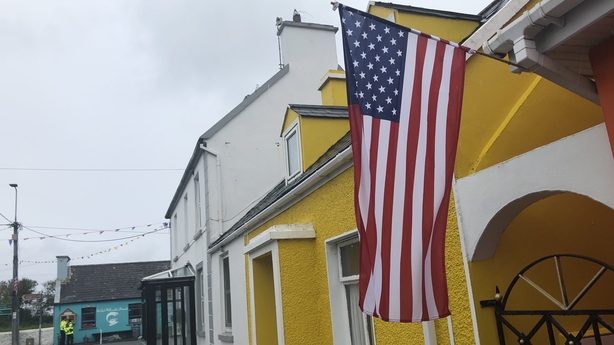 "His organisation is a very significant employer and investor in Doonbeg and west Clare. From that point of view, he is certainly very welcome to come to Doonbeg," said Rita McInerney, owner of the 'Wild Atlantic Break' cafe in Doonbeg.
"The other controversy that comes with the president in terms of many of his policies, which a lot of people don't necessarily agree with, and we are able as a community to separate President Trump and his current administration from the Trump organisation and what the project means to the people of Doonbeg," Ms McInerney added.
There will be protests in Co Clare when President Trump arrives. A Shannonwatch peace camp is set up near the entrance to Shannon Airport.
Shannonwatch Peace activist Edward Horgan says the view of locals in Doonbeg and Shannon, that the arrival of the US President is good for local business, is flawed.
"The people of Doonbeg and Shannon telling us that they need jobs ... if these jobs are at the expense of lives in the Middle East then I find that unacceptable," said peace activist Edward Horgan.
Gardaí said traffic restrictions for President Trump's visit will be "kept to the minimum required". They said Shannon Town remains open for business.
Additional security checks will happen close to Shannon Airport.
Passengers travelling to the airport are advised to allow extra travel time for the duration of the President's visit, as additional security measures will be in place on the approach road to the airport and car parks until Friday 7 June.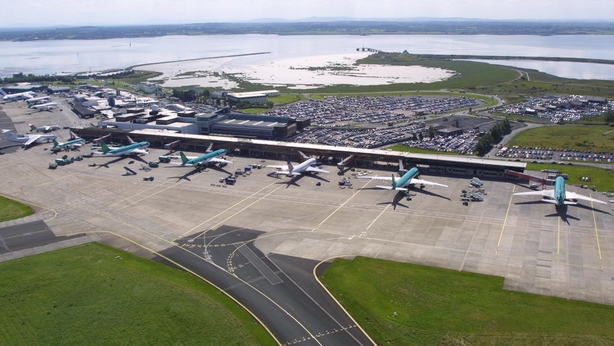 All visitors to the airport during the period are advised to have photo ID and intending passengers should have photo ID and valid flight documentation available.
Access to Doonbeg village is not restricted and it remains open for business as normal.
The Trump International Golf Links and Hotel is closed to the public from today.
There is also restricted access for traffic along the N67, between Clonadrum Cross (north) and Doonbeg (south).
Southbound traffic is diverted along the R483 to Creagh and Cooraclare and into Kilrush.
Northbound traffic from Kilrush is diverted on the R483 to Cooraclare, Creagh, Quilty and Miltown Malbay.
Gardaí will be patrolling these diversion routes and free flow of traffic will be maintained.
Access for local residents inside the N67 diversion route will be maintained.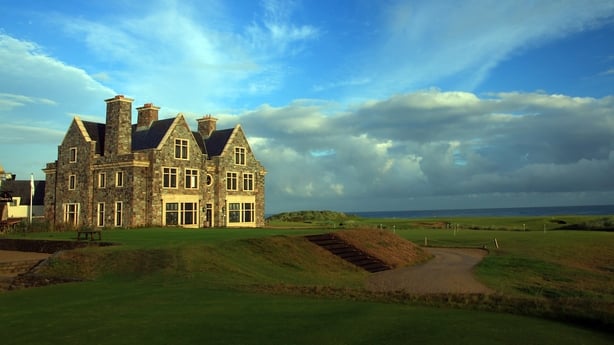 Local residents have been issued with passes and are further advised to carry photo identifications and proof of address to assist with security checks where required.
The public can expect temporary rolling road closures, to facilitate security and VIP escorts over the course of the 5-7 June, on the following routes: M18, N18, N19, N85, N68, N67 also through Ennis and the environs of Limerick city.
With State examinations starting, local gardaí have engaged with second level schools in these areas to give them advance notification.
Parents and students, particularly in Doonbeg and Shannon, are advised to give additional travel time to ensure that they can attend exam centres without difficulty.
Real-time updates will be provided, where appropriate, through the garda website, garda Twitter accounts @gardatraffic and @gardainfo, Instagram @gardainsta, and Facebook An Garda Síochána and Garda Siochana Western Region.
Locals in Doonbeg, Co. Clare, chat to @morningireland reporter @cian_mccormack ahead of the visit of United States President Donald Trump. https://t.co/KSDeqhxY2Q

— Morning Ireland (@morningireland) June 4, 2019