Cycling campaigners have called for changes to a regulation that forbids air horns and other audible warning devices on bicycles.
The 1963 Road Traffic Regulations set out how cars, lorries, buses and other vehicles should be equipped.
In the section on bicycles it is stated that all bicycles used in a public place must be fitted with a bell, although there is an exemption for bikes made or adapted specially for racing.
Many people who cycle are aware of this but most do not realise that the law also states "no other type of audible warning instrument shall be fitted to a pedal cycle while used in a public place."
That means all horns, including air horns or electric horns, cannot be used when cycling on the public road.
There are a range of products on sale to help cyclists alert other road users of their presence.
They include an electric horn, which claims to be loudest product available, and air horns which rival those fitted to trucks.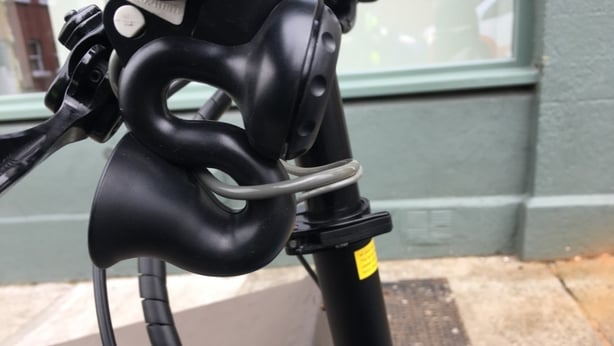 It is not against the law to sell them and many bike shops do.
Joe Dobias of Dublin Loves Bikes in Dún Laoghaire says most people come looking for bells but there are some who have had a fright on the road who want something loud, like an electronic bell or an air horn.
Simon O'Rafferty, who uses his bike to get around Dublin, says an air horn saved his life one day at Rathmines Bridge
He says a lorry was coming straight towards him while the driver was distracted by the beeping of car horns behind the truck.
A blast of the air horn made the driver turn at the last minute, avoiding what could have been a fatal collision.
However he no longer carries the air horn on his bike after others told him it is illegal.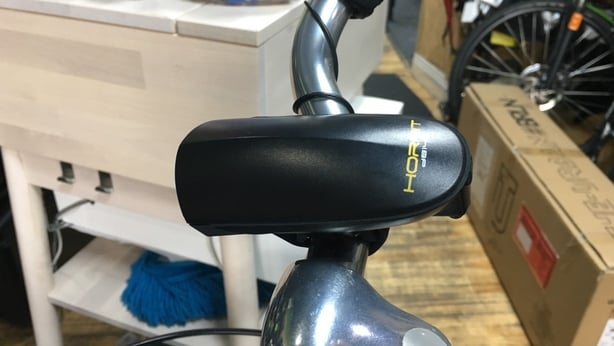 The cycling campaign group IBike Dublin argue that the 1963 law is outdated and does not recognise the vulnerability and risk to cyclists on the road.
Stephen McManus of the group says cyclists share the roads with vehicles of all sizes and should be allowed to use devices as loud as horns fitted to cars.
He says there are times when cyclists cannot be seen by the drivers of large buses and truck and they also cannot be heard.
He claims the noise of traffic is so loud these days that a bell cannot be heard.
The rule which requires a bell on a bicycle but forbids any other type of audible warning device is in the 1963 Construction, Equipment and Use of Vehicles Regulations. 
A spokesperson for the Department of Transport says it has no current plans to review or change this regulation, but it will be commencing a project next year to modernise the 1963 Regulations, including the equipment that must be fitted to bicycles.