The Taoiseach and the British Prime Minister have confirmed the establishment of talks involving the main political parties in Northern Ireland in an effort to restore power-sharing.
In a statement Leo Varadkar and Theresa May said they heard the unmistakable message to all political leaders that people across Northern Ireland want to see a new momentum for political progress.
The talks process is due to begin on 7 May.
In their statement, Mr Varadkar and Ms May also announced that a meeting of the British-Irish Intergovernmental Conference will also take place to coincide with the all-party negotiations on 8 May.
They said the Conference will consider East/West relations, security cooperation, and political stability in Northern Ireland. 
The two governments are to review progress at the end of May.
The move follows the murder of journalist Lyra McKee in Derry last week, which sparked calls for Sinn Féin and the DUP to go back into coalition.
Stormont was suspended in January 2017 and Fr Martin Magill received a standing ovation at Ms McKee's funeral on Wednesday when he asked why it had taken her death to unite political parties.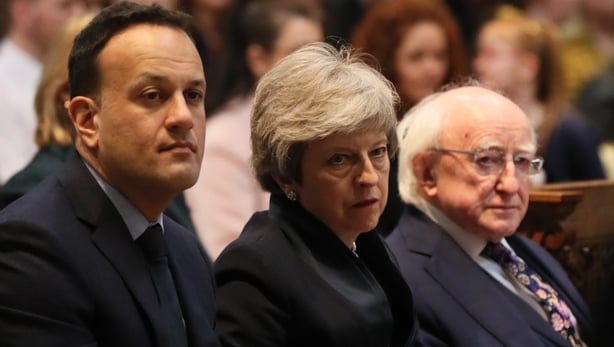 The statement for Mr Varadkar and Mrs May said: "In coming together with other political leaders in St Anne's Cathedral to pay tribute to Lyra McKee, we gave expression to the clear will and determination of all of the people of these islands to reject violence and to support peace and a better future for everyone in Northern Ireland.
"We also heard the unmistakable message to all political leaders that people across Northern Ireland want to see a new momentum for political progress. We agree that what is now needed is actions and not just words from all of us who are in positions of leadership.
"We have agreed to establish a new process of political talks, involving all the main political parties in Northern Ireland, together with the UK and Irish Governments, in accordance with the three stranded process.  
"The aim of these talks is quickly to re-establish to full operation the democratic institutions of the Belfast/Good Friday Agreement - the NI Executive, Assembly and North-South Ministerial Council - so that they can effectively serve all of the people for the future.
"We understand the complexity of the underlying concerns of all parties, and the need for renewed trust, mutual respect, generosity and new thinking to resolve the issues.
---
Read: Sinn Féin and DUP welcome new talks over Stormont restoration
---
The statement also confirmed that a review of this latest effort to restore power-sharing would be carried out at the end of May. 
A 'narrow window' in which progress can be made
The Northern Ireland Secretary of State, Karen Bradley, has said there's a 'narrow window' in which progress can be made on restoring power-sharing to the North.
Speaking at a joint media conference with Foreign Affairs Minister Simon Coveney in Belfast, she said political leaders needed to 'stand together now more than ever' following the killing of journalist Lyra McKee.
Ms Bradley described her murder as a 'sickening attack' which had deeply shocked people across the world, and described Lyra as a brilliant and talented journalist who had fought to make Northern Ireland a better place.
She said political leaders were united in condemnation of her killing, and added that those responsible had no place in society. 
Ms Bradley said inspiration must be taken from what Lyra McKee achieved, and said she had symbolised a new Northern Ireland, a place which was 'dynamic, modern, outward-looking and open to everyone'. 
She said the Good Friday Agreement must be defended, and said the Irish and British governments were working together to prepare for talks next month. She said she was determined that those talks - which offered all sides the 'chance to move forward' - would succeed. 
An "urgent need for positive and determined action"
Minister Coveney told the media conference that he condemned those who "took weapons onto the streets of Derry with callous disregard for human life".
Mr Coveney said there was an "urgent need for positive and determined action" because "we are leaving far too much wide open space for other kinds of voices, that don't believe in democracy but that peddle hate and fear".
He said the British-Irish Council would convene on 8 May, the day after fresh talks on power-sharing begin.
He added: "I think what every decent-thinking person in Northern Ireland wants now is to see us take that spark of determination that I think we have all felt in the last few days and to see if we can build a momentum from that to do something real and positive." 
He urged young Catholics to join and support the Police Service of Northern Ireland, saying it "takes real courage to transform your community despite often intimidating circumstances".
Mr Coveney said: "They know that communities have to be able to see themselves in the communities they're working with.
"If you want to show your support for a better future, show your support for the police.
Additional reporting: PA