Father Martin Magill, who presided over the funeral of Lyra McKee in Belfast yesterday, has said his homily was intended to invite politicians to look at how they work together to tackle the root causes of violence, especially among young people.
During his homily Fr Magill also called for political leaders to resolve their differences and restore the power-sharing executive at Stormont. 
The 29-year-old was murdered by the self-styled 'New IRA' last Thursday night after a gunman opened fire on a street full of people during disorder in the Creggan area of Derry.
Speaking on RTÉ's Morning Ireland, Fr Magill said Ms McKee "never gave up" in her work and we should learn from her doggedness to resolve matters.
He said that while acknowledging that politics was difficult, he was inspired by the women and individuals of Derry to speak out about the political impasse in Northern Ireland.
Fr Magill said looking at the situation in the Creggan area, he was very concerned about the number of young people who are becoming involved in violence after the ceasefire and the Good Friday Agreement.
He said he hopes that deprived areas will really feel the benefits of the peace process.
Fr Magill said that while it is difficult to resolve issues, he was looking for more than a blame game in his impassioned plea to politicians.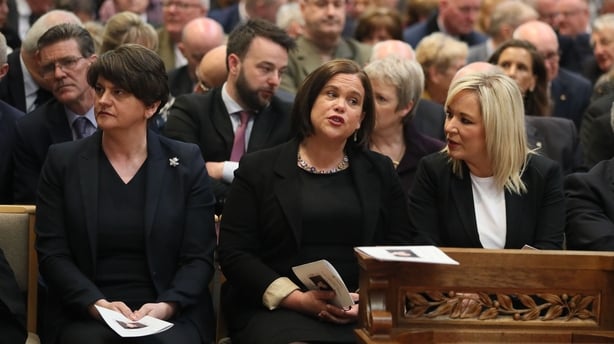 He said he noticed his words and the reaction from the congregation was uncomfortable and perhaps embarrassing for the politicians present, but he was not expecting the reaction.
Fr Magill is involved in the Stop Attacks coalition, a group that opposes paramilitary-style beatings and shootings and through this work noted more young people being involved in violence.
He said he would really like to see all the political parties get back together again to resolve issues and bring about a new Stormont Assembly.
He also said that he willingly acknowledged the love between Lyra and her partner Sara from a pastoral point of view, saying there is a variety of views in the church on homosexuality.
Lyra McKee's funeral hears call for 'road of non-violence' | https://t.co/qD11IiNW59 #lyramckee pic.twitter.com/lExBVEIQrJ

— RTÉ News (@rtenews) April 24, 2019
Meanwhile, a reward of up to £10,000 has been offered by Crimestoppers UK for information leading to the conviction of those responsible for Ms McKee's murder.
The UK Crimestoppers charity takes calls confidentially via a telephone or using an anonymous online form.
A spokesman for Crimestoppers said: "This murder has sent shockwaves through the local community and across Northern Ireland. Indeed it has attracted global condemnation.
"Ms McKee was merely doing her job as a freelance journalist.
"We know that this has affected all parts of the community and we urge anyone who has information about those who are responsible to come forward."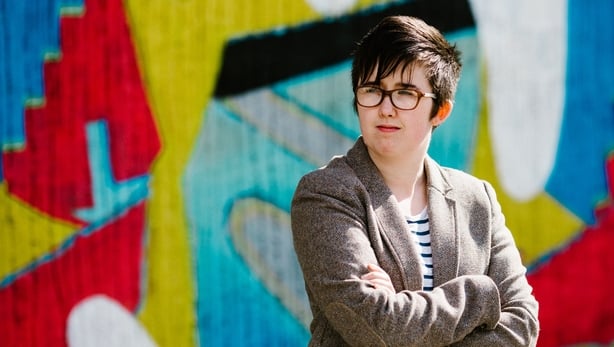 ---
Read more
McKee's funeral hears call for 'road of non-violence
'We must change our own world, one piece at a time'
'New IRA' admits killing journalist Lyra McKee
"A best friend and confidante" - family pays tribute 
---
He added: "By contacting Crimestoppers, you stay 100% anonymous. Always.
"You can pass on what you know, safe in the knowledge that you're doing the right thing. No-one will ever know you contacted us and you may also be entitled to a reward."
The number to call is 0800 555 111 or the anonymous online form is available at Crimestoppers-uk.org.
The spokesman added: "Your information could make all the difference in helping Lyra's loved ones and the wider community have the answers they deserve.
"Only by working together can we keep our communities safe."
The reward will expire on 24 July.