Minister for Housing Eoghan Murphy has said the increase in homeless numbers is very disappointing and a number of people are at "the very blunt end of the housing difficulties".
He said the root of the problem lays in the need to build and create new homes.
Speaking on RTÉ's Morning Ireland, the minister said that more homes were built last year than any previous year in a decade, and that around 1,700 new homes were built in Dublin last year.
But, he said, it was taking more time than he would like to build new homes.
We need your consent to load this rte-player contentWe use rte-player to manage extra content that can set cookies on your device and collect data about your activity. Please review their details and accept them to load the content.Manage Preferences
Focus Ireland has said that landlords evicting families in order to sell is the biggest single cause of family homelessness.
Mr Murphy said the Government cannot force a private home owner who wants to sell their house to keep tenants in situ.
He said rent pressure zones are to be strengthened because there are certain aspects to them that are lending themselves to higher inflation.
Homeless figures have exceeded 10,000 for the first time with 10,264 people, including 3,784 children, in emergency accommodation last month.
We need your consent to load this rte-player contentWe use rte-player to manage extra content that can set cookies on your device and collect data about your activity. Please review their details and accept them to load the content.Manage Preferences
---
Read More:
Rents rise nationally by 7%, signs rate slowing - RTB report
Number of homeless people passes 10,000 for first time
---
Labour's housing spokesperson Jan O'Sullivan said the Government needs to admit that Rebuilding Ireland is failing and nothing will change until this happens.
She said the policy is three years old and yet there are more than 10,000 people living in misery.
Ms O'Sullivan called on the Government to take action to ensure people can stay in their homes as well as meeting targets to build social and affordable housing.
A Galway-based charity says the latest nationwide figures on homelessness are mirrored in the findings of a survey it has conducted. 
COPE Galway carried out a census of those in contact with its service on 14 and 15 March.
This snapshot shows that 174 households were in emergency accommodation provided by the charity in this 24-hour period. The figure takes in families, couples and single people. 
A total of 89 families were provided with emergency accommodation on the night in question, with 79 single people also getting assistance. 
Martin O'Connor of COPE Galway said it was important to point out that the latest national homeless figures did not include those who were sleeping rough or "couch surfing". 
Meanwhile, Fr Peter McVerry has said he believes the actual number of homeless people is closer to 15,000.
Speaking on RTÉ's Today with Sean O'Rourke, he said that the number of homeless people is continuing to rise every month.
Fr McVerry said we are in this situation because there has been a marked reduction in the building of social housing, instead pushing people into the private rental sector through HAP payments.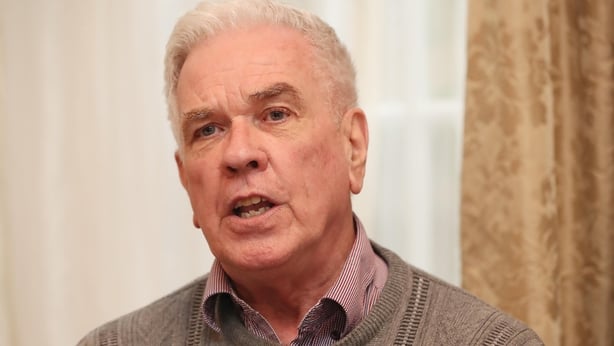 These people should, he said, be in council housing.
Fr McVerry called for a moratorium on evictions for three years, adding this would be an "inconvenience at most" for landlords, but would save thousands of people from the trauma of homelessness.
Meanwhile, Tanáiste Simon Coveney told Sinn Féin's Finance Spokesperson Pearse Doherty that his party's proposed legislation to protect tenants of buy-to-let landlords would not work.
Mr Doherty said the Minister for Housing described the latest figures as "disappointing" but he said they were a "national scandal".
He called on the Government to support a bill from their party's housing spokesperson Eoin Ó Broin to prevent buy-to-let landlords evicting their tenants. 
However, Mr Coveney said their legal advice was that the legislation proposed by Sinn Féin would do nothing retrospectively for families under pressure.
He said the Government has introduced rent caps in some areas and intervening in the market was not something it shies away form, however he said the legislation had to be sound. 
He said the Government would introduce legally sound legislation to protect tenants. 
Mr Coveney said the numbers of homeless children was unacceptable. Mr Doherty said Ireland had the highest level of child homelessness in the EU. 
"Despite eight years in Government, the situation is getting worse and worse," Mr Doherty said.
People Before Profit TD Richard Boyd Barrett said the Government should be "ashamed" of its housing policies.
Speaking during Leaders' Questions, he said that since Rebuilding Ireland was published, the number of adults in emergency accommodation was up 117% and the number of children in emergency accommodation was up 247%.
Mr Barrett said that while "human misery" was being visited on thousands of families the Government had sold vast amounts of property to foreign investors.
In response, the Tánaiste accused Mr Barrett of focusing on "drama" rather than focusing on solutions.
He said he was not happy with the fact that there was 10,000 people in emergency accommodation, but he said the Government was going to change it.
He said they were trying to fix a fundamentally broken housing market that collapsed during the banking crisis.
Mr Coveney said there was too much reliance on Housing Assistance Payments, but that it was necessary in the short term while the number of builds increases.
Private Members Motion
The number of officially homeless children has risen by 490% since Fine Gael came into Government in 2011, a Sinn Féin TD has claimed.
Eoin Ó Broin was speaking in the Dáil as he tabled a private members motion aimed at giving greater protection to households renting from buy-to-let landlords.
The proposal aims to make it no longer legal to evict tenants in buy-to-let properties on the grounds that the property is to be sold. 
Opening the debate, Mr Ó Broin said that "in 2011 when Fine Gael took office there were 641 children in emergency accommodation according to the Central Statistics Office. Yesterday's homeless figures said there were 3,784 children officially homeless in February. That is an increase of 490%."
He said that under the Minister's watch thousands of children have lost years of their young lives to homelessness.
He claimed the single biggest cause of homelessness is landlords legally evicting their tenants when selling their properties.
He said that now that house prices are starting to rise, landlords who may have previously been in distress are now exiting the market.
Since 2017 more than 9,000 rental properties have been lost and he accused Fine Gael of sitting on its hands.
He said there is nothing in the Rebuilding Ireland plan to address this specific problem and unless something changes, hundreds more families will be issued with vacant possession notices to quit and be evicted as banks and funds force accidental landlords to sell their properties.
He said that tonight's bill was drafted by Focus Ireland in 2016 and debated and voted on already in the house.
As the bill returns to the House, Mr Ó Broin said "it would prevent buy-to-let landlords who have availed of tax breaks when purchasing their property from evicting tenants into homelessness when selling up.
"This would ensure that many of these properties would in turn be purchased by other landlords keeping the tenants in situ."
Housing Minister Eoghan Murphy said this week's homeless figures were "very distressing" for those in emergency accommodation.
However, he said Mr Ó Broin's proposed bill would be unconstitutional and would not help anyone currently renting, and risked making the situation worse.
He also questioned a recent UN report which criticized treatment of investments funds which are buying up properties, resulting in rising rents.
"We don't have large numbers of foreign investors operating in the Irish rental sector," he said.
Mr Murphy said 86% of landlords owned one or two properties.
"These aren't evil corporate organisations...these are real people, some of them are accidental landlords because of the crash," Mr Murphy said. 
Additional Reporting: Edel McAllister & Conor McMorrow