An Irish nun who works in South Sudan has been awarded a prestigious honour by the US Secretary of State Mike Pompeo and US First Lady Melania Trump.
Sr Orla Treacy, from Bray, Co Wicklow, received the International Women of Courage Award at the State Department in Washington, along with nine others from around the world.
Sr Treacy, who is a member of the Loreto congregation, was commended for working to empower young women and girls in conflict-torn South Sudan "at great personal risk and sacrifice".
More than ten years ago, she set up a girls' boarding school outside the town of Rumbek, in a remote region. 
Only a third of girls enrol in primary school in the country.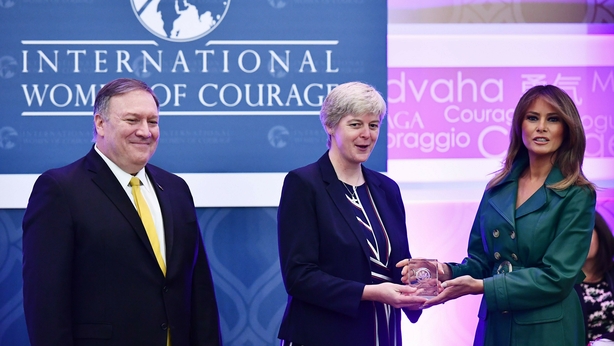 Sr Treacy has succeeded in encouraging attendance at the secondary school, which she continues to run, along with a primary school and a local clinic.
The awards honour "women around the world who have demonstrated exceptional courage, strength, and leadership in acting to bring positive change to their societies, often at great personal risk and sacrifice."
---
Read more
---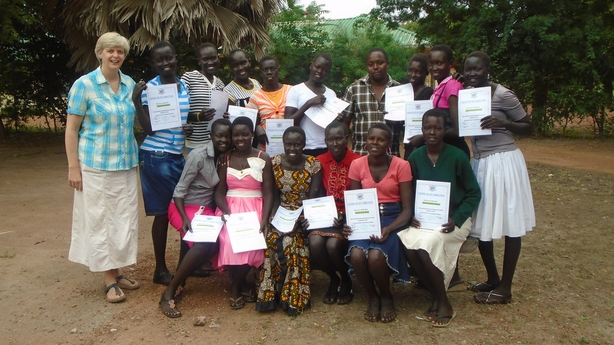 The Bray-born nun spends much of her time combating what she terms the "everyday reality" of families in South Sudan forcing young girls into arranged marriages.
She says so-called "forced marriages" have only recently been included in UN statistics on modern slavery.
RTÉ's Religious and Social Affairs Correspondent Joe Little met Sister Orla 15 months ago and has been tracking the campaign by the Loreto community in war-torn Rumbek, which earned her today's accolade.
Rumbek, where Sr Treacy and four other religious sisters founded a girls' secondary school 11 years ago, has been in the grip of a six-year civil war.
The Catholic community now runs a burgeoning primary school, a women's shelter and a health facility.
In a recent dispatch from the town Sr Orla, who is an experienced teacher, highlighted how her order's secondary school has been resisting forced marriage in South Sudan.
In her mission's newsletter she said forced girl child marriage is a major issue in sub-Saharan Africa generally and specifically in Africa's youngest state. South Sudan won independence from Sudan in 2011.
"Locally over 52% of girls are married prior to their 18th birthdays, as many as 17% report being married before turning 15," she wrote. She underlined that the traditional practice often places further limits on already vulnerable girls' future choices.
"For most, it means no more school," she explained.
She cited the example from last January of an agreement on a proposed marriage.
"The betrothed of a Loreto Girls Secondary School student's family received 85 cows of a total of 260 cows promised," she said.
She explained that once a family receives cattle, this is often "the beginning of the end" and, in the past, delaying tactics have been the best hope for a girl in such a predicament being able to stay in school.
But Sr Orla rejoiced at the first ever breakthrough in the school's long-running campaign. The planned forced marriage was rejected thanks to the advocacy of the school administration, community leaders, officials from the Catholic Diocese of Rumbek and, ultimately, the Deputy Governor of Western Lakes State. She dubbed the cancellation "a new source of hope for many girls facing similar situations".
Sr Ola said: "Mr Yuga (Charles), the head teacher, explained to local officials the school's agreement with all families. The families sign a four-year agreement allowing their girls to study at Loreto. This agreement and the girls' status as a full-time boarders allow the school to protect them during this time."
But, she added, last year alone, the school registered "nine active forced marriage cases" involving its students.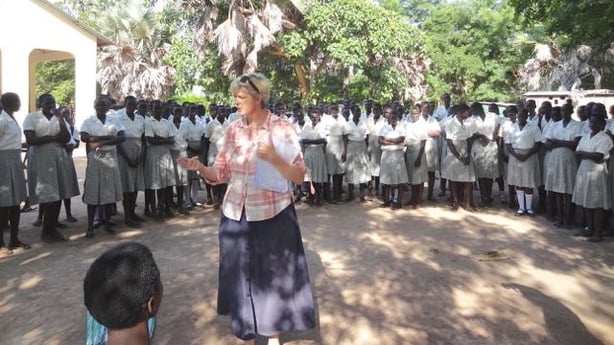 Reporting on the case, Eye Radio based in the country's capital city, Juba, identifies Bakhita Athiei Mangor, a third year student, as the person who refused to consent to her elders' marriage plans. The station's website says she had urged her parents "to be patient and allow her finish her education instead of rushing to get cows".
The station adds that Ms Mangor also urged people with similar issues to always seek help from the government when parents are not listening.
It reports that, at one point, some family members had gone as far as using guns to threaten a male cousin of Ms Mangor who they were suing for allegedly collaborating with the school to sabotage their relative's planned marriage.
The cousin concerned "was the sponsor of the girl and had signed a commitment form two years (earlier) when the girl was admitted (to the school)," the website explains.
But the Deputy Governor had ensured the case was transferred from the court to his office, enabling the girl to persist in her rejection of the forced marriage and to remain at school.
The website adds that Ms Mangor's would-be-husband told the local Good News Radio that the marriage was arranged by "both parents" without his or her consent.
"But when I heard that she wasn't willing because she wants to pursue her education I told the parents that we should respect the girl's opinion because it is her right and because I also like those who want to study," said the man named Joseph.
In January's Loreto Rumbek newsletter, Sr Orla also emphasised the broader role played by the congregation's mission in supporting girls facing forced marriage.
She wrote: "They can often feel very alone and hopeless in their situation which puts their emotional health at risk.
"To help them through this rough period, Loreto provides a broad network of support. The secondary school's School Family system is a surrogate family for these girls, with 'mothers' and 'grandmothers' who encourage them to resist forced marriages and to complete their studies.
"In many cases, these mentors serve as a 'first response team,' advocating for the girls from the beginning of their studies. The school also provides a trained counsellor for group and individual support, as well as female teachers and students who are trained as peer counsellors.
"Students also receive several classes each term that focus on emotional health and well-being and are provided with opportunities to talk about the issue through weekly debates.
"Altogether, this comprehensive support network helps girls to stand strong when threatened with forced marriage – to resist."
In November 2017, Sr Orla Treacy was presented with the Annual Monsignor Hugh O'Flahery International Humanitarian Award in Killarney, County Kerry.
It commemorates a priest from the town who was dubbed the "Scarlet Pimpernel of the Vatican" for his highly risky humanitarian exploits during the Nazi occupation of Rome.