The disturbing picture of the alleged cyberbullying game Momo circulated in recent weeks was a very unsettling image for parents.
And it wasn't without foundation – the story escalated quickly in the media after gardaí and the PSNI issued warnings about what appeared to be a very sinister development. This understandably led to fears that children and vulnerable people were being exposed to harmful online content.
It saw parents once again urged to supervise their children's online activity following reports that Momo appeared on YouTube, as well as other platforms such as WhatsApp.
Despite the well-intended safety awareness messages being promoted, in a puzzling development YouTube said it had seen "no recent evidence of videos promoting the Momo Challenge" on its website.
Children's charities also said that the challenge, which allegedly encouraged young people to perform dangerous tasks, was a hoax.
Regardless of whether Momo was real or not, the alert did however put the issue of cyber safety back in the spotlight.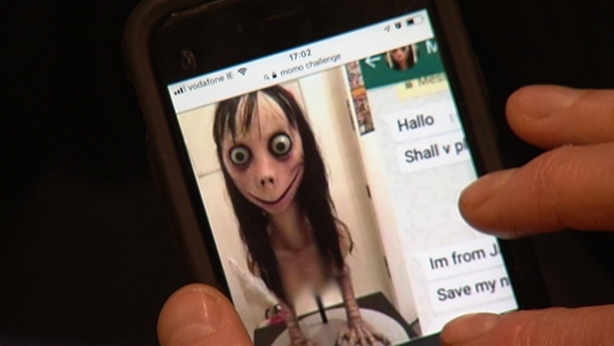 Cyberpsychology and Psychology Lecturer at the Institute of Art, Design and Technology, Dún Laoghaire, Nicola Fox-Hamilton, said one possible primary reason why Momo went viral was because highly emotional content is more likely to go viral than informative content.
She said that due to coverage in the media and online, as well as warnings by police bodies and schools, the story of the Momo Challenge snowballed.
Ms Fox-Hamilton said: "Something that plays on the fears of parents and their children is obviously highly emotional. So people passed it on very quickly and it grew very fast."
The academic said that more research should have been done into confirming the veracity of the Momo Challenge, to establish if it was a hoax or not.
This, she says, would have led to a more calm response in how information about Momo was relayed to parents.
She said: "I think it does come back to digital literacy. There has been a lot of panic in response to this, a very anxious response to it.
"We want to model to children the appropriate way to behave when they encounter something online that is potentially dangerous to them ... we want to show them how to remain calm and come and talk to someone about it."
Concerns were expressed about the Momo Challenge appearing on social media sites, with one parent telling RTÉ News that the Momo icon and a link appeared on screen while she was watching a movie on YouTube with her child.
However, Ms Fox-Hamilton says that because there was so much attention drawn to Momo, other malicious actors may have been using Momo for other purposes.
She said: "It is possible for it [the link] to happen, and the most likely way is it's an ad that pops up in the middle of something on YouTube.
"It would be much more difficult to insert something into a video, but ads do appear frequently on YouTube videos and I think that is the most likely explanation.
"If there was a link, then it could be to anything. I suspect what's happening was that the Momo challenge was a hoax, but because so much attention was drawn to it, that other malicious actors may now be using that attention for their own purposes.
"If you were to click on that link, you could end up potentially downloading malware or giving away details and information that you don't want to, or it could bring you to a site that is replicating the Momo Challenge idea that didn't previously exist."
Ms Fox-Hamilton says that there has been no evidence of the Momo Challenge appearing on WhatsApp.
"If it is [appearing on WhatsApp], it has probably been someone who has heard about the Momo Challenge and decided to do something malicious, rather than it being the original challenge in the first place," she said.
CEO of CyberSafeIreland, Alex Cooney, said that reports of the Momo Challenge highlighted that there is content online that nobody wants children to be exposed to.
Speaking to RTÉ News, Ms Cooney said that a recent report carried out by CyberSafeIreland found that a significant number of young people are on social media and messaging apps.
She said: "In the last academic year, we did a survey of 5,000 children aged between 8 and 13, and we found that 68% owned a smartphone and 70% were on social media and messaging apps.
"So clearly that is a significant proportion of younger children."
She said that parents need to have an awareness of the responsibility that comes with access to a smartphone, adding that children need guidance and support when they are online.
"The online environment largely was not designed for children in mind, so there is going to be plenty of things they might come across that might be inappropriate."
However, she said the responsibility does not just lie with parents, as they too need to be equipped with the knowledge of online safety.
Ms Cooney said that as a society, more needs to be done about awareness.
"We would like to see consistently good education in schools, digital literacy programmes being rolled out at primary and secondary level – this is happening in the UK, there is absolutely no reason why we cannot have that here too," she said.
"We would also like to see a stronger regulation of industry."
Ms Fox-Hamilton said parents should have regular conversations with their children about what to do if they encounter anything distressing online, such as cyberbullying.
"Make sure they know they can come and talk to their parents or someone else, and give them specific strategies to deal with it.
"That's the best way to defend your children against any kind of harm online, and it's the way we've always defended our children against harm.
"We've always told our children how to deal with specific situations and that hasn't changed, it's just that the format is different now."
For more information about cyber safety, visit cybersafeireland.org or webwise.ie