The Minister for Justice is to establish independent research into family homicides. 
The announcement came after what he described as a lengthy but satisfactory meeting with the family of Clodagh Hawe today. 
Clodagh Hawe and her three sons, Liam, Niall and Ryan, were killed by her husband Alan in 2016.
Her sister Jacqueline Connolly and mother Mary Coll have said they had a "constructive and satisfactory" meeting with the Minister Charlie Flanagan today
The family are to meet Garda Commissioner Drew Harris next week.
We need your consent to load this rte-player contentWe use rte-player to manage extra content that can set cookies on your device and collect data about your activity. Please review their details and accept them to load the content.Manage Preferences
Mr Flanagan said he has to consider the terms of reference of such research, but that he has agreed to an independent chair. 
He said he expects progress on this in very early course. 
The study is being carried out to establish if special protocols or legislative changes are needed in cases like this. 
The person carrying out the research will meet with Clodagh Hawe's family, as well as other similarly affected families. 
State agencies will also be consulted to see what could be done to help. 
The Independent chair of the research will then be free to make recommendations.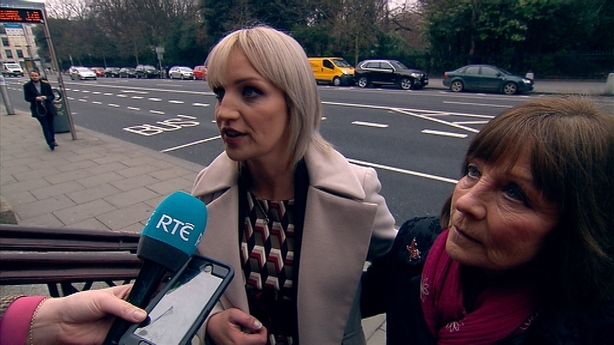 Mr Flanagan said the family brought a number of issues around legislative change to him and that he has asked Department officials to report back on proposed changes to the Succession Act and the Coroners Act.
He said the issue of access to the garda files would be the subject of the family's meeting with the Garda Commissioner. 
When asked if there would be an independent inquiry into the case of Alan Hawe, the Minister said that many of the issues could be dealt by his Department and the offices of the Garda Commissioner. 
He added that other agencies were also involved and he would be happy to engage with the relevant ministers. 
Minister Flanagan said he was struck by the "grace and humanity" shown by Ms Coll and Ms Connolly, with regard to the horrific circumstances of their ordeal. 
He said he was keen to assist them at an early stage. 
Earlier, Ms Coll thanked Mr Flanagan for arranging the meeting promptly, following their interview on RTÉ's Claire Byrne Live programme on Monday night.
The family discussed ten issues with the minister that they wanted reviewed.
Ms Connolly described Minister Flanagan as "very receptive".
She said they now feel very positive that changes will come from this.
Clodagh's mother Mary said she was confident they would be able to access garda files that they had not been able to get access to before now.
The family said they were not in a position to comment about the possibility of an inquiry.
They added that they are looking forward to hearing from Commissioner Harris.
The family said they have received overwhelming and immense public support in recent days.
They thanked the media for the coverage and for the "respect they've been shown finally".
Ms Connolly said the public support in recent days has been "unreal" and thanked the country for coming behind them.