A family syndicate from Naul in Co Dublin has come forward to claim last night's €175.4m EuroMillions jackpot.
The winning ticket was sold at Reilly's Daybreak in Naul and is the largest ever EuroMillions win in Ireland.
A family spokesperson said: "This is unbelievable. It will take us some time to get our heads around this win and to organise ourselves."
The spokesperson, who is married to one of the syndicate, added: "We are a very close family. We meet every week and we take holidays together every year.
"This is a dream come true for us. We don't want this to change our lives.
"What is so exciting is that we will be able to share this money with children, grandchildren and extended family members."
There were 175m reasons to celebrate in the Naul today: 'I know the people that won it … they're a lovely family' #euromillions pic.twitter.com/MZZAgEy1cY

— RTÉ News (@rtenews) February 20, 2019
One of the syndicate members told the National Lottery that she realised their good fortune when she checked the winning ticket after last night's draw.
She said: "I heard on the RTÉ News that there was a win in Ireland and I caught the last three numbers.
"I checked the rest of the numbers online. I was numb! It took a bit of convincing everybody that we had won."
To keep the winning ticket in a safe place, she put it in an Argos catalogue and placed it under a mattress.
"I didn't sleep a wink all night!" she said.
The winning ticket is now in the hands of the National Lottery while it works out arrangements for the family to collect their winnings.
It will take the lottery a number of days to collect the jackpot from the other competing lotteries across Europe.
The family spokesperson added: "We know this is a huge story and there is great excitement over this win.
"We need time to let this news sink in and to prepare to collect our winnings. We are a normal family and we don't want this to dramatically change our lives."
The National Lottery said that most of the group are retired and would be from a well-known family in Naul.
It is not the first time good fortune has hit the family.
It is understood one of the husbands of a syndicate member living in Duleek, won a £600,000 jackpot from the National Lottery in the 1980s.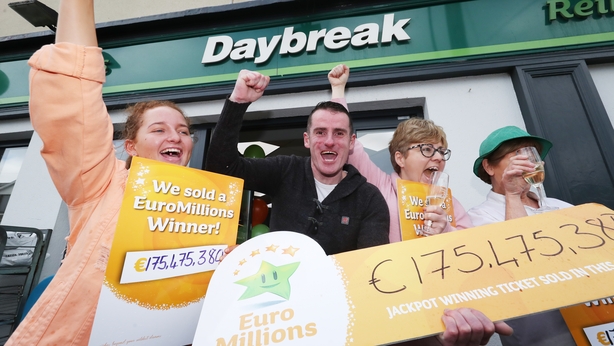 Speaking on RTÉ's News at One, Les Reilly, who owns the shop where the ticket was bought, said his first thought was that a syndicate he runs from the store might have scooped the millions.
"I've a syndicate in the shop, we had 112 people in it last night. Unfortunately, we didn't win, but we did win €38," he said.
He said that about 80% of the customers in the shop are regulars, but added that regardless of who won he wished them the best of luck.
Mr Reilly said the atmosphere in the shop is "buzzing" due to the win. 
"It's business as usual, but we are going to celebrate and have fun."
The shop will get €25,000 for selling the winning ticket.
Les Reilly - the owner of Reilly's Daybreak in the Naul - where the winning Euromillions ticket was sold. @rtenews pic.twitter.com/V7BjsC1KNM

— Sinéad Hussey (@SineadHus) February 20, 2019
---
Read more:
How to win the lottery and not lose your head
EuroMillions: What are the odds, and is luck of the Irish real?
---
We need your consent to load this rte-player contentWe use rte-player to manage extra content that can set cookies on your device and collect data about your activity. Please review their details and accept them to load the content.Manage Preferences
National Lottery CEO Dermot Griffin said: "Happy days like this is what playing National Lottery games is all about. We are just so pleased for the family and that this huge amount is being shared out.
"This is an historic day in the life of the National Lottery with the biggest every payout from a draw based game since we were established in 1987."
The winning numbers are 01, 08, 18, 19, 39 and the Lucky Stars are 07, 09. The jackpot is worth  €175,475,380.
It had been rolling over since 4 January and is the 14th National Lottery EuroMillions jackpot winner since the game began in 2004 and represents the biggest ever lottery win on the island.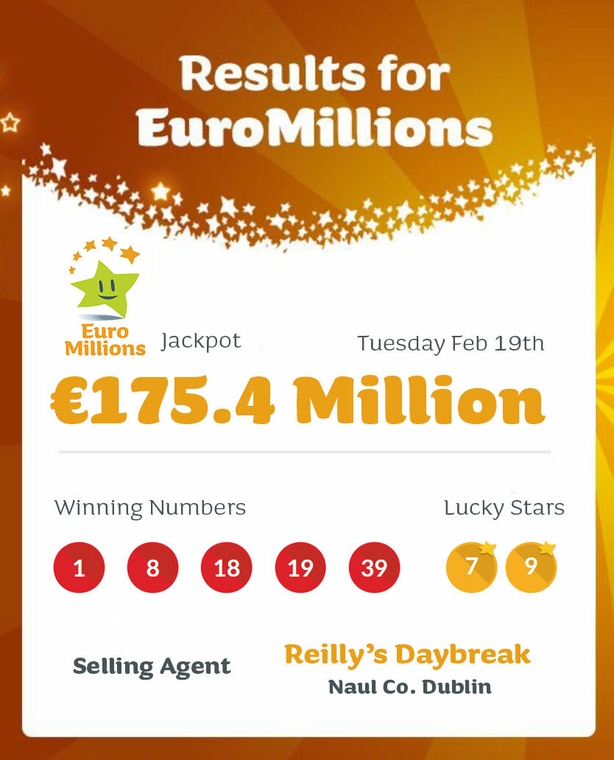 It comes after a Co Down couple won €130m in the New Year's Day EuroMillions draw.
An investment strategist with Investec has said the winner, or winners, will need to take their time before making any decisions.
Dan Moroney said the scale of money is unimaginable and, if it is an individual winner, they will probably be experiencing shock.
Speaking on RTÉ's Morning Ireland, he said that good, solid legal and financial advice would be worth its weight in gold.
He added that the scale of money means options such as establishing family trusts and charitable foundations need to be considered if it is an individual winner.
Of the nine countries that play #euromillions, Ireland ranks as the third luckiest | https://t.co/HtJjCxDJaX pic.twitter.com/c5mUWjeHUO

— RTÉ News (@rtenews) February 20, 2019