The mother of a Sligo teenager who killed his younger brother, and then himself, has said her "world was turned upside down" when they died in July 2014.
Carmel Skeffington and her husband Shane discovered that their eldest son Shane Michael had assaulted his nine-year-old brother Brandon.
Brandon died as a result of the assault, and Shane Michael died by suicide.
A 2015 inquest into the deaths returned an unlawful killing and suicide verdicts.
Speaking on RTÉ's Six One News, Mrs Skeffington said that she and her husband were "numb" when the deaths happened.
She said: "Our world turned upside down. You couldn't have even imagined that Shane Michael would have done anything like that.
"He was so loving and caring, he was so good with Brandon ... They were like two peas in a pod the pair of them. Even now we can't get our heads around it, how something could have happened like that."
Mr and Mrs Skeffington issued legal action against the HSE, suing for alleged negligence or breach of duty in the case.
The case was settled at the High Court earlier today.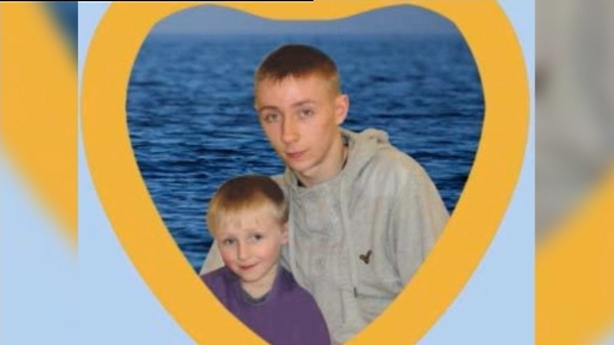 Mrs Skeffington said that Shane Michael had no history of mental health difficulties until May 2014, following an incident that she described as "totally out of character".
He had spent six days in seclusion in a high dependency unit at St Columba's Hospital, before being discharged on 20 May.
She said that people need to be educated more about mental health issues, and that herself and her husband were "out of their depth" after he was discharged.
"We didn't understand what was wrong," she said. "We're not doctors."
Mrs Skeffington said the family had hoped Shane Michael would receive the help he needed when he was admitted to St Columba's Hospital that May.
"We hoped by getting him admitted that he would get that help," she said.
She said that while Shane Michael "did different things helping around the place", including collecting his younger brother from school, he also spent a lot of time in his room.
Mrs Skeffington said people need to be educated about mental health issues and know what to look out for.
Ciaran Tansey, the family's solicitor, said they want to see changes made to ensure all children are afforded the treatment they deserve.
Speaking on the same programme, he said: "Today marks the end of a three, perhaps four-year legal battle.
"The abiding viewpoint of the family is the HSE makes these changes that are required to ensure all children are afforded treatment they deserve and these instances don't happen.".
Mrs Skeffington said that despite today's settlement at the High Court, nothing has changed for her and her family.
"We've got to keep on going without the two boys," she said.
"It's hard without them but we keep their memory alive. It's all we can do."
---
If anyone needs support there are helplines available: