Dublin Airport claims its new second runway will create more than €2bn in economic activity over the next 24 years.
The official sod-turning ceremony for the €320m project was performed today by Taoiseach Leo Varadkar and Minister for Transport Shane Ross.
The Taoiseach said the new Northern runway would be a gateway to the country for the 30 million air passengers who use Dublin Airport every year.
He said it was part of the Government's €116bn Project Ireland 2040 to modernise national infrastrucuture.
The DAA said the second runway is essential because the capital's airport is now full at peak times following a 45% increase in passenger numbers over the past five years.
The second Northern runway has been in the pipeline since the late 1960s when plans were drawn up to replace the old runway dating back to 1940.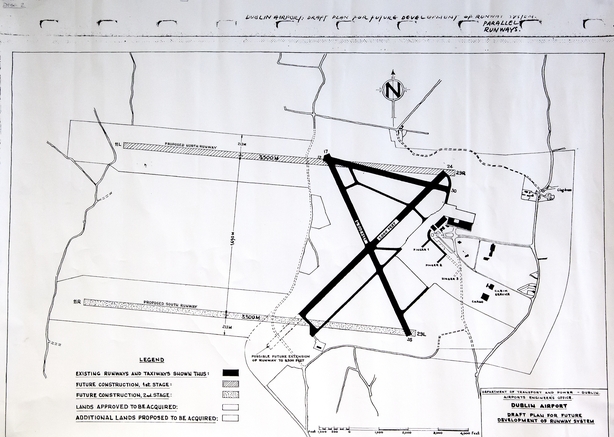 The plan had two parallel runways - one Southern and one Northern.
The Southern runway was opened in 1989 but the second runway project dragged on amid opposition from residents in North County Dublin.
The scheme got off the ground again in 2016 and following two phases of public consultation the first phase of works involving road diversions and site clearance got under way in December that year.
Finally An Bord Pleanála granted planning permission in 2007 only for the project to be again put back because of the economic downturn.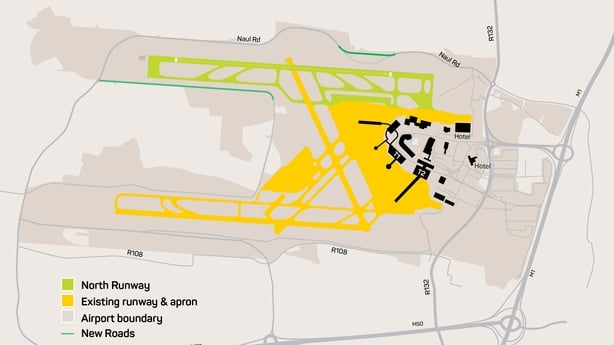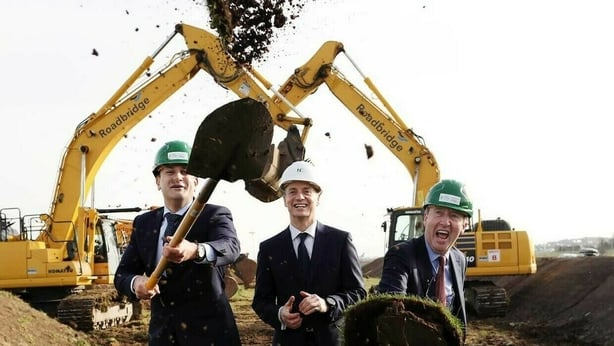 Local residents particularly in St Margaret's are worried about increased noise. There are 250 affected in total with most qualifying for insulation works paid for by the DAA.
It has offered to buy out 22 homes on Kilreesk Lane which will be directly under planes coming into land on the new runway.
But one resident Helen Gilligan said the DAA offer would not even match the building costs of her home from 12 years ago.
The offer does not extend to commercial premises so dairy farmer Jim Cullen said he is stuck in "no-man's land" as he cannot afford to move.
We need your consent to load this rte-player contentWe use rte-player to manage extra content that can set cookies on your device and collect data about your activity. Please review their details and accept them to load the content.Manage Preferences
DAA chief executive Dalton Philips said he feels sorry for the residents but points out that there are only 250 affected compared to London's Heathrow which affects 42,000 households.
The DAA is also facing planning restrictions dating back to 2007 which would ban flights between 11pm and 7am on the Northern runway and restrict flights to 65 on the Southern runway.
The irony is that if these restrictions were enforced Dublin Airport would have to reduce its total number of flights if the second runway opened - it claims it would have to turn away three million passengers a year.
That is because passenger numbers have grown so fast that the 6am to 7am slot in particular would have to be reduced by 50%.
Mr Philips said with Dublin Airport handling 85% of people coming in and out of the country it would be an "economic catastrophe" if these restrictions were enforced.
Legislation to allow Fingal County Council to act as a noise regulator with powers to change these restrictions was passed by the Dáil last night and is due to be enacted within months.
---
Read more:
---
The new 3.1km-long runway will take two years of construction followed by a commissioning period of nine months.
The DAA says it will cost around €320m, which will be financed from its own revenue and borrowings at no cost to the State.
The project will involve more than 300,000sqm of runway, 6km of internal roads, two electricity sub stations, 11km of CCTV cable and 2,100 new runway lights.
A new airport tower is also under construction and €1.22bn worth of improvements, including news boarding gates are also being built over the next five years.