Minister for Health Simon Harris is to move ahead with legislation that would provide for safe access zones around facilities providing abortion services.
The minister described it as "quite sad" that anti-abortion protesters would gather outside hospitals or harass individuals and medical professionals on social media.
He said both he and the Health Service Executive would take leaks of a patient's private information "very seriously".
The number of GPs signed up to provide abortion services is now around 200, up from 165 before Christmas.
Meanwhile, an anti-abortion protest took place outside Our Lady of Lourdes Hospital in Drogheda, Co Louth, this morning, following unconfirmed reports that abortion services were to begin at the hospital today.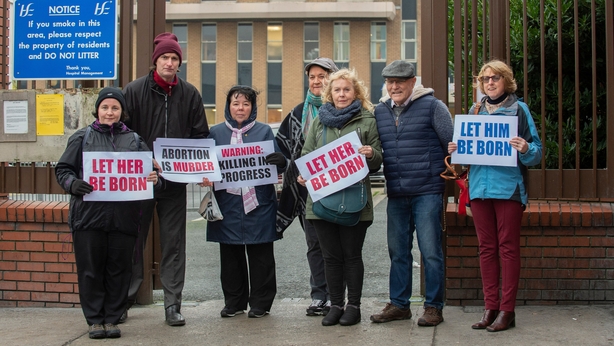 One of the protesters is Charles Byrne, who took an unsuccessful legal challenge to the outcome of the referendum on the Eighth Amendment.
Mr Byrne said the group is one of concerned citizens and he is protesting because "I deeply and profoundly care about the right to life of every human being.
"We are here because we believe hospitals need to be places of care through compassion."
Mr Byrne said "it is a quiet protest, we are not going to leaflet people".
The Health Service Executive said it would not be commenting.
Additional reporting Elaine Keogh