A Fine Gael TD has published a bill that seeks to clarify the legality of using electric scooters on the public roads here.
Dublin North West Deputy Noel Rock says the law as it stands is grey around whether or not electric scooters are permissible.
Electrically powered scooters look a lot like the physically powered equivalent loved by many children.
But they feature a small electric motor powered by a rechargeable battery that can independently propel the scooter at speeds of up to 30km/h for up to 50km/h.
The devices are growing in popularity in Ireland and around the world as a means of travelling the last segment of a journey.
However, Irish users complain that the law is not clear about whether it is legal to use them on the public road or not without a license, tax and insurance.
An Garda Síochána says it considers electric scooters as mechanically propelled vehicles under road traffic law, meaning you must have a licence, tax and insurance to ride one on the road.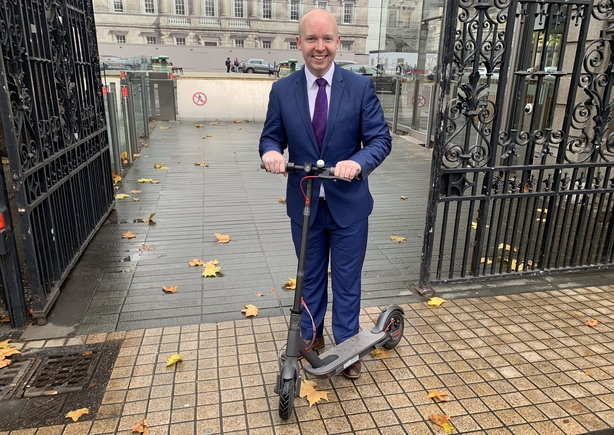 They have reportedly cautioned and even confiscated electric scooters from users who have been using them on public roads here.
But the Department of Transport told RTÉ News that if the device does not have a seat it does not need to be registered under regulations governing taxation.
Mr Rock's bill would amend the road traffic legislation specifically preventing electric scooters from being designated mechanically propelled vehicles.
He said that if passed by the Oireachtas, the bill would provide certainty to an otherwise grey area for those using the electric devices.
He estimates that there are up to 1,000 electric scooters in use in roads around Dublin city, with many used by commuters because they are light, quick and portable.
Mr Rock said he hopes the bill could begin its journey through the Oireachtas as early as next week.
We need your consent to load this rte-player contentWe use rte-player to manage extra content that can set cookies on your device and collect data about your activity. Please review their details and accept them to load the content.Manage Preferences