There are no definitive figures for Irish casualties in World War One.
Although a figure of 49,000 is referred to in the Garden of Remembrance at Islandbridge, most historians now agree the final death toll is in or around 35,000, after extensive searches of available records.
It is nevertheless a shocking figure and does not take into account the 20,000 or so who came back to Ireland over the four years of the war with shellshock and terrible wounds - some untreatable – or the Irish diaspora who fought, coming from countries such as Australia, the US and Canada.
The war led to total losses of 10 million dead soldiers from all sides, including around 1.1 million British and empire dead (as they were called at the time).
Total civilian deaths globally are very difficult to estimate, but Professor Heather Jones of University College London puts the figure at at least six million, bringing the total to 16 million.
So why did some 210,000 men from the island of Ireland volunteer for such a prolonged and terrible war that would end in millions of deaths?
It's fair to say they didn't sign up for a prolonged war. Many believed when they left for the front in August that they would be home for Christmas.
---
From RTÉ Archives:
Ireland and the Great War
WWI Aftermath
---
For some war was an adventure, for some it meant the defence of small nations, such as Belgium, and they responded with a religious fervour.
Tom Kettle, an Irish Parliamentary Party MP, wrote a poem for his young daughter, Betty, that he and others had died "not for flag, nor King nor Kaiser but for a dream born in a herdsman's shed and the secret scripture of the poor".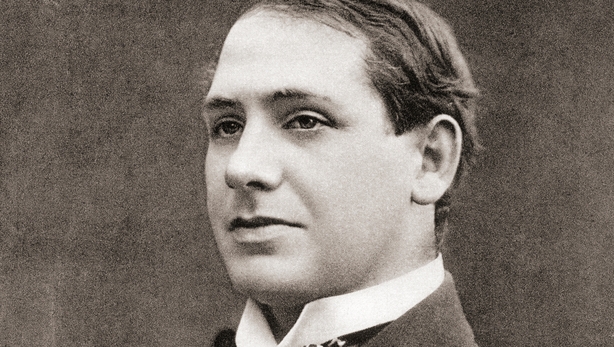 For others it was an escape from poverty. Dublin and other places in southern Ireland were poverty-stricken and huge numbers of families lived in tenements and their attendant conditions.
For northern unionists, it was a call to arms in defence of the empire and Ulster's place within it - something threatened by the near success of Home Rule proponents and the 1916 Rising.
There was, of course, an Ireland in 1914, but it was not an independent Ireland. This country was part of the British empire and joining the British Army meant joining the only army there was at the time.
In the first days of the war there were paramilitary militias - the Irish Volunteer Force and the Ulster Volunteer Force, which were arguably illegitimate armies that rivalled the option of joining the official British Army.
These were later largely incorporated into the British Army, with the exception of the dissenting IVF men, who stayed and launched the 1916 Rising.
Irishmen had a long history of service. Whatever their motivation, they became a major force in the British Army and, eventually the 16th Irish Division (it contained Home Rulers and nationalists from all over Ireland, including some from Ulster) and the 36th Ulster Division would fight side-by-side.
From the time they arrived in France and Belgium, the Irish were in the thick of it.
At the Battle of the Somme in 1916, the first day of which was described as the bloodiest day in the history of the British Army, with 60,000 casualties (killed, wounded and missing) on that day.
Many of those who went to the Western Front were recruited from Belfast, Dublin, Derry, Limerick, Donegal, Roscommon and Cork and almost every other part of the country.
And what of life there? Jack Campbell of the Black Watch regiment survived being gassed and survived the war.
We need your consent to load this rte-player contentWe use rte-player to manage extra content that can set cookies on your device and collect data about your activity. Please review their details and accept them to load the content.Manage Preferences
In his 80s and in the course of quite a measured RTÉ interview, conducted by Michael Lee, he faltered only when he described his anguished response when his friends, who lay dying after a gas attack, asked him to "put one into them". He almost did but could never see the action through.
"It was terrible but it would have been like murder. I couldn't do it and it sometimes took three hours to die from gas."
Life certainly was miserable on the front line. The onset of winter in 1914 saw both sides tunnel and dig down to survive and live in a subterranean nightmare.
We need your consent to load this rte-player contentWe use rte-player to manage extra content that can set cookies on your device and collect data about your activity. Please review their details and accept them to load the content.Manage Preferences
Rats, lice, dead bodies, the cries of those who could not be retrieved from No Man's Land, fear, loneliness and otherwise miserable conditions prevailed. This would continue for another three-and-a-half years.
Behind the lines, however, there was some respite. Brothels, music houses, purloined London buses and even tailor's shops for officers all featured.
As the Meath poet, Francis Ledwidge, described life away from the front: "Now I'm drinking wine in France, a hapless child of circumstance."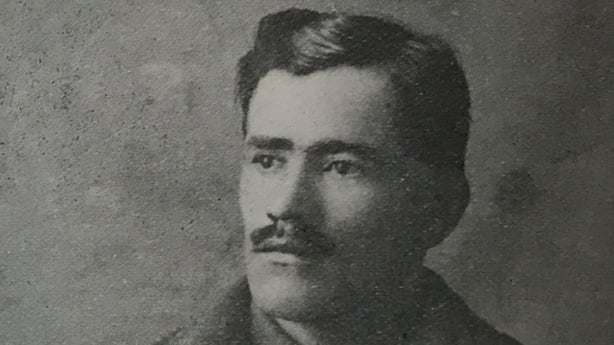 These distractions did not last long before the frontline had to be marched to again and the horrors lived through again and again, if one survived.
Often the correspondence from men at the front is perfunctory, due to the lower levels of education at the time, when school might have often ended by the age of 12.
Officers tended to write more cogently, ranging from the raging anti-war poetry of men like Siegfried Sassoon and Wilfred Owen, to the norm - heartfelt, sometimes lonely correspondence and sometimes merely stiff upper lip observations of everyday life and endurance.
"A few yards above, in front of us, a body lay hanging over a rock with half the head blown off and the tunic black with blood. You can read of these things, but there it was in front of me", wrote Lieut Frank Gunning.
Other letters, such as one written in Gallipoli by a Belfast nurse, Emma Duffin, recount life for the wounded, at least these seemingly lucky ones on Christmas Day.
"Our patients were each given a lucky bag which we had prepared for them and the air resounded with tin hooters and squeakers and whistles of all kinds. The men were like children, they were so delighted with everything."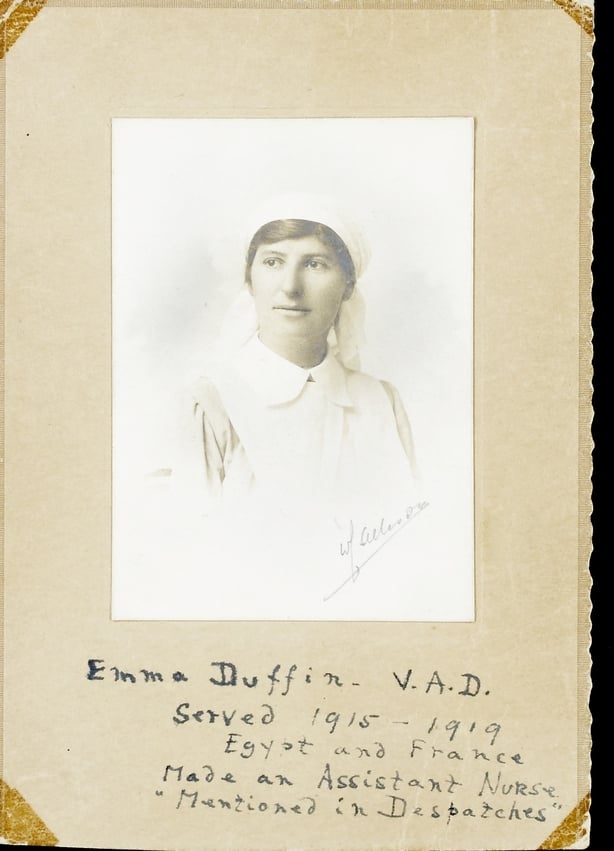 And what of the return of those who made it back from four long years of fighting in Europe, the Middle East and beyond?
They came home to triumphant celebrations in northern Ireland but southern Ireland - now charged with republicanism and nationalist fervour - was not really a welcoming place for those who had worn a British uniform, regardless of whether they had been inspired by empire, Home Rule or the freedom of small nations.
Some could not adapt to life or, due to PTSD or wounds, were incapable of doing so.
Others went quietly to new lives, new jobs. Many never spoke about the war and many were never even asked about it.
By the late 1930s, as the independent State grew, commemoration had largely faded away into history. 
The ending of the Northern Ireland conflict and the Belfast Agreement and subsequent peace has opened a new space for thinking, remembrance and commemoration.
Now 100 years on, many Irish people seem to be embracing their past - at least in the context of WWI – with curiosity and an open mind.
In many cases, that new curiosity comes from a direct family link and one often only recently discovered.
With thanks to Professor Heather Jones, Professor of Modern and Contemporary History, at University College London.