The project management company appointed this week to oversee structural investigations into more than 40 schools was also involved in elements of the original construction of at least one of the schools in question.
RTÉ News has seen documents where the firm, KSN, signed off on elements related to the construction of Ardgillan Community College in Dublin by Western Building Systems (WBS).
The company was contracted by the Department of Education to act as its representative on the project.
The department said the role of a company like KSN as its representatives during periodic site visits was a liaison one only, with responsibility to report back to the department on progress, and to bring any potential programme delays to the attention of officials.
In a statement, the department said this should not be construed as removing the responsibility from the contractor and its design teams for detailed quality control and certification of the buildings.
The department has stated again today that before 2014, responsibility for certifying buildings lay entirely with the contractor, in this case WBS.
More than 40 schools built by the company are being assessed for problems. Three of them have already closed due to safety concerns.
These are Ardgillan Community College, Tyrellstown Educate Together National School and St Luke's National School, Mulhuddart.
The Department of Education has said it has contacted all schools constructed by Western Building Systems, and which are due to undergo a structural assessment, to confirm the arrangements for that assessment.
In a statement the Department said all principals have been notified of the planned opening up works and will receive further information including practical advice on the nature of the works.
Assessments will take place over the weekend and mid-term break, in order to minimise disruption and ensure that they can be completed as quickly as possible, the Department said.
It said it has been working to secure interim accommodation for Tyrrelstown Educate Together National School and St Luke's National School.
Minister for Education Joe McHugh said that school buildings would only be closed where it was deemed necessary to do so, and every effort would be made to minimise disruption to students, staff and families.
Site visits at Ardgillan Community College and the schools in Tyrrelstown also took place today, involving Department of Education and Skills officials, structural engineers and representatives of Western Building Systems.
The Department said this provided Western Building Systems with the opportunity to view the structural issues identified at the three schools. It said it is awaiting a response from Western Building Systems, and that its priority remained the health and safety of pupils and staff.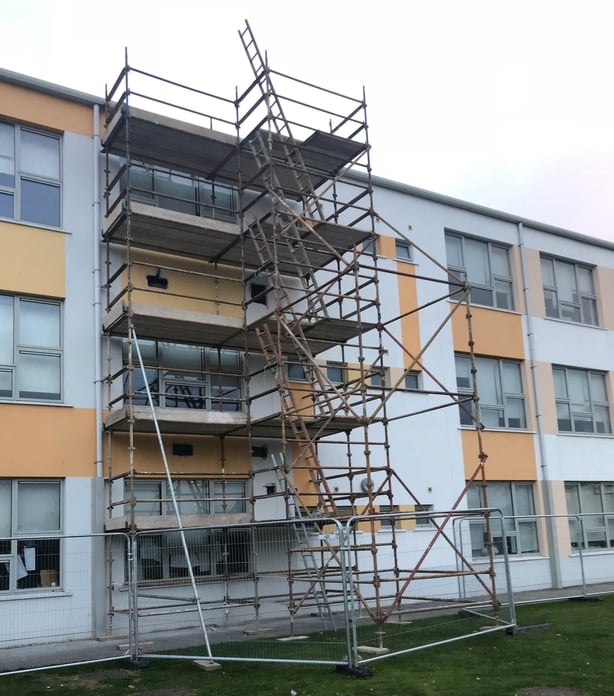 In a statement, Tyrone-based WBS said the Department of Education contracts for the three schools "stipulated that they be completed within a timeframe of 20-26 weeks".
The company said the timelines were met, and the department deemed each project to be "fully compliant, issuing the supporting certificates of completion".
Earlier, Taoiseach Leo Varadkar and Minister for Education Joe McHugh visited Tyrrelstown Educate Together National School and the adjoining St Luke's National School in Dublin.
More than 1,200 children attend the schools.
Mr Varadkar said they do not have all the answers, but will spend the next week getting those answers and relaying the information to parents and staff.
Taoiseach confirms structural examinations of hospital units
Mr Varadkar also said that hospital units built by WBS are being examined to make sure they are structurally sound.
He said that initial indications from Beaumont Hospital in Dublin and some of the health buildings is that the units are not affected by structural problems that were discovered in schools built by WBS.
---
The Health Service Executive has said that it has no safety concerns regarding the integrity of the health facilities built by WBS.
Among the health projects WBS has been involved in are:
Beaumont Hospital acute psychiatric inpatient unit and a medical admissions unit
Our Lady of Lourdes Hospital acute psychiatric unit and oncology department
A six-section prefabricated modular build at the Royal Hospital Donnybrook
A laboratory and Irish Blood Transfusion Service blood bank at St Finbarr's Hospital in Cork
Oncology and haematology facilities at Our Lady's Children's Hospital in Crumlin in Dublin
A 40-bed Day Surgery Unit in Kilkenny
Stroke clinic at St James's Hospital
Cystic Fibrosis Unit at Beaumont Hospital
Renal Unit at Altnagelvin Hospital in Derry
Emergency Department at the Royal Victoria Hospital in Belfast.
WBS has also been involved with facilities at Lagan Valley Hospital in Lisburn.
A spokesperson for the firm said that it was involved in a number of health projects since 2000, all of which were subject to regulations and a certification process.
The spokesperson said it was not aware of any issues or health projects that are subject to an assessment.
An Assistant Professor of the School of Architecture, UCD, has said there are very weak systems of regulation in the construction industry.
Orla Hegarty told RTÉ's Six One that it is inevitable that there will be outcomes such as the structural problems that have come to light in more than 40 schools and that such outcomes will happen on a regular basis.
She said that a litany of construction defects have come to light over the last number of years.
---
Assessment identifies hazards at Dublin school
Two Dublin schools shut over structural problems
---
Coveney questioned on safety of school buildings
Earlier, Tánaiste Simon Coveney has told the Dáil that the Government will "err on the side of safety" in its handling of the schools constructed by WBS.
He said it is expected that some schools "are unlikely to have serious safety issues", but the Government needs to be sure.
He added that some schools would have safety issues that will result in their closure.
"In some cases, where there are three-storey buildings, it may be possible to keep part of the school open with the necessary engineering supports," he said.
He was responding to Donegal TD Thomas Pringle, who raised the case of the newly opened Letterkenny Educate Together school, which is also facing inspection.
Mr Pringle said pupils had only moved in to the building last January and parents were struggling to get information.
Mr Coveney told Mr Pringle that no school would be left on its own.
Meanwhile, the Public Accounts Committee will write to the Department of Education seeking representatives to go before it in relation to the issue.
Additional reporting Gill Stedman and Ailbhe Conneely