Family and friends of 119 Irish soldiers deployed to the Golan Heights and Syria gathered at Dublin Airport this morning to welcome them home following a two-week delay.
Drawn from different units across the Army and Air Corps, the majority of the 57th Infantry Group's personnel come from the 3rd Infantry Battalion, which is based at Stephens Barracks in Kilkenny.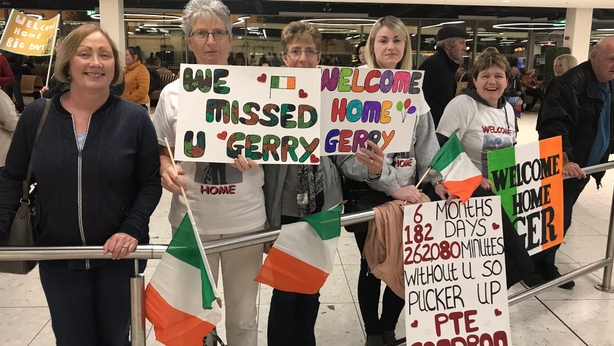 The troops, who served with the UN Disengagement Force in Syria, had been due to return to Ireland earlier this month at the end of their six-month deployment, but an issue around diplomatic clearances caused a delay.
The wife of one soldier said telling her children that their Daddy was not coming home at the date they expected was like "cancelling Christmas".
However, a huge welcome awaited the troops when they finally made it through to the arrivals area at the airport, including for one soldier whose son was born while he was on deployment.
Tiernan was born while his Daddy was away. pic.twitter.com/IpjE3BOE7V

— Juliette Gash (@JulietteGash) October 16, 2018
PDFORRA, the Defence Forces representative association, said the delay should not have happened and has called for a thorough investigation.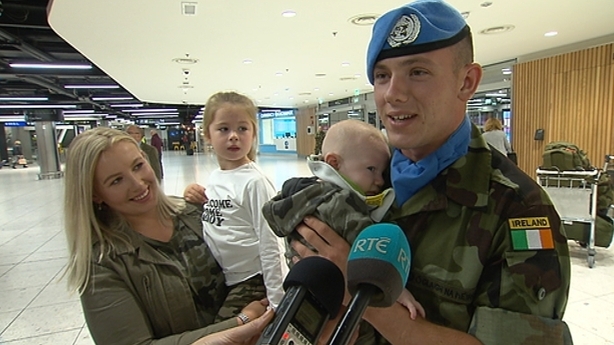 The 57th Infantry Group, which was the first Irish unit to redeploy to Syria following a UN evacuation of personnel in 2014, has been replaced by the 58th Infantry Group.
And they're back! pic.twitter.com/ruWJWXfvLn

— Juliette Gash (@JulietteGash) October 16, 2018