Protesters have heard calls for an end to evictions, more social housing and affordable rent at rallies in Dublin and Cork today.
In Dublin, protesters staged a sit-down protest on O'Connell Bridge as part of the rally highlighting the housing shortage.
Rallies have also been held in Derry, Sligo, Galway, Kildare, Limerick, Belfast, Drogheda, Maynooth, Bray and in Wexford.
We need your consent to load this rte-player contentWe use rte-player to manage extra content that can set cookies on your device and collect data about your activity. Please review their details and accept them to load the content.Manage Preferences
The Take Back the City group organised the 'National Day of Action' over the housing shortage.
Up to 1,000 people gathered at the Garden of Remembrance in Dublin for speeches that called for an end to evictions, increased provision of social housing and affordable rents.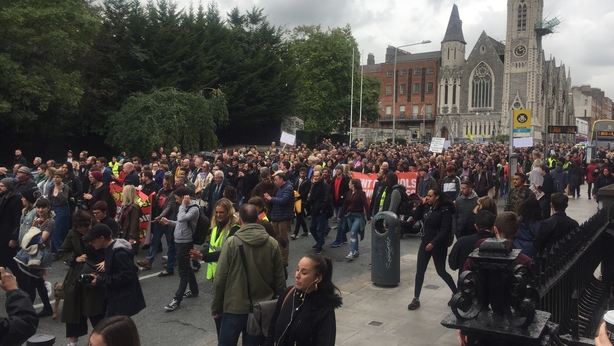 The speakers included Margaret Cash, who last month spent a night in Tallaght Garda Station with her children due to the unavailability of emergency accommodation.
Following the gathering at the Garden of Remembrance, the protesters marched down O'Connell Street to O'Connell Bridge where they staged a sit-down protest.
The protest blocked traffic on routes onto the bridge for a time this afternoon but the crowd has now dispersed and traffic is returning to normal in the area.
Up to 1000 taking part in a rally organised by #TakeBacktheCity - now marching on O'Connell Street #homelessness pic.twitter.com/xNPDReVGEA

— Sharon Tobin (@sharontobin) September 22, 2018
Protesters have also occupied a premises in Crumlin as part of the day of action, with a People Before Profit councillor saying the "symbolic" occupation will last for 24 hours.
The party claim the Glebe House property has been vacant for a number of years, with Cllr Tina McVeigh calling on Dublin City Council, which does not own the building, to make it available for housing.
Meanwhile in Cork, a small group of housing activists turned out to support the national day of action.
An information stall was manned by members of Connolly Youth Movement (CYM), a UCC-based communist youth group who themselves were evicted from an occupied derelict property in Cork city centre at the end of July, over a week before the first Take Back The City occupation at Summerhill in Dublin.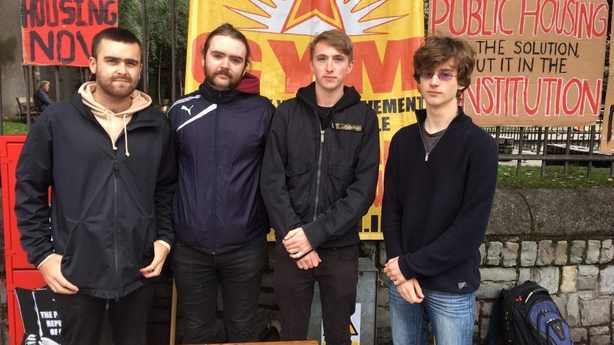 "We're not afraid of breaking the law," CYM spokesperson Ollie McMorrow said in a speech attended by the activists and under 20 bystanders.
"We will not wait for this Government to take action anymore. Instead we will take direct action."
Cork City Councillor Fiona Ryan, of the Anti-Austerity Alliance, said she fully supported the occupation of derelict properties as a form of direct action in the face of what she said was now a national "housing emergency".
She said that low turnout at the Cork day of action should not be seen as indicative of a lack of support for attempts to make Take Back The City into a mass national movement, and that Cork residents, including many students, were being hit by housing issues as hard as people in Dublin.
In Eyre Square in Galway, around 30 people attended rally to support the national day of protest. 
Organiser Joe Loughnane, a People Before Profit member, said there were up to 100 empty properties in Galway city alone and they intend to map the properties and put a list together. 
Posters were placed on empty properties close to Eyre Square to highlight the campaign and elected representatives were urged to address housing shortages in Galway.
Take Back the City campaigners have been calling for vacant properties to be subject to Compulsory Purchase Orders to end evictions.
The group occupied a number of vacant properties in Dublin recently, and staged a protest on O'Connell Street following the enforcement of a court order requiring protesters leave one of the properties on North Frederick Street.