A new all-time high for private residential rents has been reached for the ninth quarter in a row, according to the latest report from the property website Daft.ie.
Its quarterly rental report shows rents across Ireland rose by an average of 12.4% in the year to June.
This report shows the average monthly rent across the country during the second quarter of this year was €1,304, which is €274 per month higher than the previous peak in 2008.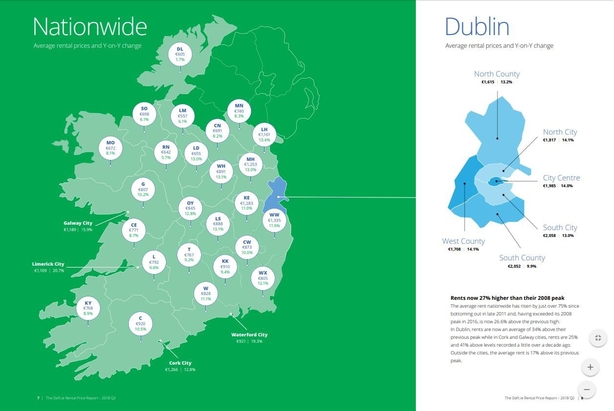 In Dublin, the increase in rents over the same period was just over 13%.
That takes rents in the capital to 34%, or almost €500 a month, more than at the peak of the boom a decade ago.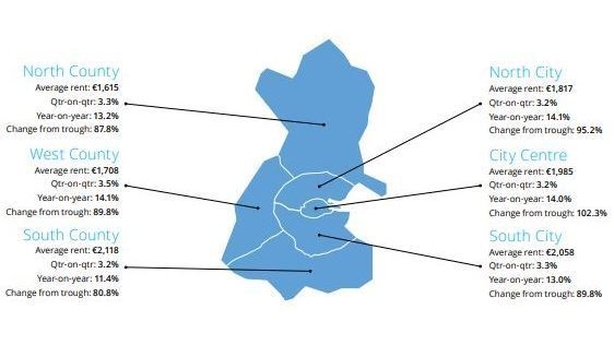 The report shows rents continue to rise rapidly in other cities.
In Limerick city, rents were almost 21% higher than a year ago, while in Waterford the increase was more than 19%.
Galway saw its rents increase by nearly 16% in the same period, while in Cork rents rose by almost 13%.
Outside the five main cities, rents rose by an average of 10%.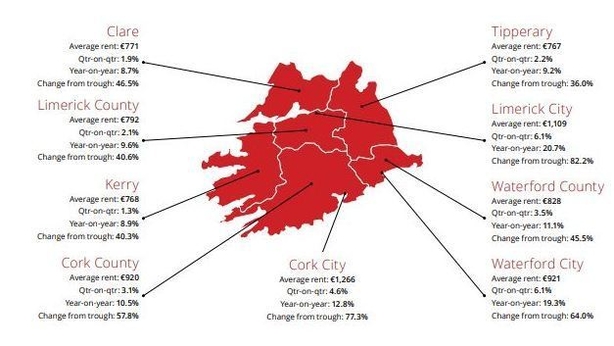 The report's author and economist Ronan Lyons said: "While the building of new homes appears to be having some effect in the sales market, with inflation easing somewhat, there is no counterpart in the rental sector.
"While urban apartments make up almost all the net need for new homes in the country as a whole, just 13% of new homes completed in the year to March were urban apartments. In that context, it is unsurprising to see rents rise once more.
"As before, with such a mismatch between supply and demand, policy must focus on dramatically increasing the construction of urban apartments, for both market and social housing needs."
Meanwhile, the Housing Charity Threshold described the rent increases as "staggering".
Speaking on RTÉ's Today with Miriam, the Chair of Threshold Housing Charity Aideen Hayden said rent pressure zone legislation was being ignored and certainly was not being enforced.
Ms Hayden said: "What's significant about this particular report is the extent of the increases in places like Limerick, 20% for example, and we have many cases coming to us from Limerick where increases way about 20% have been presented to our services.
"Limerick isn't part of the current rent pressure zone legislation and that's something that needs to be addressed by the Minister, but clearly that is staggering."
Ms Hayden also said that the increase in rents in Dublin of over 13% showed that the rent pressure zone legislation is being flouted or ignored.
UCC Student Services Officer Gary Mulcahy said the cost of renting for students in Cork has risen since last year but not by a significant amount.
Around 10,000 of the 21,000 students in UCC depend on the private market for accommodation.
Mr Mulcahy said the cost of what he described as student houses have risen but not by that much and there is no real supply issue, so all students should be accommodated.
In a statement, the Department of Housing said that the quarterly report from the Residential Tenancies Board offers a "truer reflection" of the rental market than data from daft.ie, which it says is one website showing asking prices.
The latest RTB report showed an average annual rent increase of around 7%, with the increase of just 0.4% in the last quarter.
A department spokesperson said that the next RTB report due next month will determine if Waterford and Limerick should be added to the list of rent pressure zones.
Meanwhile, Fintan McNamara of the Residential Landlords Association of Ireland said that around 2,000 former bedsits could be used for budget accommodation costing around €500 a month in rent if rules which require each unit to have its own bathroom were relaxed.
He said these bedsits were not viable to be upgraded and are now lying idle or being used for Airbnb.
Additional reporting John Kilraine