Ryanair is set to be hit by a 24-hour pilots' strike in five countries this Friday.
Pilots based in Ireland, Germany, Sweden, the Netherlands and Belgium will join the action which comes at the height of the holiday season.
The Dutch pilots' union VNV became the latest union to confirm its participation in the strike this evening, however, it is understood Ryanair is to go to a Dutch court on Thursday to try to prevent them from taking part in the  stoppage.
In a statement the union said this strike action was a 'wake up call' for Ryanair management.
Late last year, the airline said it would recognise unions, but has so far not agreed any collective labour deals with staff across Europe.
The strike among pilots based in Germany will affect all flights from Germany, the union Vereinigung Cockpit said in a statement.
Ryanair has confirmed that it will cancel 250 flights to and from Germany over the strike, representing around 10% of the more than 2,400 flights it had scheduled across Europe for Friday.
The airline had already cancelled 146 flights for Friday as a result of the strikes planned in Ireland, Sweden and Belgium.
The VC union said last month that talks with management had ended without the progress they had hoped for and they gave Ryanair until Monday to put forward a new offer.
The union is demanding improved pay and conditions for Ryanair pilots, but said today that Ryanair had ruled out any increase in staff costs.
"Improvements are not possible without an increase in staff costs in the cockpit," VC President Martin Locher said. "At the same time, Ryanair has not yet said where there might be room for manoeuvre."  
---
Read More:

My flight is cancelled due to the strike - What I need to know 
Ryanair condemns fifth day of pilots' strike action 
Ryanair pilots in the Netherlands back industrial action 
Pilots accept Ryanair proposal for third-party mediation in dispute
---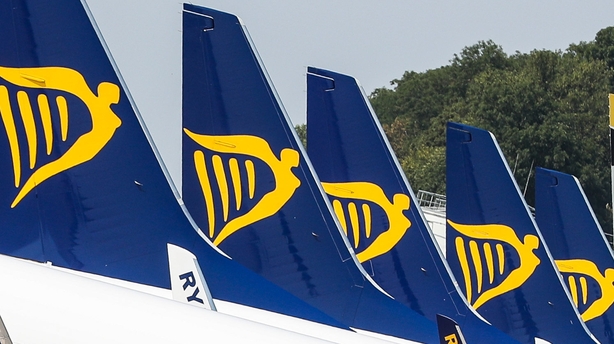 Third Party Mediation
Ryanair elected pilot representatives in Ireland have accepted the airline's proposal for third party mediation, overseen by former director general of the Workplace Relations Commission Kieran Mulvey.
Pilots have said that subject to rostered duties, they are available on 14 August, which they understand is the first date that Mr Mulvey will be available.
Pilots' union Fórsa said it "looks forward to talking to Kieran Mulvey about when a process could begin", but Friday's strike action looks set to proceed.
IALPA pilots at Ryanair are in dispute over over base transfers, seniority and leave.
The Irish Air Line Pilots' Association said there was no transparent system for the allocation of annual leave and promotion and it is seeking an agreement to "provide our member pilots directly employed by Ryanair" with a fair mechanism to understand base transfers.