The Road Traffic (Amendment) Bill has passed in the Dáil with 75 TDs voting in favour and eight TDs voting against.
The legislation will impose stricter penalties on drink drivers and it will also make it an offence for car owners to allow a learner to drive their car unaccompanied.
It was delayed for several months due to the strong opposition mounted by a small number of TDs from the Rural Independent Group.
During today's debate, Independent Kerry TD Michael Healy-Rae was accused of delaying the bill and speaking in a "round about way".
We need your consent to load this rte-player contentWe use rte-player to manage extra content that can set cookies on your device and collect data about your activity. Please review their details and accept them to load the content.Manage Preferences
He insisted that he was representing the people of Kerry and all those who lived in rural communities across the country.
Mr Healy-Rae, who spoke for an hour and 15 minutes on the bill, also described those who criticised him as "bully boys".
He was labelled "despicable" by Sinn Féin TD Imelda Munster, who along with Fianna Fáil TDs Robert Troy and Declan Breathnach, took issue with rural independents slowing down the pace of the legislation.
Two hours were allocated to discuss the bill this morning and Ceann Comhairle Seán Ó Fearghaíl intervened several times to urge TDs to respect the Dáil and not to inflame a difficult situation.
Bitter exchanges in the Dáil over the Road Traffic Bill pic.twitter.com/uQ3qkAbHfh

— RTÉ News (@rtenews) July 6, 2018
Minister for Transport Shane Ross had pleaded for the legislation to pass through the Dáil, saying "the sooner this is passed, the more lives we save".
When the legislation is enacted it will mean that first time drink-driving offenders will face automatic driving bans.
That means the current system of fining and issuing penalty points for those found to be just above the drink driving limit will be abolished.
Relatives of victims of drink-driving held a vigil outside the Dáil urging politicians to finally pass the new law.
Mr Ross met the families that took part in the vigil.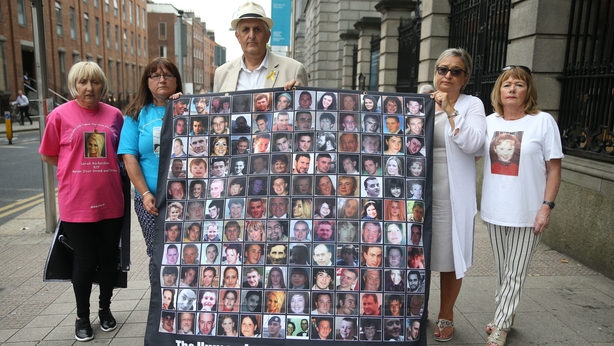 He told the Dáil: "The sooner this is passed, the more lives we save. It's as simple as that. Here we see the victims today urging filibusterers to stop filibustering. Lay off the siege."
The minister claimed that the recent filibustering had been "a disgraceful episode in Irish parliamentary democracy".
Collette Griffin of Irish Road Traffic Victims Association (IRVA) lost her 19-year-old daughter Sarah Richardson in a road crash in 2012 and she made the journey from Cobh for today's vigil.
"When I am listening to these guys saying they are lonely at home and they are entitled to go to a pub to have a few drinks to alleviate the loneliness. Try living in my apartment and I can tell you what loneliness is."
IRVA founder Donna Price called on the rural independents to desist from their delaying tactics. She said she deals with bereaved families who are "utterly destroyed forever".
"This year 70 lives have been lost. Last year it was 157. How many of those lives could have been saved if this bill had been in place and drink drivers had been taken off the road."
Noel Clancy, of the PARC road safety group, lost his wife and daughter in a collision involving an unaccompanied learner driver in Cork in 2015.
He said he hoped the "Clancy amendment", which would allow for the prosecution of anyone who permits an unaccompanied learner driver to use their car and the seizure of the vehicle involved, would be passed today.
Amendment 29 was opposed by Michael Healy-Rae. He asked: "Will it actually save lives? I really and truthfully don't think so.
"There is nothing in amendment 29 or in any of the other amendments which I have been looking at all along to look at all the causes of road traffic accidents. You are touching on two or three issues but leaving out so many other important issues."
Social Democrats TD Catherine Murphy said: "There is a deliberate effort to make sure that this effort will not pass."
She later added: "The amendment is purely about not having learner drivers unaccompanied or people without licences not driving.
"In any kind of civilised society I think this would go through in minutes, never mind the protracted length of time it has taken to get through this legislation."
Additional reporting Conor McMorrow