The lawyer for former garda press officer Superintendent Dave Taylor has told the Disclosures Tribunal that although the superintendent's evidence was bare, he was a whistleblower who did a brave thing by coming forward.
Supt Taylor has alleged that he was directed by former garda commissioner Martin Callinan to brief journalists negatively about whistleblower Sergeant Maurice McCabe, and that this was done with the knowledge of former commissioner Nóirín O'Sullivan.
Both have denied the allegation.
Michael O'Higgins, lawyer for Supt Taylor, said that if his client was a fantasist, he was a very lucky fantasist because the man he said directed him was extremely active in smearing Sgt McCabe on the evidence of five other individuals.
Mr O'Higgins said that in the case of the testimony of RTÉ broadcaster Philip Boucher-Hayes, that Mr Callinan told him to "talk to Dave".
He said that showed Mr Callinan was nominating Mr Taylor as the go-to person and went a significant way to taking the allegations out of conspiracy and fantasy.
He also said that Supt Taylor's evidence against Ms O'Sullivan was considerably thinner and there were no actions which could be pointed to.
Mr O'Higgins said there were valid criticisms levelled at Supt Taylor in terms of his credibility and they were conceded as matters that could be taken into account.
These related to the lack of specificity in his allegations of negative briefings, timings lacking detail and the suggestion that he was not neutral and had an improper motive.

He said his client was handicapped by virtue of those criticisms but he said the tribunal could still rely on his evidence if it is satisfied that it is true.
He cited the example of witnesses in gang-related cases whose motivations had also been attacked and he said that while Supt Taylor was a flawed character, it was brave to step outside the garda family, even belatedly.
Lawyers for Fianna Fáil TD John McGuinness submitted that his account of what he alleges Mr Callinan said to him in a car park on 24 January 2014, was supported by a near contemporaneous note and the evidence given by Fianna Fáil leader Mícheál Martin.
Mr McGuinness told the inquiry that Mr Callinan told him Sgt McCabe had abused members of his own family and was not to be trusted.
He also said that after a Public Accounts Committee hearing on penalty points, Mr Callinan said to him that Sgt McCabe "fiddles with children".
Mr Callinan has denied making any of these remarks.

Mr McGuinness' lawyer, Darren Lehane, said the tribunal was entitled to consider the evidence given by Comptroller and Auditor General Seamus McCarthy and Fine Gael TD John Deasy who allege Mr Callinan told them the sergeant was not to be trusted and had allegations against him.
He said there was a striking similarity between the evidence of Mr McCarthy and that of Mr McGuinness.
Mr Lehane also said the evidence of Mr Boucher-Hayes was also relevant and was an example of another witness alleging a negative briefing from Mr Callinan.
Lawyers for RTÉ said there was no primary or direct evidence to support an allegation that Ms O'Sullivan influenced or attempted to influence broadcasts on RTÉ on 9 May 2016 on the O'Higgins Commission.
Sean Gillane said the wording that Sgt McCabe was "branded a liar and irresponsible" was taken from the sergeant's protected disclosure.
Mr Gillane said the words "liar" and "irresponsible" were never used, still less branded. He said the decision to use the word "lie" rather than the "untruth" in the report was not taken lightly but there was no outside influence.
He also said that garda executive head of HR, John Barrett, denied telling Sgt McCabe that the broadcasts came from Ms O'Sullivan and that Sgt McCabe had acknowledged in evidence that he did not think RTÉ was so spineless that it would spin a report.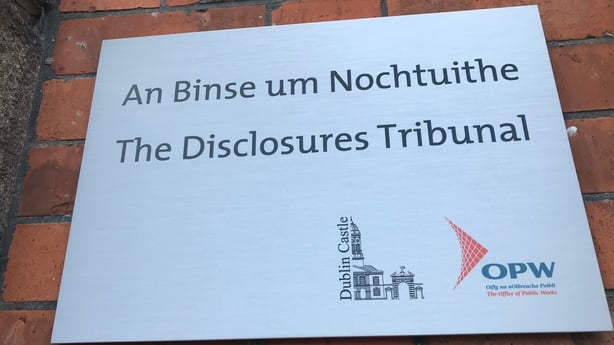 Lawyer for An Garda Síochána and the former commissioners said Supt Taylor's protected disclosure was a work of fiction and his credibility had been shattered.
Shane Murphy said the evidence of negative briefings was flawed and contradictory.
He said that when the allegations were subjected to scrutiny, many were withdrawn or shown to be misinformed or groundless.
Mr Murphy said that what Supt Taylor had alleged was untrue and not supported by any evidence.
He said there was no actual media output to support it or evidence of a chilling effect on the media with hundreds of reports about Sgt McCabe, the majority of them positive.
Lawyer for Irish Mail on Sunday journalist Debbie McCann submitted that there was no evidence that her invocation of privilege was done for any reason other than her principles.
Tom Murphy said that Ms McCann had told the tribunal that she was placed in a difficult position and while it would make her life easier, she could not talk about sources.
He also said there was no evidence that she was seeking to shield Supt Taylor by exercising her rights under the European Court of Human Rights.
He said there was no evidence before the tribunal that Ms O'Sullivan had spoken to Ms McCann about Sgt McCabe in adverse terms or otherwise.
Lawyer for the Irish Examiner said its three journalists accused by Supt Taylor of receiving negative briefings, had properly invoked journalistic privilege.
Oisin Quinn said the fact that the alleged source has waived his privilege was not determinative and he said that to draw negative inferences from that, ran the risk runs of undermining privilege itself.
The tribunal will hear tomorrow from lawyers for Sgt McCabe in what is expected to be the final day of evidence in this section of the inquiry.