The Taoiseach has warned that while the economy was powering ahead, the external landscape was becoming more challenging, downside risks were increasing and not all budgetary expectations could be met.
Speaking at the National Economic Dialogue event at Dublin Castle, Leo Varadkar said the Government's economic policy was based on six principles.
He said these were managing the public finances, investing in infrastructure, reforming public services, taking Ireland's place among the nations of the world, raising living standards and achieving full employment with better jobs.
.@campaignforleo warns that while the economy is powering ahead, the external landscape is becoming more challenging pic.twitter.com/u4FlH9pxfu

— RTÉ News (@rtenews) June 27, 2018
He said that indicators including consumer spending, tax receipts and labour market developments all confirmed that Ireland's economic fundamentals remain strong, and that for the first time in seven years Ireland was on the right track when it came to poverty deprivation and inequality.
Mr Varadkar defended the Government's record on housing, but acknowledged that genuine frustration arose because policies could not deliver an impact overnight.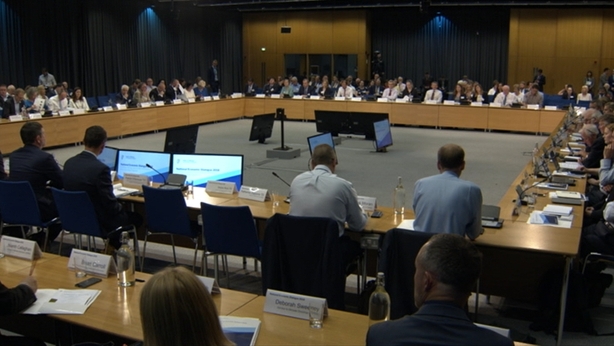 He criticised governance in the health sector, saying that it was hard to justify spending €15 billion on health this year - one of the highest per capita expenditures in the world - given Ireland's relatively youthful population.
The reform of healthcare was "surely the biggest public service challenge", he said.
The Taoiseach reiterated the need for prudent management of the public finances, and a commitment to set aside some corporation tax receipts to recreate a rainy day fund.
He said the budgetary strategy would be based on steady increases in public expenditure underpinned by stable and predictable tax revenues, with public expenditure increasing by more than €3 billion next year.
Mr Varadkar said if anything was learnt from the run-in to the last financial crisis, it was that throwing money at problems did not actually solve them.
"We'll make sure that we pay down the debt, make sure that the Budget is broadly balanced next year and that we move into a surplus position in 2020," he said.
He added: "That however still leaves us with lots of money to invest in infrastructure, in transport, in housing, in health, tackling climate change - new schools for example - but that money is only there because we make the right economic decisions."
#NationalEconomicDialogue underway at Dublin Castle as interest groups pitch policies and financial priorities ahead of #Budget19 pic.twitter.com/zQaW18IZL0

— Ingrid Miley (@ingridmileyRTE) June 27, 2018
The National Economic Dialogue is an opportunity to consider how to make best use of the available resources ahead of Budget 2019.
It is not intended to produce specific budget proposals or recommendations, however it could help those preparing their own pre-budget submissions.
Representatives of community, voluntary and environmental groups, as well as business groups, unions, and research institutes, are attending.
Minister for Finance Paschal Donohoe has said previous National Economic Dialogue events have made a difference to his budgetary choices.
Speaking on RTÉ's Morning Ireland, he said this included increased investment in childcare and capital investment in schools, homes and hospitals.