RTÉ has defended its handling of last night's Prime Time debate on the Eighth Amendment following criticism from Save the 8th group and the LoveBoth organisation.
RTÉ has said that the debate was fair and equitable following the late withdrawal of Cora Sherlock, who had confirmed last week that she would appear on the programme as a panelist.
It said it was disappointed by Ms Sherlock's withdrawal.
Pro-repeal obstetrician Mary Higgins was also scheduled to be on the panel but was taken off to leave the debate between Minister for Health Simon Harris and TD Peadar Tóibín.
The broadcaster said: "The television debate on the referendum continued with the panel of Minister for Health Simon Harris and Peadar Tóibín TD, in addition to substantial contributions from the audience, which gave an equitable and fair opportunity to both sides to express their views."
The Save the 8th group, which is campaigning to retain the amendment in Friday's referendum, has accused RTÉ of interfering in the debate by telling the collective No campaign who should speak on their behalf.
Spokesperson John McGuirk said RTÉ attempted to imbalance the panel by putting an obstetrician on the Yes side and no obstetrician on the No side.
Mr McGuirk said they were initially asked by RTÉ last week to put forward a politician and a campaigner, but when they found out there would be an obstetrician alongside Minister Harris on the Yes panel they wanted to replace Ms Sherlock with Maria Steen.
Ms Steen had appeared on the Claire Byrne Live debate last week, but Mr McGuirk said RTÉ wanted "any woman apart from Maria Steen".
The LoveBoth organisation, which is also advocating a No vote, earlier accused RTÉ of failing to achieve balance on the panel.
In a statement this afternoon, RTÉ said Prime Time had informed the No campaign from the outset that the panel on the debate would not include anyone who had already been a panelist on the Claire Byrne Live debate just a week previously.
It said: "However, the No campaign insisted that Maria Steen (a lawyer) - who was a panelist on the Claire Byrne Live debate - was the only option it would put forward.
"In the interests of facilitating a wide range of voices and to maintain its editorial independence, RTÉ Prime Time declined the offer of Ms Steen, while making it clear that it was very open to other suggestions."
"RTÉ at all times maintains editorial control of what content it broadcasts."
---
Read: 'Extreme' proposals go too far, LoveBoth claims
Watch: Prime Time debate
---
LoveBoth said in a statement this morning that RTÉ's decision to invite Prof Higgins on the panel and no medic from the pro-retain side was utterly unacceptable.
It accused RTÉ of making no serious effort to achieve balance on the panel.
The debate ended up being between Mr Harris and Mr Tóibín, who is taking a different line on the referendum than that of his party Sinn Féin.
Ms Sherlock said this morning that "at no stage" did she pull out of the Prime Time debate.
In a video statement on theliberal.ie Facebook page, she called on those in favour of retaining the amendment to "unite again" as a movement.
It is unclear in the statement what discord or rift Ms Sherlock is referring to.
Ms Sherlock thanked RTÉ for offering her a slot on last night's debate. She also said she commended RTÉ for taking a doctor off the panel of the debate.
Sinn Féin leader Mary Lou McDonald has said her party was in favour of repeal and Mr Tóibín was not representing Sinn Féin during the debate.
---
Read more
'Extreme' proposals go too far, LoveBoth claims
---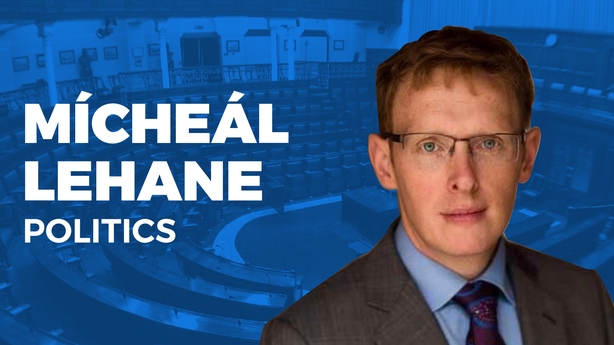 With two days to go to voting on Friday, this debate was relatively calm.
Simon Harris emphasised the need, as he sees it, to repeal the Eighth Amendment and to introduce laws thereafter that would take account particularly of the large numbers of people he says are taking abortion pills up to 12 weeks.
The other side, Peadar Tóibín, the Sinn Féin TD who is at odds with his party and taking a different line, arguing that these particular proposals are breathtakingly extreme and calling for the retention of the Eighth Amendment.
Throughout the debate too, something that has been happening for the last 24 hours or so, emphasis for the No side on the 12 weeks and saying that if other suggestions or proposals had been put forward they might have met with greater support.
They say particularly if you look at the areas of rape or fatal foetal abnormalities, that particular area should have been catered for with proposals that didn't go as far as 12 weeks.
Of course, that was countered by Minister Harris last night saying that no proposals had been put forward throughout the last year, particularly in the Oireachtas Committee and the fairly detailed hearings that took place there, and later on in the Dáil when the Referendum Bill was going through no amendments were actually put to it.
Late in the day, it was decided by the No side that Cora Sherlock wouldn't take part [in the Prime Time debate] and Maria Steen was offered as a substitute, that's my understanding.
This morning, Cora Sherlock added some clarity and in a statement saying her particular grievance was with the fact that there wouldn't be a pro-retain obstetrician on the panel.
The original line up was Simon Harris for the Yes side, with Mary Higgins, who is an obstetrician, and then Cora Sherlock would join Peadar Toibin the TD.
I understand that is being disputed by RTÉ who say that there was an offer to bring another obstetrician, who was in the audience who was from the No campaign, to the panel, but it would not be dictated to or it would not be manoeuvred into accepting another guest, which was Maria Steen.
This was on the basis that Maria Steen had been part of the Claire Byrne debate and they wanted new panellists and fresh voices for last night's one.
With two days to go before the referendum, we can see the arguments as they are coming now, with a particular emphasis on the 12 weeks by the No side, we saw that again yesterday, and that's likely to continue over the next 24 hours.