Taoiseach Leo Varadkar has appealed to employers to allow their staff time off work, if needed, to make it to polling stations for Friday's referendum on the Eighth Amendment.
Speaking in the Dáil this afternoon, Mr Varadkar also welcomed the general tone of the debate and said he is hoping for a big turnout in the referendum.
"I hope there will be a big turnout. If you look back at the referendum in 1983, only 55% of people voted, and I do hope in this referendum we will see more people taking part in this important exercise in democracy," he said.
We need your consent to load this rte-player contentWe use rte-player to manage extra content that can set cookies on your device and collect data about your activity. Please review their details and accept them to load the content.Manage Preferences
Today is the last full day of broadcast coverage of campaigning.
A broadcast moratorium comes into force at 2pm tomorrow and will continue until polling stations close at 10pm on Friday.
A group campaigning to retain the Eighth Amendment has said abortion proposals are "extreme" and go too far.
Speaking at a LoveBoth press conference, Katie Ascough said lives will be lost if the referendum is passed on Friday.
She introduced a number of parents who said their children would not be alive today if it were not for the Eighth Amendment.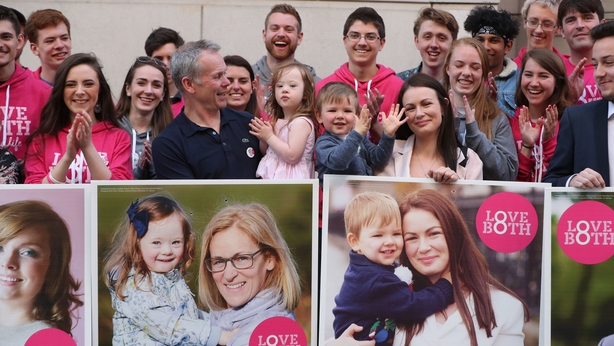 The conference also heard from Mary Kenny, who said she felt like her life was over when she found out she was pregnant at 19.
She said her first thought was to get an abortion but her passport had expired.
Ms Kenny said the Eighth Amendment gave her time to think and her daughter is alive because abortion on demand is not available in Ireland.
When asked if there were a split in the group over who would represent the No side in last night's Prime Time debate Ms Ascough said "all campaigns on the No side are united in working together to ensure the people of Ireland are informed".
Last week Cora Sherlock agreed to be on the No panel for the programme, but yesterday RTÉ was told she would not be available.
Elsewhere, a group that wants to see a Yes vote on Friday once again highlighted the dangers of abortion pills.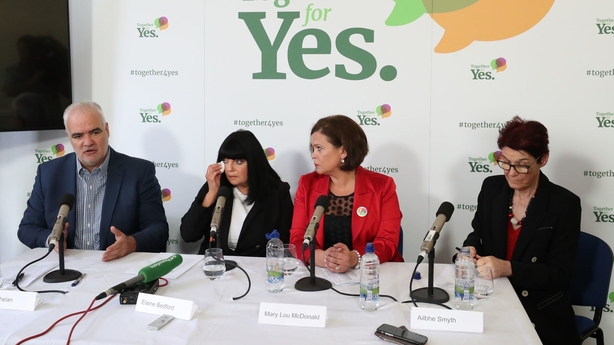 Speaking at the Together for Yes event this morning, Elaine Bedford told the story of how she looked after her daughter, who is diabetic, and who took abortion pills without medical support.
Kate Bedford became pregnant unexpectedly last year aged 25, and opted to take an abortion pill because the pregnancy was putting her health at further risk.
Ms Bedford explained how she put her daughter, who was "in agony and bleeding and losing consciousness", to bed.
She said she could not lift the phone to tell doctors and her daughter should not have had to take pills alone without medical assistance or aftercare.
The news conference was also attended by the Sinn Féin Leader Mary Lou McDonald and Barrister Noel Whelan SC, who both said Elaine Bedford's story highlighted that the Eighth Amendment needed to be removed from the Constitution.
Ms McDonald also said that party colleague Peadar Tóibín, who appeared on last night's Prime Time advocating for a No vote, was not representing Sinn Féin.
The Chairman of the Institute of Obstetricians and Gynaecologists has said that the Eighth Amendment was introduced to prevent abortion in Ireland, and it has failed.
Speaking on RTÉ Six One, Peter Boylan said the reason why it failed was mainly due to abortion pills being imported illegally over the internet which, he said, was not available in 1983 when the last referendum was held.
Dr Boylan, who is campaigning for a Yes vote in the referendum, said that the internet is not going away and the Eight Amendment needs to be removed from the constitution to deal with the issue.
Meanwhile, Niamh Uí Bhriain from the Save the 8th campaign, said she is urging a No vote in the referendum because the proposed legislation being put forward will allow for abortion on demand.
Also speaking to RTÉ News, Ms Uí Bhriain said that according to legal experts, the proposed legislation would establish "a wide ranging right to abortion up to six months".
Ms Uí Bhriain said that that is according to 200 legal experts, including two former Referendum Commissioners and three High Court judges.
Additional reporting Ailbhe Conneely, Justin McCarthy, Joe Little