President Michael D Higgins has met Emma Mhic Mhathúna, one of the women at the centre of the cervical cancer controversy.
The meeting took place in private near Baile na nGall in the west Kerry Gaeltacht this evening.
President Higgins and his wife Sabina also met Ms Mhic Mhathúna's five children.
The 37-year-old was told last week that her cancer is terminal.
Speaking after the hour-long meeting, Ms Mhic Mhathúna said it was an honour to meet the President and his wife, saying it was also an acknowledgement of the injustice caused to the women affected by the controversy.
She said: "It just shows you why he's our President. He didn't have to come all the way down here and he did. It has made my own journey a little bit easier and he gave some comfort to my children."
Ms Mhic Mhathúna said the visit by the President puts added pressure on the Government.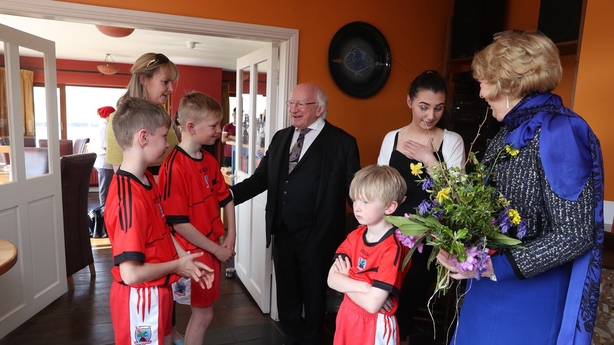 She said: "It's a moment that the Government will have to recognise.
"I can't keep up with the story at the moment but definitely by having the President coming to meet me shows that something somewhere has failed and that it will be addressed.
"He listened to everything I said. He had some very touching words and comforting words for me, especially knowing the road I have ahead.
"Myself and my two sons sang two Irish songs for them and they really enjoyed that."
President Higgins meets Emma Mhic Mhathúna in Kerry |https://t.co/bOkfDePifW pic.twitter.com/gWau4clMC6

— RTÉ News (@rtenews) May 16, 2018
Last week, she said that the President was only person who could do something about the controversy.
President Higgins described the meeting as "wonderful".
Speaking as he arrived to open the Forsa conference in Killarney, he said the meeting was private, but both of them regarded it as "very valuable and wonderful".
His wife Sabina, who was accompanying him, said she echoed that view.
---
Read more
Vicky Phelan calls for accountability not 'revenge'
---
Last night in Baile na nGall, she led a torchlit procession and silent gathering in solidarity with all the women affected by the cervical cancer controversy.
Ms Mhic Mhathúna lives in the small fishing village along with her five children.
She led the procession from the village car park to the small beach where she was invited to light a bonfire.
A large gathering of about 400 people then stood in silence for 209 seconds, in recognition of the 209 women directly affected by the cervical cancer controversy.
The fishing village of Baile na nGall-the community observes 209 seconds of silence for 209women affected by the cervical cancer controversy pic.twitter.com/uk1ZxOcbT3

— Seán Mac an tSíthigh (@Buailtin) May 15, 2018