Vicky Phelan has told politicians that she does not want to die in vain and wants to ensure there are sanctions for people who make medical mistakes.
She was speaking before the Public Accounts Committee, which is one of two committees investigating the CervicalCheck controversy.
The Government has also established an independent inquiry into the matter.
The fallout from the controversy has resulted in two officials in CervicalCheck standing aside and the resignation of HSE Director General Tony O'Brien.
Ms Phelan, who was awarded €2.5m after she received an incorrect smear test result, told TDs and Senators that she wanted to ensure that what happened to her could never happen again.
Ms Phelan told PAC members that she was not looking for revenge after receiving a terminal cancer diagnosis, but that she wanted accountability.
We need your consent to load this rte-player contentWe use rte-player to manage extra content that can set cookies on your device and collect data about your activity. Please review their details and accept them to load the content.Manage Preferences
She said she wanted protocols to be put in place and sanctions for people who make mistakes.
The mother-of-two also called for a complete overhaul of the HSE so that people were held to account.
"I'm not interested in revenge. I want to see accountability" she said, before adding that patient safety was her priority.
"If I do die, I want it not to be in vain. I want protocols to be put in place and sanctions for people who make mistakes and that the HSE is overhauled from the ground up, so that people are held accountable and this will never happen again."
BREAKING: @PhelanVicky "If I do die I want it to be not in vain" She wants sanctions for those who make mistakes and the HSE to be overhauled "so this will never happen again." pic.twitter.com/9WHQBMmL98

— RTÉ Politics (@rtepolitics) May 16, 2018
---
Read more
President Higgins and wife Sabina meet Emma Mhic Mhathúna
---
Committee members also heard from Stephen Teap, whose wife Irene was diagnosed with cancer in 2015 and died last year after two undisclosed false tests in 2010 and 2013.
Mr Teap said his wife would have gone public if she had got information about her incorrect smear tests before she died.
He said that his wife's 2010 test showed pre-cancerous cells.
"Irene had two missed opportunities for cancer to be identified in her smear test, either one of which she would have been here with us today," he said.
Mr Teap said more people in the HSE needed to step aside from their positions while an inquiry took place.
"It looks like information was clearly withheld now from the ministers," he said.
"It seems to be that the people in these senior positions that knew about these memos in 2016 are the same people that are in senior positions today that need to be questioned.
"I don't understand how they can sit in these positions while inquiries are going on. We have dead women here. We have women who have been given terminal diagnoses, death sentences.
"We've two people gone, but more need to go now. They need to step aside."
Senior officials defend handling of smear test audit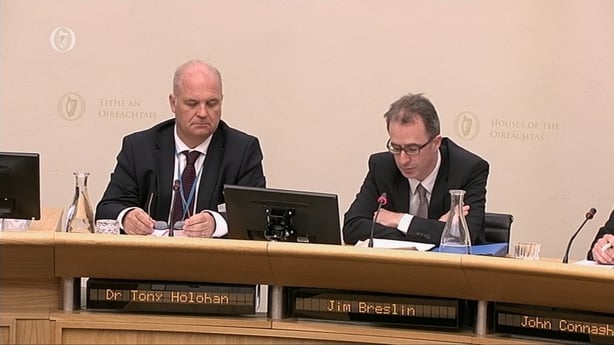 Earlier, the most senior civil servant in the Department of Health defended the decision not to tell the Minister for Health that women were being informed that their smear tests had resulted in a false negative.
Jim Breslin told the Oireachtas Joint Committee on Health that a judgement was made that the problem "wasn't of sufficient scale" and was being dealt with in an appropriate fashion that it did not need to be escalated.
He said in an organisation as large and complex as the Health Service Executive, not all issues could be escalated to the minister.
Mr Breslin was speaking as officials from the Department of Health, HSE and CervicalCheck appeared at the Oireachtas committee.
Chief Medical Officer Dr Tony Holohan told the committee that the decision not to inform the minister was a "fair and reasonable decision".
He said it was clear that non-disclosure of clinical audits was widespread, and the department was not aware of the scale of this problem until the end of April.
Dr Holohan said the department does not and never has regarded open disclosure as optional.
"Patients simply must be informed," he said.
Interim HSE head apologises for 'confusion and alarm'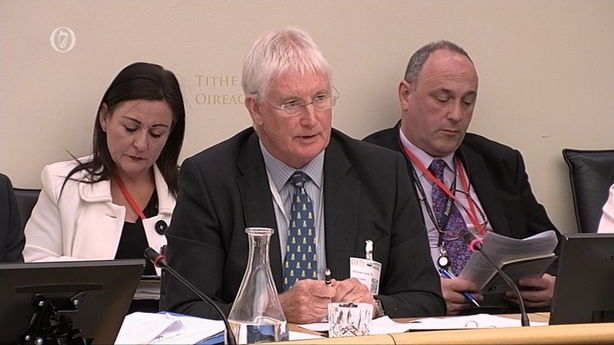 Earlier, the Acting Director General of the HSE apologised for the "confusion and alarm" that had been created in relation to the CervicalCheck programme, as a result of the failure to communicate with the women affected.
John Connaghan told the committee that the failure had ultimately affected every woman in Ireland, their families, their spouses and their children.
He said that in hindsight, the necessary actions as outlined in the open disclosure policy were not taken in a timely and effective manner.
Mr Connaghan said CervicalCheck had started sending letters to treating doctors in February 2016 and all individuals briefed expected that women affected would be receiving information from their treating clinicians.
He said that irrespective of the original, well-intentioned undertaking by the CervicalCheck programme to conduct an audit of cervical cancers and communicate the results to patients affected, both it and the HSE had failed by any measure.
Mr Connaghan said the language in the memos was very functional and somewhat lacking in empathy for the women.
He said that together with his colleagues, they would work to bring about changes to ensure it never happened again.
The committee heard that the cervical screening helpline set up by the HSE has so far received 17,800 calls and has responded to 14,290.
HSE National Director of Screening Services Damien McCallion said calls were being triaged into categories and were being dealt with in centres in Cork, Dublin and Limerick, depending on the women's smear history.
He said hospitals were dealing directly with patients who have a cancer history.
---
Read more:
Department publishes documents on screening controversy
Scally concerned by atmosphere around cancer controversy
CervicalCheck inquiry - who is Dr Gabriel Scally?
---
Mr McCallion said he became aware last night of a Wexford mother-of-two who had a clear smear test in 2011, but was diagnosed with cancer the following year.
The case was raised by Fianna Fáil Senator Keith Swanick, who said the woman called the helpline several times since 28 April but was only told on 10 May that her original smear was tested in the US and the lab was no longer being used.
Mr McCallion said he had asked that the lady received a call back this morning.
The committee has also been told that Patrick Lynch, the chairman of the HSE's Serious Incident Management Team, who was sent in to investigate issues relating to CervicalCheck in recent weeks, was briefed on the audit issues in March 2016.
Elsewhere, Vicky Phelan, whose case exposed the issue, and Stephen Teap, whose late wife was one of the women where the cervical screening also produced a false negative result, are appearing before the Public Accounts Committee this evening.
Dept of Health 'not aware' of non-disclosure
The Department of Health, meanwhile, has said there was no awareness on its part of the subsequent issue of widespread non-disclosure to patients of their audit results by consultants, to whom results had been issued by CervicalCheck.
The department said it had no reason to believe the communication of results would not be accomplished.
Mr Connaghan said that the reason "pause all letters" was listed in the March 2016 briefing document, was that one laboratory, US firm Quest Diagnostics, had challenged the CervicalCheck programme communications process with treating clinicians and invoked a dispute resolution process, as provided for in their contract.
This was also why "await advice from solicitors" was also in the briefing note.
Mr Connaghan said the matter was resolved and the process of re-issuing letters to treating clinicians recommenced in June 2016.
Additional reporting Fergal Bowers and Edel McAllister