President Michael D Higgins has criticised the fact that History is no longer a core subject for Junior Cycle students.
He was speaking at a ceremony in Dublin Castle to mark the publication of the four-volume History of Ireland, which has been produced by Cambridge University Press.
The newly reformed Junior Cycle lists English, Irish and Maths as mandatory subjects and there are fears that far fewer students will be offered History in secondary school.
The President said he shared with historians what he called their "deep and profound concern" at this development.
He said knowledge and understanding of history was intrinsic to our shared citizenship, and to be without such knowledge was to be permanently burdened with a lack of perspective, empathy and wisdom.
The President praised the new four-volume History of Ireland as "an intellectual riposte to those who doubt the vital importance of the study of history".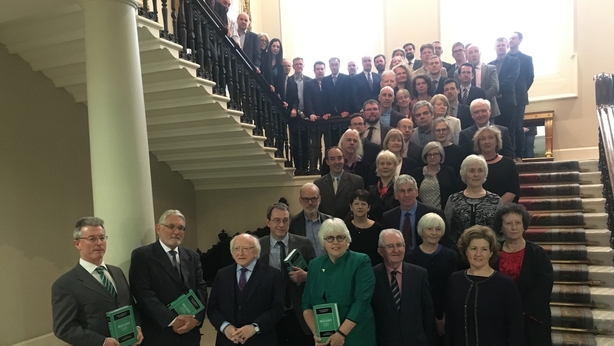 The work is being billed as the most comprehensive and authoritative history of Ireland ever written.
More than 100 leading historians from Ireland and around the world have contributed to the History of Ireland.
The work covers 1,500 years of Irish history, from 600 to the present.
Four volumes, 3,000 pages, more than a million words, written by 100 contributors from 38 institutions in Ireland and worldwide, and a price tag of €400 - The new Cambridge History of Ireland. | https://t.co/5879UyhPrG pic.twitter.com/W5pI5gsDYV

— RTÉ News (@rtenews) April 30, 2018
According to its editors, the publication sets Irish history within broader Atlantic, European, imperial and global contexts.
The editors say the new history challenges traditional chronological boundaries, and addresses Irish history across a range of social, economic, religious, linguistic, military, cultural, artistic and gender perspectives.
While each volume has been edited by individual historians, the overall work has been edited by Thomas Bartlett of the University of Aberdeen.
Retailing at €400 for a four-volume hardback set, the Cambridge history is unlikely to be gracing many bookshelves in homes across the country just yet.