There were jubilant scenes at Trinity College Dublin as students who had occupied the university's 18th century Dining Hall ended their protest over exam resit fees.
They came out as several hundred students gathered to rally in the Front Square.
Speakers told the crowd that they had ignited a bonfire that had the college's Provost on the phone to students late last night from the US.
They said rallies and occupations would continue until students' voices are heard.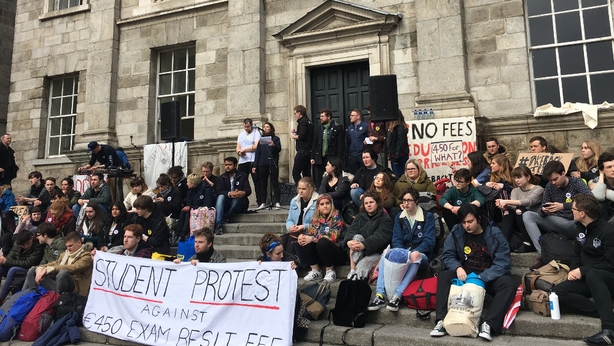 Although the issue of the introduction of additional fees of €450 for students who have to resit exams has not been resolved, speakers at today's rally said this was a victory.
The student activists who had occupied the Dining Hall emerged to chants of "the students united will never be defeated".
Another speaker told the crowd that students were not "cash cows", and that they were taking back Trinity.
Students also occupied the college's examinations hall for a time late yesterday evening.
TCD Students' Union said the charge is an unfair one that will disproportionately hit students who are more vulnerable, such as disabled students or those juggling study with work commitments.
In a statement, Trinity College said it welcomes the decision to wind down the protests.
It said that management has undertaken to consider alternative proposals on supplemental exam fees, modular billing and postgraduate/non-EU fees at the next board meeting.
"There has been good dialogue over the past few days and we now have an agreement between students and university management. This will see the protests winding down. The university is now looking forward to renewing student partnership in the coming days and weeks," Vice Provost Chris Morash said.
Trinity College said earlier this week that the charge was part of a package of measures aimed at making things fairer for students.
It said the fee, to be levied on the 1,700 students who fail exams and have to resit, would enable them to charge less for the 250 students who have to repeat a whole year.
However, this argument has been roundly rejected by the students' union.
Separately, security guards working at the college have said they want to clarify that they have been supporting students campaigning in the college.
They told RTÉ News they want it known that security guards subcontracted from an outside company blocked access to toilets and water for occupying students last night and not them.