An internal review by An Garda Síochána into the policing operation at the anti-water charges protest in Jobstown in 2014 has found that it lacked strategic direction but it was a "qualified success".
The review also says there was no intelligence received prior to the event that suggested any protest was going to happen, and there is little of no evidence to suggest that any strategic assessment was undertaken.
It says with the benefit of hindsight it is clear that the risk of a serious outburst or public disorder was likely to occur.
We need your consent to load this rte-player contentWe use rte-player to manage extra content that can set cookies on your device and collect data about your activity. Please review their details and accept them to load the content.Manage Preferences
It recommends that the gardaí should ensure that robust structures and processs are put in place to monitor levels of public order and identify potnetial risks and vulnerabilities.
It says the fact then-tánaiste Joan Burton and her assistant were extricated from the protest without physical injury and that no protester reported any physical injuries show the policing response was a qualified success.
The review also says from an objective perspective the investigation was brought to a successful conclusion, but says because of the court outcomes it is questionable as to how successful this investigation actually was.
The events at the centre of the report occured on 15 November 2014 when Ms Burton had been attending a graduation ceremony nearby.
She was placed in a garda vehicle to leave but was surrounded by anti-water charge demonstrators.
A sit-down protest ensued, and it was three hours before Ms Burton, along with adviser Karen O'Connell, could leave the area.
The matter came before the courts last year.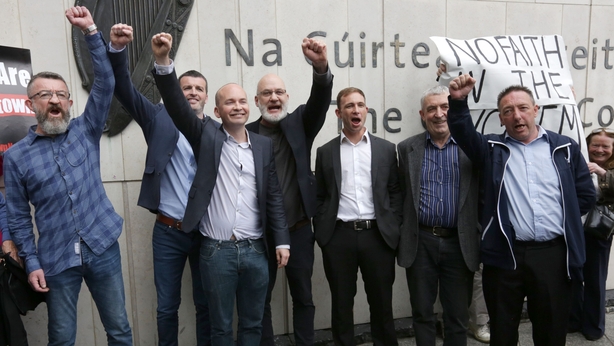 After an eight-week trial  group of six men, including Solidarity TD Paul Murphy, were acquitted of charges of falsely imprisonment.
Other cases were discontinued.
A Dublin teenager who initially was found guilty of false imprisonment had the conviction overturned on appeal.