Six men on trial for the false imprisonment of former tánaiste Joan Burton and her adviser have been found not guilty by a jury at the Circuit Criminal Court.
After an eight-week trial the 11-member jury returned unanimous verdicts having deliberated for more than three hours.
Loud applause and cheers broke out in court as the verdicts were announced.
The charges arose from a protest in Jobstown in Tallaght on 15 November 2014. The prosecution said Ms Burton and Ms O'Connell were detained in garda cars for up to three hours against their will.
The defendants had all pleaded not guilty to the charges.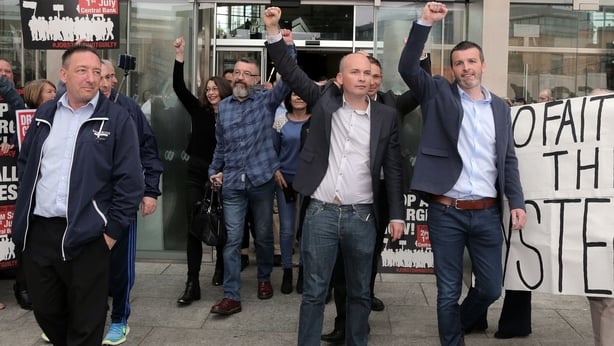 The accused were: Solidarity TD Paul Murphy, 34, from Kingswood Heights in Tallaght, Councillor Michael Murphy, 53, from Whitechurch Way in Ballyboden in Dublin, Councillor Kieran Mahon, 39, from Bolbrook Grove in Tallaght, 34-year-old Scott Masterson, from Carrigmore Drive in Tallaght, 71-year-old Frank Donaghy from Alpine Rise in Tallaght, and 46-year-old Michael Banks from Brookview Green in Tallaght. 
Solidarity TD Paul Murphy says the political establishment in Ireland were scared by what they saw in the protest movement pic.twitter.com/qLwhFOQETo

— RTÉ News (@rtenews) June 29, 2017
Charges against 50-year-old Ken Purcell from Kiltalown Green in Tallaght were dropped at an earlier stage in the trial.
Six men found not guilty of false imprisonment of former tánaiste Joan Burton and her adviser pic.twitter.com/bkYSppzko0

— RTÉ News (@rtenews) June 29, 2017
In her ruling in the absence of the jury that ultimately led to the charges against him being dropped, Judge Melanie Greally said that the extension of Mr Purcell's garda detention in February 2015 was unlawful.
"Putting it mildly, the first three hours of his detention were not put to good use," the judge said.
She noted the superintendent who made the decision to extend his detention was given a "misleading" impression as to how the investigation was progressing that day.
"The casual and languid approach of the interviews is inexplicable on the face of an arrest that was pre-planned and carried out at 7.30am with great precision," she said.
The prosecution later withdrew the charges against Mr Purcell.
Towards the end of the trial, the prosecution told the judge in the absence of the jury that Paul Murphy had been tweeting "pointed references to evidence heard in the trial."
Paul Murphy was active on Twitter throughout the trial, retweeting claims by his supporters and urging everyone to keep tweeting under the '#JobstownNotGuilty' hashtag.
Judge Greally said, "If steps have been taken and Paul Murphy has been advised of the potential consequences of engaging in these sort of Tweets at this point in the trial, I will say no more."
Dáil told Government 'lets justice run its course'
Legal argument: Obstruction or false imprisonment?
Legal argument: The right to protest
'Politically-driven' investigation criticised
Speaking outside the court after the verdict was announced, Mr Banks said a unanimous verdict on all counts proved the men were  100% not guilty of the charges.
He said the seven people who had had this hanging over them for two years and spent nine weeks in court are now vindicated and walk free from the courts proven to be protesters and not criminals or kidnappers as Ms Burton and the gardaí tried to make them out to be.
Michael Banks spoke to the media saying today is a victory for the Jobstown Not Guilty Campaign pic.twitter.com/ERR5mgE2ba

— RTÉ News (@rtenews) June 29, 2017
Mr Banks said it was a politically-driven investigation vindictively designed to punish those who fought against the water charges and wounded the political vanity of Ms Burton.  
He said it was an attempt to criminalise the largest movement of people power in decades by presenting a sit-down protest as false imprisonment. 
Mr Banks said millions of euro had been spent by the State in an attempt to stand up the false imprisonment charges.
He said a finding that a 17-year-old boy was guilty of false imprisonment by the Children's Court should be overturned and further charges against further defendants should be dropped and any attempt to criminalise protests should be stopped.
He said serious questions now needed to be asked about the garda investigation.  And he said media commentators who said they were guilty of false imprisonment should apologise and correct the record.  
He also called on the Labour Party and Ms Burton to apologise for her attempting to criminalise a working class community and protest.
Paul Murphy said what happened in court was "disgusting".
He said three gardaí had claimed they heard him asking the crowd in Jobstown if they should keep Ms Burton there for the night, when he had never said that.
He asked if they had not had video evidence, where would the defendants be today?
He said there was clearly a conspiracy to try to criminalise the anti-water charges movement and Jobstown.
He said that had to mean something. He said millions had already been spent in attempting to stitch them up for false imprisonment and attempting to criminalise sit-down protest.  
He said it had to be stopped. He asked how high this went in An Garda Síochána and what awareness did the political establishment have about it?
He said this was an attempt to cut across the resurgent, growing left. He said they had seen the power of ordinary people and what they could achieve and were trying to send a message to people to get back into their box.  
He said the "really good jury" saw through this.  
Case arose from protest in Jobstown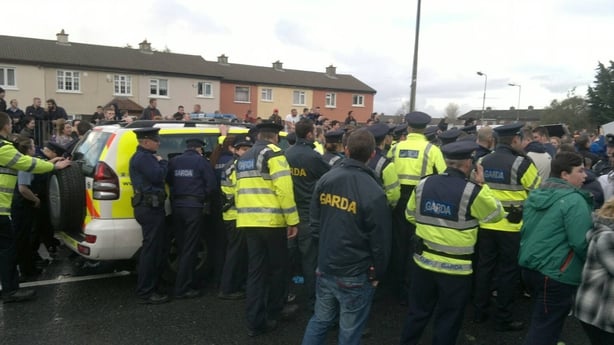 Ms Burton was surrounded by anti-water charge demonstrators as she attended a graduation ceremony at an adult education centre.
She was verbally abused and hit with a water balloon as she walked from the centre to a nearby church.
Amid concerns for her safety she was placed in a garda car and advised to leave the area.
However, protesters surrounded the car, preventing it from leaving the church grounds.
Ms Burton and her adviser Ms O'Connell were then moved to a garda jeep.
The crowd followed and a sit-down protest ensued. It was three hours before the two women were able to leave the area. 
In her evidence Ms Burton said she was terrified at times during the ordeal and was fearful about how she would get out of the area and what would happen if the crowd got to her.
She said she felt she was "running for her life" when she eventually left the area on foot to a third waiting garda car.
Ms O'Connell described it as the scariest experience of her life and said she was very frightened while trapped in the cars.
Paul Murphy and five other men were among the protesters that day.
The prosecution said while they did not engage in any violence, they prevented the women from leaving the area for up to three hours and should be convicted of false imprisonment.
Prosecuting Counsel Sean Gillane told the jury the central question they had to answer was not a political one.
He said although many political topics were brought up during the trial, the jury was there to decide on the facts of what happened on 15 November 2014 and if there had been a transgression of the criminal law.
He said the prosecution was not arguing against the right to protest but it had its limitations.
The Constitution guaranteed "the right to protest and express ourselves but also gave us the right to be free. If the organs of the State such as judges, gardaí, the army or men in white coats were not allowed to detain people because they didn't agree  with their politics then why would we allow Paul Murphy or the other defendants to do it?" 
He said Paul Murphy was one of those who surrounded both cars carrying Ms Burton and had gestured to others to do so.
He was also instrumental in taking a vote on the day "to keep her here or let her go".
Mr Gillane said this was a vote on what to do with another human being. It did not matter that Mr Murphy voted for the second option, to slow march in front of the car.
This, he said, was another form of confinement. It was not democracy it was a betrayal or inversion of democracy.
Defence counsel argued that the men had taken part in a peaceful political protest and could not be held responsible for the violence of others that day.
They said the protest has been infiltrated and hijacked by others with an ulterior motive.
They said their clients had obstructed a vehicle but their actions did not amount to false imprisonment.
They said Ms Burton and Ms O'Connell were placed in the cars on garda advice and remained in the cars on the same advice.
Any threat to their safety was not caused by the six men on trial, they said.
They also said it was unprecedented for political protesters to be charged with such a serious offence and said there were a range of lesser offences available under the Public Order Act.
They also criticised the handling of the protest by gardaí and said they were looking for someone to blame for their mistakes.
Gardaí were accused of being heavy handed when they arrested some of the accused men in "dawn raids" on their homes.
Defence counsel said Paul Murphy had been targeted for who he was rather than what he had done and it was bizarre that he and councillor Michael Murphy, who had been proposing a solution to the problem on the day, ended up on trial.
In her charge to the jury on Monday, Judge Greally said the key issues to decide were whether or not the protest was peaceful, was Ms Burton merely obstructed or delayed, or was there total restraint with no other means to leave the area, and if so, did the six men on trial do this intentionally.