"Rights worth having are unruly things. Demonstrations and protests are liable to be a nuisance. They are liable to be inconvenient and tiresome or at least perceived as such by others who are out of sympathy with them. Sometimes they are wrongheaded and misconceived."
Towards the end of the Jobstown trial, Senior Counsel Seán Guerin made an application to have the case against Solidarity TD Paul Murphy thrown out and not put before the jury for consideration.
He began with the above quote from a landmark case in the UK governing the right to protest.
"It is the essence of democracy," he said, characterising the events of November 2014 as "a peaceful event marred by sporadic acts of violence".
"A vehicle being obstructed is not false imprisonment. Obstructing a vehicle is a legitimate part of political protest," he added.
Mr Guerin's arguments focused on a number of elements, including an analysis of the right to peaceful protest and how such protests should be policed.
He argued that what happened at Jobstown was a spontaneous protest, "an unruly, unorchestrated mass of people".
While the prosecution alleged he had a trust and confidence mandate as an elected representative, Mr Guerin said his client "could not be made liable to punishment for false imprisonment because of things other people did on their own initiative without any encouragement or participation from him".
He said people had participated in a political protest and different people went about that in different ways. "Some [not in this trial] are charged with having done so violently, some used language and others did none of those things."
Mr Guerin said the nub of the prosecution case was that it does not matter how peacefully Mr Murphy had behaved but that he should be fixed with the responsibility for the behaviour of others.
"He is being tarred with the brush of others' violence."
He said political protest was a "highly protected form of legitimate political and social activity protected in all modern democracies as an essential right. The role of the gardaí is not simply to protect from harm it includes the protection of the right to protest and those exercising that right. Paul Murphy was one of those, he was the most visible and recognisable on the day and no one heard him utter a word of encouragement for false imprisonment, a threat or abuse although he was seen and heard by everyone who gave evidence in the trial. He too was entitled to protection."

Mr Guerin said the prosecution had repeatedly said that Mr Murphy had impeded the exit of a car and then a jeep containing the then tánaiste and her adviser. However, he argued that obstructing a vehicle did not amount to false imprisonment.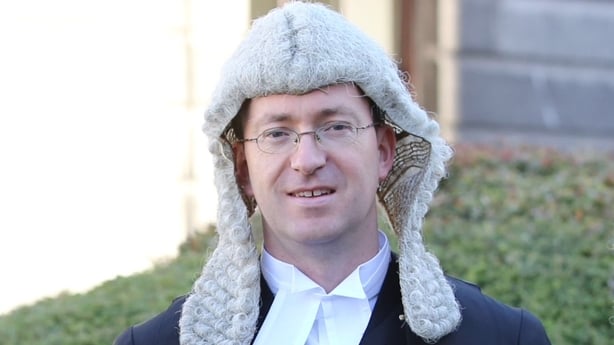 Time was immaterial in a case of false imprisonment, he said, but the restraint must be total. "You can't make up a false imprisonment by a partial restraint that goes on for a long time. A vehicle being obstructed is not false imprisonment."
At one point he argued that the decision to place Ms Burton in the first garda car was a wrong decision by the gardaí and led to her staying in the car for some time.
"The reason they were there for as long as they were was because people were behaving violently and he was not responsible for that," Mr Guerin argued.
The judge interjected and said the reason the women were in the cars for so long was because the cars were surrounded.
Mr Guerin said they were left in the car for as long as they were, not because of a false imprisonment but because of a conflict of competing interests; Ms Burton's rights and the right to political protest.
He said gardai made no effort to protect or facilitate the right to protest until much later.
"The conflict on the day was capable of resolution and ultimately was resolved on the day."
He criticised the policing on the day saying coming two weeks after mass demonstrations about water charges, it might have been expected when the tánaiste came to an area where feelings were strong on the subject they might have known they needed to plan for it.
"The second most senior official in the government comes to a community, the community is entitled to express their views to that person and that might involve them being delayed and hindered.
"That is what the law protects and is one of the foundations of a democratic society and he was entitled to have that right facilitated by the State and no effort was made until later."
He said a lack of planning and the violence of the others had contributed to the events that occurred and the trial was an attempt to cover up the multiple failures of the State to recognise and facilitate the right to protest.
Senior Counsel Raymond Comyn, who represented Cllr Michael Murphy, said there were two categories of protesters that day: those who were shouting abuse and those who were purely political protesters engaging in political chants.
He said they were two distinct groups with different agendas. Video footage of his client showed he was seeking to discourage people from doing inappropriate things.
Judge Greally agreed that it was apparent that Cllr Murphy not only discouraged such behaviour he also took steps to restrain people acting violently.
Mr Comyn asked how could "someone involved in peaceful conduct and trying to restrain unlawful conduct, be then tinged or have to carry the can or have joint responsibility with those involved in the conduct you were trying to restrain"?
Cllr's Murphy's comments on the day that Ms Burton could have "sanctuary" in the church could not be interpreted as alleged by gardaí as a threat to her safety, he argued.
Rather, he said it "was concern for the welfare of Ms Burton and Karen O'Connell bearing in mind the context and the particulars that prevailed".
He said there was "an utter lack of intent to carry out anything unlawful".
In response Senior Counsel Sean Gillane for the prosecution said the defence seemed to be suggesting that Ms Burton and Ms O'Connell had "brought it on themselves" and could have stayed in the church.
He said they had a right to leave the building, the right to take the advice of gardaí and the right to leave the area. He said there was no right to deprive anyone of their personal liberty for political reasons, planned or otherwise.
The comparison with the UK case was not a good one, he argued, because what happened in Jobstown was the "targeted confinement of people" rather than an ongoing right to demonstrate.
"The prosecution is not saying you cannot protest, the reprehensible act was the targeted detention of the individuals confined."
European Convention rights could not oust criminal law just because someone is involved in a protest, he said.