The Chief Executive of Irish Water has said the objective is to end the water restrictions in Dublin as soon as possible.
But Jerry Grant told RTÉ's Prime Time that the company was facing "real challenges".
"If we could get back to a position where the reservoirs were back to a reasonable level, then hopefully we can reduce those restrictions", he said.
"Now, I do have to say this: tonight as we speak, we had restrictions on last night in place like Rathmines, frankly we didn't need them because there are so many leaks in Rathmines and Rathgar and that area, that actually the pressures are very bad anyway and we can't get up to the tops of the buildings and that's becoming clear to us now".
"There are also areas in Ballyboden and up in the higher areas of south Dublin, who have no water cause we can't get the water up there and frankly we are going to have to deal with those, using tankers in the coming days, so we have real challenges", he added.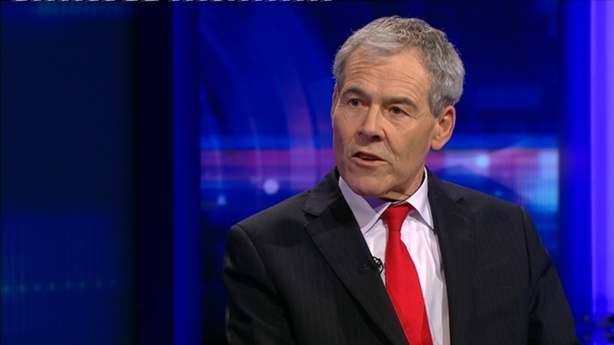 Earlier, Mr Grant said he accepts the information Irish Water gave to customers about the impact of the restrictions to water supply in the Dublin area last night was not accurate enough.
He said that Irish Water wants to ensure that people get more accurate information.
Hundreds of thousands of people in Dublin have been affected by restrictions, which could continue for a number of days, possibly weeks.
Irish Water will shorten the period of restrictions in Dublin each night by two hours.
The restrictions will now run from 8pm until 6am, compared to 7pm to 7am.
Speaking to RTÉ News, Mr Grant said he accepts that the restrictions last night caused a lot of difficulties for people and that Irish Water regrets that.
However, he warned that controlling the water network by tightening valves and throttles in the water public pipe system is a very crude way of gaining control of water flow and Irish Water can never be totally sure what the impact is going to be.
He said Irish Water is trying to gain a better understanding of where the outages might be so that people can have better information in advance.
But he warned that the situation is not perfect and that these are circumstances that no water utility would ever want to be in.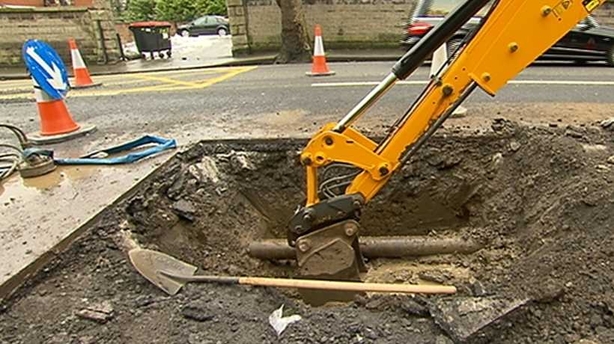 Around 23,000 people remain without a water supply in Cork, Wexford and Tipperary, because of burst pipes following freezing temperatures last week.
Irish Water said that in addition around 39,000 customers in Cork, Kerry, Waterford, Galway, Mayo, Leitrim, Kildare, Longford, Meath and Westmeath are on restricted supply and it is hoped that full supply will be restored by the end of the week.
Around 4,000 homes in east Galway are without water today, and Irish Water says consumption has increased by 50% in the Eyrecourt, Laurencetown and Kiltormer areas.
Take shorter showers and don't run your dishwasher overnight - advice to householders experiencing water restrictions pic.twitter.com/XkGkXc78u2

— RTÉ News (@rtenews) March 6, 2018
Alternative supplies are being provided to people in Eyrecourt from 3pm, with bottled water being delivered to vulnerable customers who have registered with Irish Water.
There are several water restriction notices in place across the region, as crews work to repair leaks and deal with excessive demand in the aftermath of last week's cold conditions.
Mr Grant also underscored that the company mobilised a huge effort to try to identify and fix the leaks that are causing the shortfall.
He said there is an element of "suck it and see" when valves are being closed down and that there is a very fine line between getting "no flow" and "moderate flow" when valves are tightened.
He advised that peoples fill jugs with drinking water and put them in the fridge so that they have drinking water for the following morning.
The restrictions imposed last night have already helped cut last night's deficit in the capital's reservoirs in half from 56 million litres to 28 million litres.
In total, 111 million litres of water have been lost from Dublin's reservoirs over the past three nights as a result of leaks.
Irish Water says is still very concerned about levels in the reservoirs feeding into Dublin because water levels in the reservoirs are still falling, although at a slower rate than before.
'Do Not Drink' order in place in Fethard
A 'Do Not Drink' order is in place for the Fethard public water supply in Co Tipperary, affecting around 12,000 people.
Kerosene has contaminated the water source and it should should not be used for drinking, drinks made with water, preparing, washing or cooking food, brushing teeth or making ice.
Irish Water says that in particular pregnant women should not use this water and neither should it be used for making baby formula.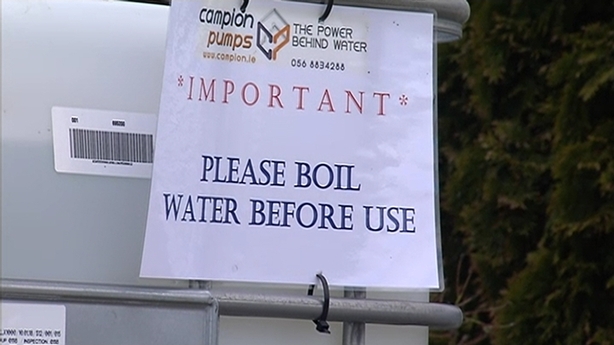 Boiling the water will not make it safe to drink, but it can be used for bathing, flushing toilets and laundry.
Water tankers are being provided.
Mr Grant said in a "very serious incident" a kerosene tank burst, got into the river and in turn got into the water treatment plant.
He said the plant, which was recently opened, will require major remediation works. He said the plant has now been shut down and the recovery operation could take up to ten days.
Mr Grant said that a huge effort is being made by Tipperary County Council to try to get an alternative supply.