The head of Irish Water has said the greater Dublin region "is in real trouble" in terms of its water supply following the recent bad weather.
Jerry Grant said water usage has risen 10%, which is above the capacity of the reservoirs, which are now being depleted.
As a result he said water pressure will be reduced from 7pm until 7am for the foreseeable future.
He said it will be weeks, or possibly months, before this nightly pressure reduction ends.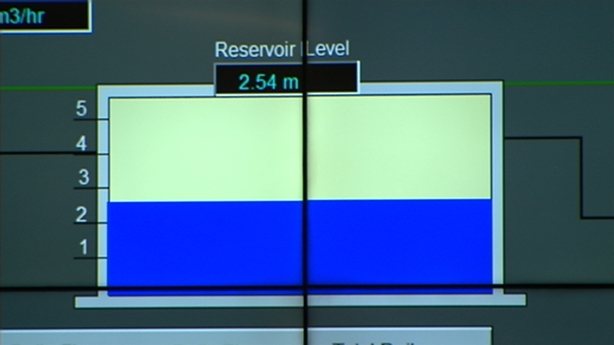 Mr Grant said the vast majority of households will not experience much disruption, but some areas will lose water at the tap.
He said 1.2 million people live in the affected area, which includes parts of Kildare, Meath, Fingal, Dublin city and north Wicklow.
He said it is a very serious crisis for the greater Dublin area's water supply.
The 10% increase in demands is mainly due to leakage from broken pipes that broke during the cold snap.
This evening, a Dublin City Council (DCC) meeting heard that the stoppages in water supply may be necessary and would be introduced on a "rotational basis".
According to DCC assistant chief executive Dick Brady, households would get 48 hours notice of stoppages.
Mr Brady said that water production is being "ramped up" and crews are out repairing leaks.
He also appealed to Dublin residents to conserve their supply.
Irish Water said more than 60 million litres of water has gone from the system due to leaks and people running their taps overnight.
The measure will be reviewed on a daily basis, but there will not be an immediate return to normal service.
It said that this evening, there were just over 33,500 people without water and an additional 48,000 with restricted supply due low levels in reservoirs.
Those without water include almost 2,000 in Cork; 17,500 in Wexford; 12,250 in Tipperary and 2,000 in Limerick.
Those on restricted supply include 13,000 in Cork; 14,000 in Galway; 7,700 in Kerry; 1,800 in Laois; 16,500 in Leitrim; 27,000 in Longford; 700 in Mayo; 12,000 in Meath; 2,000 in Waterford and 9,500 in Westmeath.
Other areas, particularly those with smaller drinking water schemes, may experience some lower pressure too due to high demand - which is why it is so important that people conserve water where possible.
Boil water notices have been issued to more than 3,000 customers, mainly in Aughrim, Co Wicklow. The remainder on boil water notices are in Waterford.
The Irish Water contact centre is available 24 hours a day on 1850 278278 for customers to report outages.
Customers are urged to report loss of service or visible leaks to assist Irish Water to identify bursts.
Details of the overnight water restrictions for Dublin and parts of Wicklow, Meath &Kildare: https://t.co/ddJzzDPrLM.
On high ground & outer edges of the network, people may experience some outages.
Supply to hospitals will be prioritised & vulnerable customers contacted.

— Irish Water (@IrishWater) March 5, 2018
Irish Water says water restrictions in the weeks ahead are inevitable https://t.co/66o8URcIAq pic.twitter.com/nuslGw5fBi

— RTÉ News (@rtenews) March 5, 2018
Earlier, Taoiseach Leo Varadkar said he believes it is a definite possibility that people will be found dead in their homes in the days ahead as a result of the severe weather last week.
Mr Varadkar said a number of homes remain cut off as a result of the snow.
The Taoiseach said there had been a number of fatalities in the last few days as a result of road crashes.
Speaking on RTÉ's Morning Ireland, he said it will take a few more days before things return to normal, particularly in counties Kildare, Wicklow and Wexford.
Taoiseach fears people may have died during the storm but have not yet been found pic.twitter.com/rNpxIDhbhT

— RTÉ News (@rtenews) March 5, 2018
It will take a couple of weeks before the cost of the storm damage can be assessed, he added, and he could not rule out the possibility that Irish Water may need additional resources to deal with storm damage.
He said that people should continue to conserve water and to be careful while walking, driving and doing repairs from now on.
The Taoiseach also urged people to avoid emergency departments, unless absolutely necessary.
He warned that hospitals will be under a lot of pressure over the coming weeks and it will be "more like the first week in January, than the first week in March".
Mr Varadkar said humanitarian teams will be in place for farms and businesses in need of emergency payments. He said this scheme was demand led and not budget-capped.
The Taoiseach said that extra beds for the homeless will be made available over the coming weeks, if required.
---
Read more:
---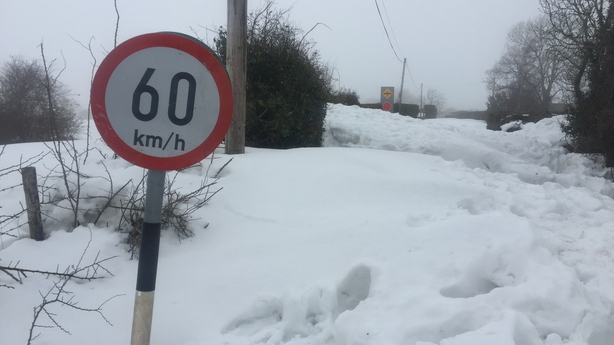 Road users are being advised that hazards from the heavy snow last week remain despite the weekend thaw.
While many transport services and businesses are back to normal, the National Emergency Co-Ordination Committee (NECG) said today would not be a normal Monday in many areas.
People are being urged to use public transport where possible.
A Status Orange snow-ice alert is in place in Leinster and is valid until 10am tomorrow.
Many schools in west Wicklow, Wexford and north Kildare are among those that remain closed today.
Nearly all of the homes and businesses whose electricity supply was knocked out by Storm Emma have been reconnected.
A meeting of the NECG took place again this morning, to discuss and monitor arrangements for the severe cold weather event.
We need your consent to load this rte-player contentWe use rte-player to manage extra content that can set cookies on your device and collect data about your activity. Please review their details and accept them to load the content.Manage Preferences