President Michael D Higgins has said the decision by the UK to leave the European Union is "challenging" for Ireland.
Speaking in Athens at a business breakfast, President Higgins said: "We respect the decision of our nearest neighbours but we are realists in respect of the consequences ... It is challenging ... and we are at risk of paying the highest price".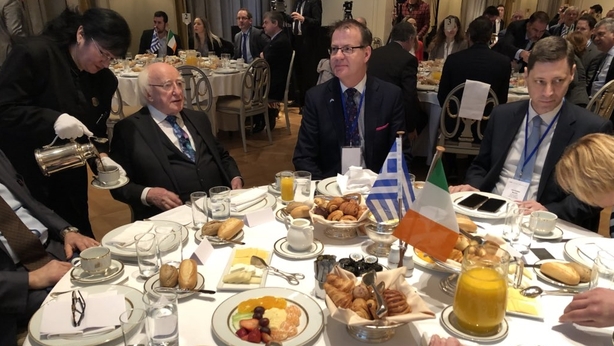 President Higgins is continuing a State visit to Greece with a second day of engagements in Athens which include business, cultural and educational elements.
The day began with a breakfast meeting of Irish and Greek business leaders, hosted by the Irish ambassador to Greece, in partnership with Enterprise Ireland, Enterprise Greece and Bord Bia.
Later President Higgins also received an Honorary Doctorate at the University of Athens and this afternoon he will visit the Acropolis Museum in Athens, followed by the Parthenon.
Last night, in his speech at a state dinner hosted by the Greek President Prokopis Pavlopoulos, President Higgins questioned the UK's decision to withdraw from the European Union.
"The intention of the United Kingdom to withdraw from the European Union and the lack of clarity about its relationship with the Union after March 2019 has potentially grave consequences for the island of Ireland, and could present a serious challenge to the peace process", he said.
The President also paid tribute to Greece's efforts in dealing with the refugee crisis.
"The Greek people, in the generosity of their response to the plight of refugees, in offering shelter and a dignified future to so many, have provided an example of hospitality and solidarity not only to the people of Ireland, but to the peoples of our European Union.
"It is an example, I hope, that will be taken up with answerable efforts".