On the first day of a State Visit to Greece, President Higgins has spoken of the "potentially grave consequences" of the UK's decision to withdraw from the European Union.
In his speech at a State Dinner hosted by the Greek President Prokopis Pavlopoulos, President Higgins said: "The intention of the United Kingdom to withdraw from the European Union and the lack of clarity about its relationship with the Union after March 2019 has potentially grave consequences for the island of Ireland.
He also said it could present a serious challenge to the Peace Process.
President Higgins said: "Ireland continues to work with fellow Member States and the EU Taskforce on the Article 50 negotiations, and we are very grateful to the Hellenic Republic for its friendship and solidarity as we face these challenges together."
Earlier, today President Higgins held meetings with several political figures, including the Greek Prime Minister Alexis Tsipras.
Business, cultural and educational engagements follow tomorrow.
On Saturday the President will visit Eleonas Refugee Camp in Athens.
Speaking at the State Dinner tonight, President Higgins paid tribute to Greece's efforts in dealing with the refugee crisis.
He said: "The Greek people, in the generosity of their response to the plight of refugees, in offering shelter and a dignified future to so many, have provided an example of hospitality and solidarity not only to the people of Ireland, but to the peoples of our European Union. It is an example, I hope, that will be taken up with answerable efforts."
Speaking to reporters in Athens earlier, President Higgins said he would make his intentions clear "at the appropriate time" concerning his plans to seek a second term in Arás an Uachtaráin.
The programme of engagements for the three-day visit began this morning with a wreath-laying ceremony at the Tomb of the Unknown Soldier in Athens.
It was followed by a welcoming ceremony at the Presidential Mansion of HE Prokopios Pavlopoulos, President of Greece.
The two men held a bilateral meeting, after which President Higgins met Prime Minister Alexis Tsipras and other political figures, including the Mayor of Athens.
Mayor Georgios Kaminis presented President Higgins with the Medal of Athens at City Hall.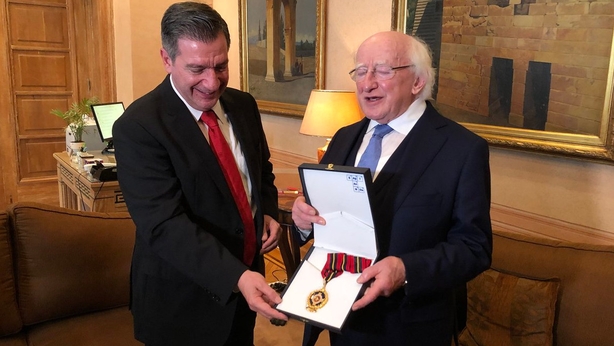 Diplomatic relations have existed between Ireland and Greece for just over 40 years, since 1977.