Rumours that Captain Robert Nairac's body was destroyed in a meat processing plant have been dismissed at an Oireachtas Committee by the Independent Commission for the Location of Victims' Remains.
Capt Nairac was abducted in south Armagh in May 1977, before he was murdered and secretly buried by the IRA somewhere in the Ravensdale area of Co Louth.
Representatives of the Independent Commission for the Location of Victims' Remains were before the Oireachtas Committee on the Implementation of the Good Friday Agreement this afternoon.
Committee Chair and Louth TD Declan Breathnach asked about local rumours in the border area that one of the disappeared was not actually buried.
Senior Investigator Geoff Knupfer said: "There was a strong rumour that his body had been destroyed in a meat processing plant in the area.
"We are assured by people, who would know, that this was actually not the case and it was done to distract attention, shall we say, at the time."
A fresh appeal for information that will help locate the remains of the three "Disappeared" men who were killed by paramilitaries during the conflict in Northern Ireland was also made at the committee.
In his opening address, Co-Commissioner Frank Murray said that four bodies have been recovered since they last appeared before the committee in 2012 and 13 of the 16 'Disappeared' have now been found.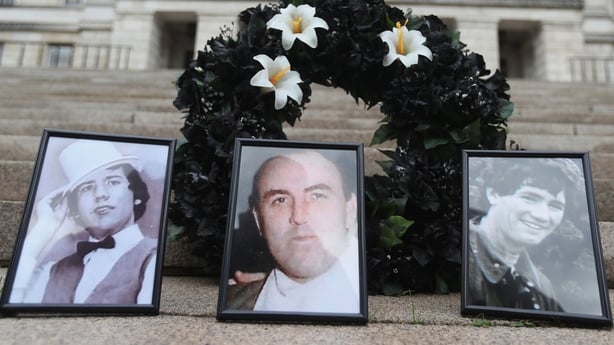 Co-Commissioner Kenneth Bloomfield said: "There now remains just three victims on the commission's case list.
"Joe Lynskey disappeared in August 1972 and is believed to be buried in the Coghalstown area of Co Meath.
"Columba McVeigh disappeared in November 1975 and is believed to be buried in Bragan, Co Monaghan.
"Capt Robert Nairac, who disappeared in May 1977, and for whom the commission has received very little information to assist in his recovery ... is believed to be buried somewhere in the Ravensdale area of Co Louth."
Mr Bloomfield also spoke of the importance of information for the commission to complete its work.
It is more than over 40 years since the last three victims disappeared and the passage of time creates obvious difficulties for accessing relevant information.
He said: "I appeal to anybody with information which may help to locate the remains of any of the victims to provide it, in confidence, to the Commission using our freephone number or our PO Box address."
Minister for Justice Charlie Flanagan backs fresh calls for people to come forward with information on the 3 remaining 'Disappeared' men who were killed by paramilitaries during the Northern Troubles. 13 of the 16 have been located since 1999 @rtenews pic.twitter.com/osVBv4krRm

— Conor McMorrow (@ConorMcMorrow) January 25, 2018
Mr Bloomfield pointed out that all information provided to the commission is treated as strictly confidential and it can only be used to locate and identify the remains.
By law, it cannot be given to other agencies or used for prosecutions.
Mr Knupfer said no information has been made available about Capt Nairac who was abducted from the Three Steps Inn in Dromintee, taken to Ravensdale and was killed.
His body was removed immediately afterwards and secretly buried. Several people were convicted of his killing but his body has not been found.
The commission believes that no information has come to them because Capt Nairac was a British soldier and that since his death, his name has been linked in a number of books and articles with five separate killings and atrocities.
Mr Knupfer said: "Due to the dearth of information the commission has taken the very unusual step of undertaking research into his background. This has revealed that Robert Nairac was not and never had been a member of the SAS. He was in fact a Grenadier Guard. His role was that of a liaison officer and intelligence officer liaising between the police and the army.
"In military terms he was a very junior officer and would not have had free reign. Neither was he tasked with handling informants or sources as part of that role.
"On the dates of four incidents to which he was linked, he was not in Ireland. On the fifth occasion, he was actively deployed in Derry many miles from where the incident occurred in Co Monaghan.
"In all five cases we have been able to trace and interview witnesses who can vouch for Robert Nairac's presence in these various locations and not anywhere near the incidents.
"We earnestly appeal for anyone who has any information about Joe Lynskey, Columba McVeigh or Robert Nairac to come forward."