The Director General of Science Foundation Ireland has called for the organisation's budget to be increased by €100 million over the next three to four years in order to meet growing demand for research funding.
Professor Mark Ferguson said the money is required if SFI is to meet its commitments under the Government's science strategy, Innovation 2020, and to prevent Ireland losing ground against other nations.
"It is very, very important for Ireland's position globally that we continue to do this because other countries are increasing their investment," he said.
"Under international benchmarking analysis we would predict that we would not hold our position, not because the quality is deteriorating, but because other people are investing more."
Speaking at the launch of SFI's annual review of 2017 and look ahead to 2018, Professor Ferguson said the SFI budget for this year is €172.5m, but it will need to be increased to around €300m over the next few years.
He said the need for extra money is a really good thing, as it is an indication that its structures and multi-annual funding system is working.
As a result, projects that in the past may not have been working well were shut down with their funding returned to the pool, are now continuing longer-term, meaning the existing budgets are being used up.
He said more than 90% of SFI's budget each year is pre-committed and spent on multi-annual projects.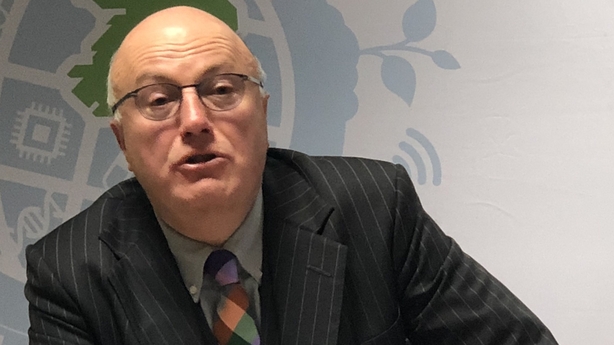 Prof Ferguson, who is also the Chief Scientific Advisor to the Government, said work needs to be done to improve science teaching at second level.
He said more excellent scientists need to be encouraged to consider a career in science teaching.
But he said unfortunately like in many countries around the world, science teaching here is not highly valued.
Prof Ferguson also acknowledged that there was an issue with funding at third level and that he supported efforts by higher level institutions to get funding increased.
However, he said this is not holding back SFI's efforts to attract world class star professors to Ireland.
On the issue of gender equality in Irish science, Prof Ferguson said SFI is making progress on increasing the number of women working in higher levels of research.
He said the male/female split is around 50/50 at PhD and Post-doctorate level, as well as junior lectureship.
But he said at professor level it is still more heavily skewed towards men and SFI is taking steps to address this.
Among SFI's plans for 2018 are the creation of a PhD studentship programme with the UK, as well as the progression of plans for joint research appointments with UK institutions.
SFI has also begun the process of assessing applications for the refunding of the first seven research centres it set up a number of years ago and is involved in ongoing work to get five new ones announced last year opened.
It also plans to increase the number of European Research Council award recipients here and attract international STEM research prize-winners.
Last year saw €43m invested in 26 research projects under the SFI Investigators Programme.
An analysis of international publication databases last year also showed that SFI funded research papers were more than twice as likely to be extremely influential than the global average.