The father of the Irish-Filipino family caught up in the Barcelona terror attack has described the horrific moment he and his family were struck by a van as it was driven at speed down Las Ramblas last Thursday.
"We were looking for presents and souvenirs," Norman Fernandez Potot told RTÉ News.
"It was really fast ... suddenly I heard some people in a commotion. When I looked up I saw the van coming towards us. The van hit me on the rib cage. That's the last I remember. I passed out."
Still wincing from pain, Mr Potot described how events then unfolded.
"My wife told me [later] that as I was lying there, she thought I was dead because I was lying there with blood here all over my face. She tried to slap my face to wake me up."
"My wife told me she thought I was dead" - the Irish-Filipino family who survived the Barcelona attack speak to RTÉ News pic.twitter.com/bh6bRZM0bX

— RTÉ News (@rtenews) August 21, 2017
Speaking from his hospital bed in Barcelona's Hospital Del Mar, Mr Potot said: "It was me [who got hit first], then I believe the three of them, my wife and daughter, and my son - I asked my son [if he was hit], he told me, 'no'. During the commotion ... it was really fast."
He said he came around shortly after being struck.
"I stood up and asked [my wife], 'where am I? That's what I remember. I heard the policeman trying to secure us, because the guy might have a gun or something. So they tried to secure us in the basement of a restaurant.
"One lady there had blood on her head," he said.
"When I gained consciousness, I saw him [his son] crying and I saw his left leg badly swollen."
He said the family stayed in the restaurant for 30 minutes before they were taken to hospital.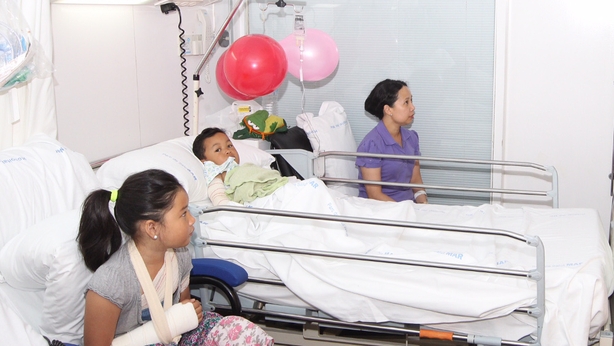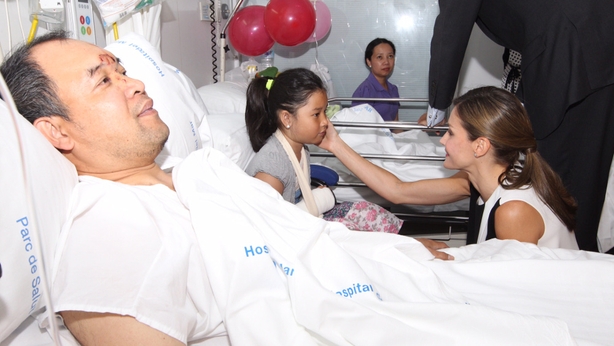 Mr Potot and his wife Pearly had flown to Barcelona to celebrate their son Nathaniel's 5th birthday.
Nathaniel suffered a broken femur in the attack and his sister Nailah sustained a fractured arm. The little boy underwent a successful operation on his leg on Saturday morning.
Mr Potot, who has lived in Ireland for ten years, has a fracture to his forehead after the force of the impact threw him head first to the ground, and also sustained bruising to his kidneys, while his wife has bruising on her legs.
Mrs Potot has lived in Ireland for 17 years.
Both Nathaniel and Nailah were born in Dublin and attend St Brigid's Primary School on Haddington Road.
Mr Potot has received the results of a CT scan indicating there was no brain damage following the forehead fracture.
Doctors have told the family they will be able to leave the hospital when they are ready, and they are expecting to leave tomorrow.
Spain's King Felipe and Queen Letizia spoke with the couple and their children during a visit to the hospital on Saturday.
Visita a los heridos por el atentado de Barcelona en el @hospitaldelmar https://t.co/VKhtOqo63C pic.twitter.com/mpXgcEMpZZ

— Casa de S.M. el Rey (@CasaReal) August 19, 2017