The Central Statistics Office has published its latest profile report of results from Census 2016 which focuses on homeless people in Ireland.
The report shows that, on Census night in April last year, just over 6,900 people were either sleeping rough or in accommodation designated for the homeless.
The CSO said that the homeless figures from last year's Census are not directly comparable to the figures it collected in the previous Census five years earlier, because those in long-term homeless accommodation are excluded, while those living in private emergency accommodation such as commercial hotels and B&Bs are in for the first time.
However, the new Census numbers reflect a huge increase in homelessness in Ireland.
The figure is now 6,906 people. It was 3,744 five years ago including about 1,000 in long-term accommodation residents not now included.
Only 123 people were sleeping rough on Census night, although that is double the number of rough sleepers counted five years earlier.
72% of the homeless are in Dublin. 58% are male. The average age is 31, although 23% of the total is children under the age of 15.
The Census figures also show that 56% of homeless people are in the labour force.
However, of them, 70% are unemployed. 17% have jobs and 12% are unable to work due to permanent sickness or disability.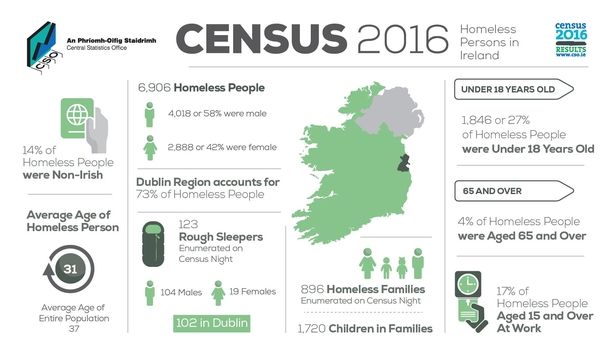 Census 2016 figures highlight extent of homelessness crisis pic.twitter.com/iCzMMFoyj1

— RTÉ News (@rtenews) August 10, 2017
Homelessness: Experiences of a Dublin city centre squat
The Head of Policy and Communications for the Simon Community has said the results should "frame the appropriate responses" for moving people back into their homes.
Speaking on RTÉ's News at One, Niamh Randall said the figures show the impact of austerity, the absence of affordable housing and issues like zero hour contracts and poorly-paid jobs.
Ms Randall added that "one-size will not fit all," saying that an "individualised, tailored response" is needed "to meet each individual's housing need and then to provide the wraparound support they may need to live independently."
Meanwhile the Chief Executive of the Children's Rights Alliance has said it is extremely disappointing that the homeless crisis has reached "these proportions."
Tanya Ward described it as the human rights issue of our day for children when speaking on RTÉ Drivetime.
Ms Ward said that introducing measures such as free childcare assistance for people experiencing homelessness and homeless hubs are steps in the right direction, but that the "broken housing system" still exists and not enough is being done to prevent homelessness.
She also said affordable public housing is needed in order to help prevent homelessness.
The Society of St Vincent de Paul has said that the number of young homeless children revealed in the Census figures is of "grave concern".
It said that the growing number of homeless families and children in Ireland requires urgent action.
Jennifer Thompson, SVP Social Policy Development Officer said: "The homeless figures released by CSO provide an important insight into the nature of homelessness that we are facing at the moment and can guide targeted policies and actions needed to address the homeless crisis."