There has been an increase in the number of homeless people using emergency accommodation, according to figures released by the Department of Housing.
The June figures shows that there were 5,036 homeless adults in June, up from 4,922 in May.
In June, 1,365 families were in homeless accommodation, 53 more families than the previous month.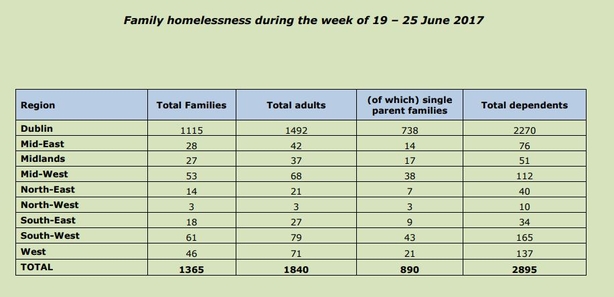 There were 2,895 children classed as homeless in June, 118 more than in May.
In total there were 7,941 adults and children registered as homeless in June.
The Department of Housing, Planning and Local Government said despite the increase, progress is being made by moving families out of hotels and B&Bs in the Dublin area.
Sinn Féin's housing spokesperson Eoin Ó Broin has accused the Government of "deliberately trying to bury bad news on homelessness by releasing the June homeless figures late on the Friday afternoon of a bank holiday."
Mr Ó Broin claimed that the department had the data for several weeks, adding that Minister for Housing Eoghan Murphy "gave an explicit commitment to the Oireachtas Housing Committee that he would not do this."
Sinn Féin's housing spokesperson Eoin Ó Broin says the Government has not got a grip on the homelessness crisis pic.twitter.com/kbOzBOwJUw

— RTÉ News (@rtenews) August 4, 2017
Focus Ireland has said the situation is "worse than ever before under every single category, and getting worse."
In a statement they said: "the number of adults, the number of children and the number of families have all increased and reached new record highs.
"This is not evidence of a strategy that is working, it is evidence of a Government which is taking too little action, too slowly. "
Children's charity Barnardos said the situation "continues to remain a crisis of unprecedented proportions."
While acknowledging a reduction in the number of families in hotels and B&Bs since March, Head of Advocacy June Tinsley said "month-on-month little progress has been achieved."