The Irish Nurses and Midwives Organisation has deferred a decision on whether to recommend acceptance of the new public service pay agreement in order to seek clarifications from the Department of Health regarding staff recruitment and retention difficulties.
Speaking after the Executive Council meeting today, INMO General Secretary Liam Doran said that the initial assessment of the proposals by the Executive Council was that they fell short of what was required to address the current nursing and midwifery staffing crisis in terms of improved pay and conditions.
The Executive Council will hold a special meeting to consult with key committee members on 27 June.
It will then reconvene on 30 June to decide on whether to recommend acceptance or rejection, after which the unions 40,000 members will vote on the extension to the Lansdowne Road Agreement.
During the negotiations for the new agreement, the INMO was one of a number of groups that argued for immediate special financial incentives to address difficulties in recruiting and retaining staff.
However no such special increases were granted, though a process has been put in place to further investigate the scale of the difficulties.
Meanwhile the Department of Education and Skills has commenced work to ensure that teachers belonging to the Association of Secondary Teachers in Ireland will receive pay rises and other benefits as soon as possible.
It follows last Saturday's decision by an ASTI Special Convention to suspend the union's campaign of industrial action over two-tier pay for new entrants, and Junior Certificate reforms.
It clears the way for members to receive benefits already enjoyed by the Teachers' Union of Ireland and the Irish National Teachers' Organisation - though without any retrospection for the period when they were not in compliance with the Lansdowne Road Agreement.
In an update posted on its website today, the ASTI confirms that union representatives have met Department of Education and Skills officials, and that further meetings are planned to facilitate what it calls the prompt implementation of measures previously committed to by the Department.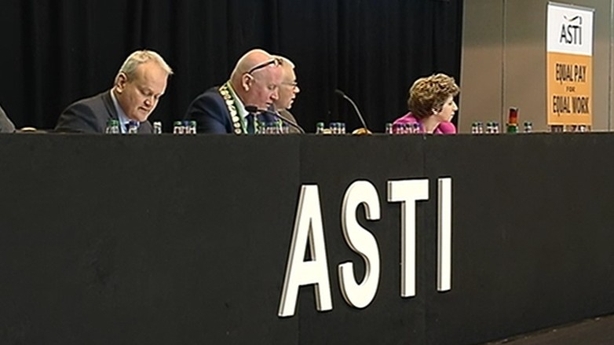 On pay, members will start to receive the €1,000 accelerated pay rise implemented in April, the restoration of supervision and substitution payments, as well as increments which were frozen up to now.
In addition, teachers will now be entitled to permanent Contracts of Indefinite Duration (CIDs) after two years like teachers in other unions, instead of four as at present.
The ASTI bulletin advises eligible members to immediately approach their school principals to seek the award of a CID or "top-up CID" as appropriate.
In relation to professional time for the Junior Cycle, it says the ASTI has been told that where schools are in a position to do so, teachers should be issued with a timetable with reduced contact hours.
However, it says that as many schools will not be in a position to do so, practical arrangements will have to be discussed to ensure that all ASTI members will be in receipt of the professional time reduction in timetabled hours to which they are entitled.
The ASTI bulletin also says that arrangements will be put in place to allow ASTI members to opt in or out of supervision and substitution in schools - something they were not entitled to do up to now.
The ASTI will not be debating the new public service pay deal negotiated last week until September.
However, sister teaching unions, the TUI and the INTO, have already decided to recommend rejection of the new agreement, because it fails to address lower pay scales for new entrants.
IMPACT has recommended acceptance of the agreement to its 60,000 members, while the Association of Higher Civil and Public Servants is to put the proposals to its 2,500 higher paid members without a recommendation either way.
Meanwhile, the Department of Public Expenditure and Reform have revealed a number of new side deals to the successor pay deal to the Lansdowne Road Agreement.
The Department has rowed back on its demand for more open recruitment from the private sector, in order to increase promotional opportunities for insiders.
Previously 50% of recruits to the Executive Officer grade had to be hired from the private sector, with 25% open to interdepartmental candidates, and 25% open to internal applicants.
In future, only 40% will be hired from the private sector, while 60% of posts will go to internal or interdeparmental candidates.
In addition, the proportion of clerical officers belonging to the Civil Public and Services Union who will be eligible for "uplift" to a Higher Clerical Officer scale is to be increased from 15% to 25% by 2019.
The move will mean higher pay for over 1,000 civil servants in lower grades.
In addition, from the 1 January 2018 clerical officers will receive an extra day's annual leave after 12 years service, and a further additional day after 14 years service.
This mirrors an award to civil servants belonging to the Public Service Executive Union earlier this year.
The Department of Public Expenditure and Reform has confirmed that the package of allowances restored to public servants under the extension to the Lansdowne Road Agreement will cost €10 million over and above the €880 million cost of the three year pay deal spanning 2018-2020.