The Garda Commissioner has insisted that gardaí have the capability and the capacity to respond to a terrorist threat in Ireland.
Nóirín O'Sullivan said the garda Armed Response Unit will be increased by a third within the next two weeks, and the number of armed gardaí available on a 24-hour basis was being increased in other parts of the country.
She said that people should not be afraid, they were there to protect the public and keep people safe.
Ms O'Sullivan said gardaí were involved in training and "live" simulated exercises with the defence forces to deal with any potential terrorist threat and that the gardaí were checking their response times.
She also said that gardaí were in contact with British police within two hours of the London attack and began their investigation into Rachid Redouane's time here.
She said the investigation involved local and national specialist units such as the Counter Terrorism Unit and the Garda National Immigration Bureau. She said she was satisfied that they found no link to terrorism in Ireland.
Ms O'Sullivan said Redouane had only lived here for a short period of time.
She also said that terrorism was not about religion and the gardaí had very good relations with minority communities, a number of officers who could speak a variety of languages and that specialist translators were also available.
Ms O'Sullivan attended an event in Dublin this morning with police chiefs from all over the world, to discuss the threat from international terrorism and policing in the digital age.
She dismissed suggestions that Ireland was seen as a weak link in security.
Garda Commissioner Nóirín O'Sullivan: 'We have significantly increased the resources in our counter terrorism investigation unit' pic.twitter.com/xRsHKKsKaQ

— RTÉ News (@rtenews) June 7, 2017
Senior garda officers also rejected claims that An Garda Síochána would not have been able to respond as quickly as British police did after the London Bridge attacks, when armed police were on the scene within eight minutes.
Assistant Commissioner John Twomey said gardaí had conducted an exercise on Sunday night and identified nine armed units within minutes of O'Connell Street at 10pm - the time of the London attack.
Earlier, Minister for Education Richard Bruton said there are strong resources in place in Ireland to deal with the threat of a terror attack.
He said the reality is that the threats are changing and we have to adjust to that.
Speaking on RTÉ's Morning Ireland, Mr Bruton said more resources are being invested in An Garda Síochána and training schemes are being reviewed, all with a view to ensure gardaí are fit for the "modern challenges" coming their way.
Bruton: ' ... threats are changing, there are more random attacks. I think we have to respond to the changing nature of those threats' pic.twitter.com/MoISpKLIFE

— RTÉ News (@rtenews) June 7, 2017
Fianna Fáil's justice spokesperson, meanwhile, has said a full inquiry is needed into Redouane's movements while he was living in Ireland.
Speaking on RTÉ's News at One, Jim O'Callaghan said it needs to be established whether the London Bridge attacker was radicalised in Ireland.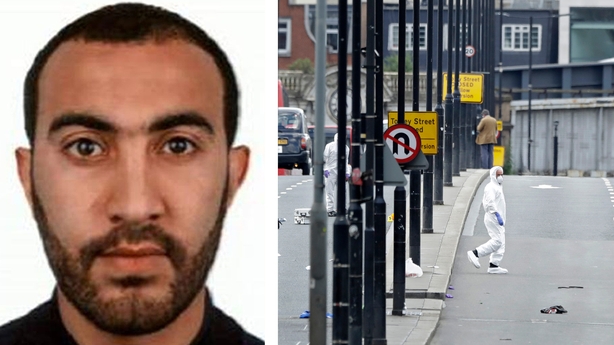 He said it is particularly worrying that Redouane was able to use Ireland as a means to move back to England.
Mr O'Callaghan also said the preparedness of An Garda Síochána needs to be recognised and that a more structured approach to community policing is needed.
He said the Association of Garda Sergeants and Inspectors suggests resources are inadequate, but the Garda Commissioner says the force is sufficiently prepared for a terror attack, and "the reality must be somewhere in the middle".
---
New security measures announces for 3Arena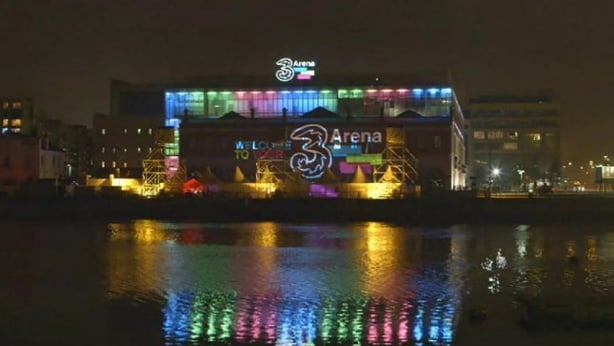 The 3Arena in Dublin has announced new security measures in light of recent terrorist attacks in the UK.
In a statement it said that due to recent events and heightened awareness, new policies will apply at all shows.
Those attending concerts will now be subject to pat-down body searches or metal detector searches.
There is also a ban on backpacks and large purses.
Only purses or clutches measuring 11.4cm by 16.51cm or smaller will be allowed.
Concert goers will also be expected to empty out their pockets and the contents will be scrutinised by security.
Patrons are also being encouraged to minimise jackets and additional layers when possible.
Those attending concerts are being advised that it could take more than an hour to get through the revised security checks.