Naval Service divers have successfully attached a number of lifting bags to the wreckage of Coast Guard Rescue Helicopter 116.
Search co-ordinators want to partially lift the wreckage to see if there is any trace of two Coast Guard crew members who have been missing since the helicopter crashed off the Mayo coast two weeks ago.
The body of Captain Mark Duffy was recovered from the wreckage on Sunday, however Winch Operator Paul Ormsby and Winchman Ciarán Smith are still missing.
Captain Dara Fiztpatrick was pulled from the water after the helicopter crashed on Tuesday 14 March and taken to Mayo University Hospital, where she was later pronounced dead.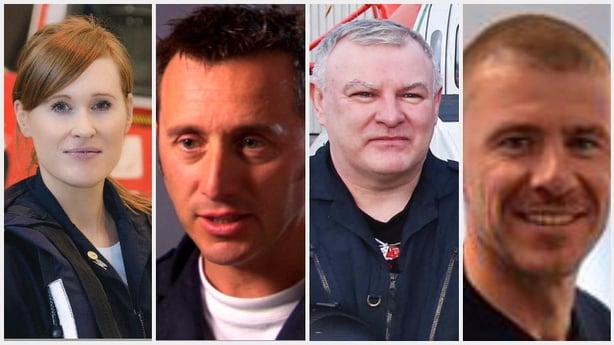 The aircraft is located some 40 metres below sea level, a short distance from the face of Blackrock Island.
The main focus of the operation remains around Blackrock island, ten nautical miles off shore.
Over several hours, divers travelled to the area in pairs, to install a number of specially designed lifting bags. These will be inflated to tilt the wreckage from the sea bed, so an area that has not been surveyed can be inspected.
A deterioration in sea conditions this evening led to the operation being postponed. Some more bags will be fitted tomorrow morning and the lifting effort is now scheduled to take place later in the afternoon.
The Marine Institute's Remotely Operated Vehicle will work at the scene through the night to remove the roof assembly from the helicopter. This is to reduce the weight that will have to be lifted tomorrow.
NS dives concluded at Blackrock for the night. Resuming in the am. Plans to carry out partial lift of R116 wreckage tomorrow afternoon. pic.twitter.com/S8vUIG5LWv

— Pat McGrath (@patmcgrath) March 27, 2017
The operation will be the final element of the search around the helicopter wreckage.
A sweep of the wider area around the aircraft is continuing, with garda divers surveying the scene for any debris or any indication as to the whereabouts of the missing crew members.
As the search enters its third week, initial data from the helicopter's flight recorder is expected to be returned to the Air Accident Investigation Unit in the coming days.
The black box was sent to England at the weekend where voice and data recordings are being downloaded.
A coastal search is to be expanded tomorrow morning, as Coast Guard and Civil Defence teams comb miles of shoreline from north Mayo past Killybegs in Co Donegal.