Air accident investigators say recovering the missing Coast Guard helicopter's black box could be vital to solving what happened to the aircraft.
The Sikorsky S92 - one of four in regular operation by the search and rescue service, with another on standby - was the last one acquired in an upgrade of the fleet completed three years ago.
Since then it has been central in hundreds of successful missions off the Irish coast, including casualty evacuations and long range operations.
Last year alone, the fleet was involved in 886 missions - the longest being at a range of 240km west of Loop Head, Co Clare, last March.
The Sikorsky S92s - which replaced the old S61 models - are manufactured to allow for long range missions of up to 365 nautical miles and improved cruising speeds.
They are also equipped with enhanced technology, including forward-looking infrared low-light cameras, night sun searchlights, ambulance level paramedic care facilities and satellite communications.
They can hover in strong crosswinds or tailwinds of up to 35 knots.
Eugene Clonan, acting director of the Irish Coast Guard, said they are "fairly new helicopters and very modern".
"This helicopter has all the safety equipment onboard, with duplicate communications, flotation bags," he said.
"The crew themselves would have immersion suits, life jackets, helmets and would have training for these types of emergencies."
Coast Guard member rescued from helicopter crash dies
'Dark day' for Irish Coast Guard - President
In Pictures: Coast Guard helicopter lost off Mayo coast
The immersion suits are designed to help crew survive for some time in the water.
Mystery surrounds what happened to the aircraft in its final moments, with no indication of any problems in its final communications with the Coast Guard Rescue Coordination Centre in Malin Head.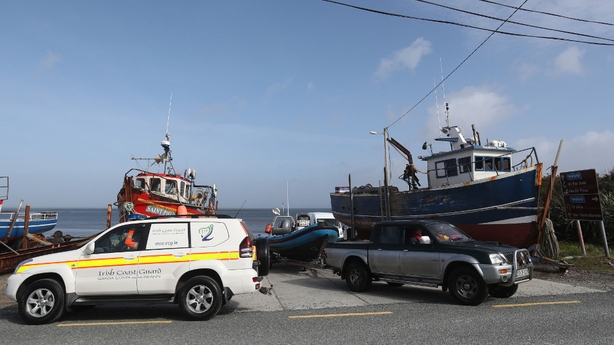 Just before a planned landing on the Co Mayo coastline to refuel, the last transmission was: "Shortly landing at Blacksod."
One crew member - Captain Dara Fitzpatrick - was recovered from the water but later died in hospital, while three are still missing.
Officials from the Air Accident Investigation Unit have been sent to the scene and will carry out a full investigation.
Jurgen Whyte, Chief Aeronautical Officer with the unit, signalled the helicopter's black box could be crucial to learning what went wrong.
"These recorders are modern enough that we can actually - if we can recover the recorder and if it is functioning correctly - we can hopefully re-analyse the flight and actually get the aircraft to fly again digitally," he said.
"That will help investigators a lot to actually determine what was happening in the final moments of the flight."